Turkeys are kept in domestic settings in countries like Mexico by people for around 3000 years. These birds were actually bred initially by all kinds of people that would eat these birds and their eggs.
Most of the time, people would wait for some very special occasions to start cooking and eating these birds. For example, in countries like Canada and the United States of America, people celebrate traditions like Thanksgiving where they serve stuffed turkey for dinner.
Although it isn't all that uncommon for people to eat these birds, you're not very likely to see one raised as a pet and you're less likely to have the opportunity of interacting with one. Only getting a shot at interacting with them will help you realize that these creatures are actually beautiful and make great pets.
And if you're thinking of getting one as a pet and domesticating it, then maybe you should start thinking of the perfect name for it. This article should be quite helpful in finding funny and cute turkey names. So let's see what I've come up with.
Funny Turkey Names
Do you want your bird's name to make people laugh and lighten people's moods whenever you start calling it? Then check out some of the funny turkey names you can go for.
Butterball
Cranberry
Feathers
Giblets
Leftovers
Lunch
Pilgrim
Porkchop
Salmonella
Sandwich
Saucy
Stewie
Taters
T-rex
Wishbone
Common Pet Turkey Names
Giving one of these common names to your turkey will surely be something you won't regret. The size of these humongous birds is on par with their big personalities. One of the best ways of getting close to such a pet bird is by choosing a great name.
These common pet turkey names might just be what you need, so pick your favorite from this list.
Adelaide
Aspen
Belvedere
Bertha
Booger
Bosco
Butch
Butterball
Fatty Matty
Frankie
Gracie
Hoover
Jennie
Joey
Larry
Lurkey
Olaf
Penny
Petunia
Sandy
Susie Q
Tilly
Vader
Easy, One-Syllable Turkey Names
Are you the type of person that goes for short, one-syllable names for all your pets to make it easier for them to remember? If this is you, then the names below are surely something you'll love.
Ben
Bob
Elle
Frank
Grace
Jen
Kate
Kel
Ken
Matt
Mel
Paul
Peace
Rex
Steve
Stink
Tim
Tom
Cute Turkey Names
If you find your very large bird cute, then here are some great cute turkey names to pick from.
Bets
Buttery
Carlie
Claw
Cuddles
Ginger
Gobble
Jellybean
King
Popcorn
Pumpkin
Roasty
Smiley
Sweat pea
Male Turkey Names
In terms of their looks, male turkeys are known to be larger, and more colorful than females in general. If you want to name a male turkey you just added to your farm, then check out these male turkey names and see if anything stays with you.
Jake: Jake has a nice ring to it and is short enough to be a great name for your male turkey.
Tom: This is the word experts use to talk about male turkeys. This is one of those names that are easy enough to pronounce and simple enough to be remembered, so it's great for your male turkey.
The list below has other great names for your male turkey.
Adam
Arvin
Bernard
Bert
Boyle
Bron
Bush
Chris
Derek
Don
Earl
Eddie
Fernando
George
Gerry
Grant
Henry
Ignacio
Jeremy
Jimmy
Jon
Kyle
Lenny
Mace
Mike
Miles
Oliver
Oscar
Percy
Peter
Phil
Purdie
Regie
Ryan
Sal
Saul
Selwin
Simmons
Vincent
Ward
Werner
Wilson
Xander
Zeke
Female Turkey Names
The correct term for the female turkey is Hen. This is why Hen is also the best name for a female turkey if you're looking for something suitable that is also easy to pronounce.
Another great name, if Hen isn't really for you and your pet, is Jenny. Jenny is also what a turkey that is one year old is actually called.
Below you will find some of the best female turkey names, in quite a comprehensive list.
Aphrodite
Betty
Birdie
Cathy
Demi
Ellie
Fergie
Gertie
Haley
Holly
Ivory
Ivy
Jemma
Jessie
Jocelyn
Kelly
Kendra
Lauren
Letia
Lolita
Lolo
Miley
Millie
Minie
Missy
Natasha
Oprah
Patricia
Pearl
Polly
Rachel
Sally
Sam
Sandy
Sasha
Terri
Torrie
Trisha
Velma
Whitney
Zelda
Zoey
Popular and Famous Turkey Names
Harry the Turkey: This is the first turkey to be pardoned in the US and get an official name. This is why Harry the Turkey is part of history and will be a very strong and powerful name for your pet Turkey.
If you want to pay homage to this old story and turkey, you can always name your pet Harry.
Thanksgiving Turkey Names
Charlie: Naming a Turkey during Thanksgiving celebrations might inspire you to give it the name of the national turkey pardoning ceremony.
The celebration is called Charlie naming by some because even though the first-ever bird to get pardoned during President Reagan's presidency didn't get an official name, it was known as Charlie. It was sent to a petting zoo after getting pardoned.
You might also like my articles with interesting names for Hermit crabs, Mustang horses, and pairs of pets.
Pardoned Turkey Names
An old tradition in the United States calls for the US president to "pardon" turkeys every Thanksgiving. George Bush was actually the one to start this tradition, but actually naming the pardoned birds didn't happen until President Bill Clinton's presidency.
Below are some of the most popular names for pardoned turkeys given by former US presidents.
Pecan: Pecan is the turkey that was pardoned in 2008, together with the turkey Pumpkin. What makes this name particularly great is the fact that it is referencing pie, which is one of the staple dishes for Thanksgiving.
Jerry: The turkey that was pardoned in 2000 was called Jerry. This name becomes a lot funnier when you say "the Turkey" right after it.
Jerry is also important due to the fact that it was actually the first turkey to be pardoned at the start of this millennium, which makes this name a quite powerful one.
Below you will find all of the pardoned turkeys from this century, so you have more nickname ideas.
Peanut Butter and Jelly (2021)
Corn and Cob (2020)
Butter (2019)
Peas (2018)
Drumstick (2017)
Tater and Tot (2016)
Abe (2015)
Cheese (2014)
Popcorn (2013)
Cobbler and Gobbler (2012)
Liberty (2011)
Apple (2010)
Courage (2009)
Pecan (2008)
May (2007)
Flyer (2006)
Marshmallow (2005)
Buscuits (2004)
Stars (2003)
Katie (2002)
Liberty (2001)
The Best Turkey Names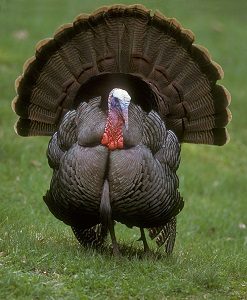 This list is made of some of the turkey names I consider the best. If you have the same tastes as I do, you'll surely find something you'll like here.
Cluck
Clutch
Coop
Egger
Gobby
Peck
Runner
Spit
Tommy
Winger
Pun Turkey Names
Gobblin': As you surely know, turkeys in general make a pretty unique sound called gobbling. People overeating during Thanksgiving also say they gobbled up turkey meat and other foods. With these two things in mind, Gobblin' is actually a really funny pun to use as the nickname for your pet turkey.
Jerk-key: Jerk-key would be the perfect option to name a turkey you consider less than agreeable. Rude turkeys or ones that seem to find joy in getting offensive toward unknown people would deserve a name like Jerk-key.
Awesome Turkey Names
Below you will find a list of awesome turkey names if this is what you are looking for.
Autumn
Azul
Blizzard
Brownie
Cobalt
Crystal
Ember
Gretta
Harlequin
Hazel
Koala
Kratos
Magician
Magnolia
Maverick
Orca
Polar
Smurf
Storm
Thunder
Turkeys in Ancient Times
<pTurchia: The name Turkey actually comes from the word Turchia which is Middle Latin, meaning "land of the Turks."
It was the name given to a territory situated between Eastern Europe and Central Asia. The name was kept especially after Turks managed to conquer the area which later became the country Turkey.
So you can always name your turkey Turchia as a way of showing that you know a little bit of history.
Baby Turkey Names
Poult: The technical term for a baby turkey is actually Poult. However, most caretakers, breeders, and farmers will still call them chicks.
Although this is still something people argue about, you can name your turkey Poult, as it isn't something you commonly hear around you.
Even though the word poult is quite easy to pronounce and remember, being made of a single syllable, it still sounds sophisticated enough to make your bird seem special.
Check out this video with 3 tips before getting a turkey as a pet
Black Turkey Names
Among turkeys, the black variety is not only elegant-looking but also quite beautiful, with a red neck and all-black feathers. Below you will find some name ideas if you have a black turkey.
Ace
Ash
Blackjack
Carbon
Cola
Crow
Dahlia
Dracula
Drogon
Ebony
Godiva
Graphite
Magpie
Mortice
Ninja
Onyx
Raven
Smoke
Velvet
Voodoo
Zorro
Disney Turkey Names
Mayor Turkey Lurkey: The name Mayor Turkey Lurkey will sound great to anyone that's a real Disney fan. It is actually the name of one of the characters featured in the animated movie Chicken Little.
In this movie, Mayor Turkey Lurkey actually has the role of one of the positive characters, having the aim of keeping order in the town. The name has a nice ring to it but the character itself is a funny mayor having a position of power – a trait very characteristic of turkeys in general. They won't say no to the opportunity of attacking someone they consider below them.
Conclusion: Turkey Names
Keep in mind that naming a pet is only the first task you'll have when getting one. Keep in mind that you will also have to give them proper care, your time, but also your attention.
It can be quite a struggle to find the perfect name for your pet, so maybe these lists of cute, weird, and funny names for turkeys might help you.