You might have never heard about the long-haired Dalmatians, but they're actually as old as the short-haired breed. These more unusual Dalmatians have only started to get the love they deserve in the last few years, but they are getting more and more popular.
This very detailed article will give you all the details you would probably need about the long coat Dalmatian breed. You'll not only learn about why they have the long coats but also about the best ways to care for them and what exactly are their individual traits.
What Is The Long-Haired Dalmatian?
A long-haired Dalmatian is just a variation of the short-haired breed we are all used to. People also called them LC Dalmatians or just long-coats. What makes the long-coat type unique is the fact that the gene that gives this trait is recessive.
When two Dalmatians with an LC recessive gene breed together, there's a possibility they will produce a litter with long coat puppies. At some point, it is said that Dalmatians were split 50-50 between the long-haired and the short-haired breeds.
The General Look of a Long-Haired Dalmatian
At a first glance, a long-haired Dalmatian might look like it is a mix between multiple breeds. This is especially true if you're used to the short-haired look for Dalmatians. Even so, they are a part of the Dalmatian breed as any other pure-bred specimen. They even have the same personality traits and temperament.
The Coat
Like any other Dalmatian, the long-haired specimens are born with an all-white coat. As soon as they reach two weeks of age they start to develop their popular spots. Their coat will reach 2 to 5 inches in length and will have feathering around the ears, legs, and tail in most cases.
You will notice that their coat will get the popular spots that Dalmatians have. Most of the dogs will develop black or brown spots, but there are cases in which other colors, like lemon or brindle, will also show up.
The Body
They are averagely built, very muscular, and with sleek bodies. They have a rather graceful body with lean, long legs, which is one of their most distinctive traits. This has made them very popular, being present especially on posters.
You will notice them having smooth muscles on their hindquarters and forequarters, along with a very long tail that should be curved upwards. All four of their feet are compact, thick, and round.
Their toes are usually arched. You might have a hard time seeing all of these individual traits through their long coat, especially if you aren't a professional dog breeder.
The Face
The expression on the long coat Dalmatian's face will be both intelligent and alert. Their eyes are rounded in shape and moderately set, in black or blue color. Their muzzle is strong and defined and the top part will be parallel to the top part of the skull.
Size and Weight
The long-haired Dalmatian males will usually be bigger, bulkier, and taller than the females. This is something pretty common among dogs. You should expect a female long-haired Dalmatian to stand at around 19 to 23 inches, while a male will grow to about 24 inches. The female will be around 42 to 55 pounds, while the male should weigh around 56 to 63 pounds.
Here is a picture of a long-haired Dalmatian, so you know exactly what one looks like:
Is This Breed a Rare One?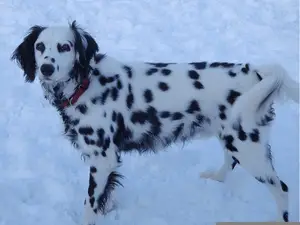 They used to be more common, but nowadays they are in fact pretty rare. As already noted above, at some point in the past, the long coat and the short coat Dalmatians were found in basically the same numbers. You have to remember that most kennel clubs will only recognize short coat specimens ideal for this breed. This is one of the main reasons why breeders have slowly tried to get only short hair specimens through breeding.
At some point, some breeders even considered the long-haired specimens defective and would euthanize them, to avoid ruining their champion legacy and perfect specimen pool.
This is slowly starting to change and breeders, as well as owners, are beginning to accept the existence of the pure-bred long-haired Dalmatians.
Do you think they are rare now? Keep in mind that just a few years ago, there were just around 100 long-haired Dalmatians all across the United States. Even though they arențt as common as their short-haired counterparts, their numbers are surely going in the right direction.
Do Long-Haired Dalmatians Have a Shedding Problem?
Most people that at some point have owned a Dalmatian of any kind, would know that this breed is known for its intense shedding. This problem is common in both short-haired and long-haired dogs. Unlike most dog breeds, Dalmatians will shed all year round. This, along with the fact that long-haired Dalmatians have pretty long hair, of up to 5 inches, will make their shedding very noticeable.
Is This Breed Hypoallergenic?
The long-haired Dalmatians are not hypoallergenic. You should keep in mind that hypoallergenic doesn't mean that it triggers no allergic reaction at all. What it does mean is that dogs labeled as hypoallergenic will be less likely to trigger your allergies. Dogs in general contain a protein that is well known as the most common cause of human allergies.
If you know you have a mild allergy related to dog hair, you could minimize the intensity of allergic reactions by taking your dog outside and brushing it in nature, to get rid of the excess fur. You could also vacuum your whole house using a vacuum cleaner with a HEPA filter, to make sure you get rid of most of the dog hair from inside your home. While cleaning, it is a good idea to wear a mask and cleaning gloves as well.
How Did a Dalmatian Get Long Hair?
As already pointed out before, the gene that gives Dalmatians a long coat is recessive. This means that having a long-haired dog used for breed won't guarantee that the pups will also have long coats. You will have to get two dogs with this particular gene to breed together to have puppies with long coats pop up in your litter. You should also keep in mind that a dog that has the gene but is born with short hair, won't be able to grow a longer coat.
What Kind of Temperament Does a Long Coat Dalmatian Have?
This is a great dog breed to keep around your house. You will notice that Dalmatians are very protective, gentle, loyal, but also friendly. If you try your best to socialize them from a very young age, they will become very outgoing and will get along with pets and people alike.
From time to time, some specimens from this breed will be quite aggressive, giving a bad reputation to the whole breed. There are a lot of reasons behind this issue. Usually, it is due to the fact that the dogs are either unsocialized or lack the necessary training. Some of them might become aggressive because they don't exercise enough or get enough attention, which makes them act out.
There are times when the dog is given to the wrong family, that either doesn't like dogs or has no idea how to properly care for them. Having a bag connection, or even no connection for that matter, to the family that raises them can cause them to develop bad habits and ugly behavior.
Although this is a great dog to raise around children, you should be careful and supervise them during their interactions, because its energy might make it a little too much for the youngsters and the dog might even hurt them while playing.
You shouldn't neglect training when it comes to long-coat Dalmatian Puppie. It is very important to teach them how to act around people from a very young age. Training them as early as possible, while giving them the love they need and a good amount of socialization, will make them be among the best family dogs you will ever own.
Common Health Issues To Know About
Most long-haired Dalmatians will live anywhere between 10 and 14 years if cared for properly. If you're asking yourself why is their average lifespan shorter than the lifespan of other dogs, this is because this breed has quite a few genetic health predispositions.
As for most things in life, there are exceptions to this rule, with dogs that have surpassed their average lifespan by quite a lot.
None of these health problems is guaranteed with this breed, but seeing that their genetic code contains these bad genes, the possibility is quite high. Hyperuricemia and deafness are the two most common genetic conditions to expect from this breed.
Hyperuricemia
This condition happens when too much uric acid is produced by the animal's internal system, which leads to bladder stones, kidney stones, or even gout. This is a condition that will be less common in females than males of this breed.
Deafness
Almost 30% of all Dalmatians will suffer from some degree of hearing loss. Most of the time the hearing loss will be partial, but there are some instances in which the dog will experience complete deafness. If you suspect that your puppy might have hearing issues, you can always subject it to the test called Brainstem Auditory Evoked Response, or BAER for short.
If possible, you should also ask for this test to be done before you adopt a long-haired Dalmatian. Serious breeders might already have the certificate to attest to a successful test when they sell the puppy. If you're ready for a challenge and you want to give a deaf puppy a home, this test won't be necessary.
You might also like our articles about the Exotic Bully and the Johnson American Bulldog.
Obesity
Most dogs will have a tendency to eat more than they should. This shouldn't be an issue if you offer them an active life, full of exercising, running, and walking outside. If you don't have the time to give them the exercise they need on a daily basis, they risk becoming obese. Their big appetite might lead to health issues if not kept under control, especially as the dog grows older.
Grooming for a Long Haired Dalmatian
A long-haired Dalmatian will require a more consistent approach to grooming as opposed to other breeds. Even short-haired Dalmatians will shed considerably, just think about how much hair can a long coat one leave behind.
Even though you will be amazed at how beautiful a long-coated dog will be, it will take a lot of work and dedicated grooming to keep it in check. To make sure you're doing as much as possible in terms of grooming, you should vacuum your house at least two to three times every week, and you should try to brush their coat at least daily. Their footpads will also require trimming or shaving of the excess hair.
These hairs should be kept as short as possible, to make sure the dog won't slip on hardwood or tile surfaces, which could lead to ugly injuries. Remember that these dogs will shed all year long, so grooming should become a daily activity.
Frequently Asked Questions
Are Long-Haired Dalmatians Recognized By Dog Associations?
Dalmatians as a breed are accepted and recognized by most kennel clubs, like the UKC or the AKC, along with many others. Even so, the long coat of the Dalmatian is considered a violation of the breed standard, which means they are seen as below standard specimens. This also means that they won't be allowed in professional competitions due to their long hair.
In time, this rule might change, seeing that this isn't an artificially occurring variation, but a natural variation of the breed that has been around since these dogs have appeared.
Are Long-Haired Dalmatians More Aggressive?
You will find the Dalmatian dog on the list of top 10 breeds of dogs based on their aggressivity levels, but you should also keep in mind that on this list you will also find the Chihuahua. The aggressiveness will usually only pop up when they are in the wrong homes, lack love or proper training. A Dalmatian raised in good conditions will usually turn up to be loyal, intelligent, and very loving.
You should always make time to offer a Dalmatian proper exercise and a way for the dog to consume its energy. This dog wouldn't be a good fit for someone that likes to stay in bed all day and has a hard time even walking a pet. This lifestyle would turn the dog either aggressive or obese.
This is a very athletic breed, that has to consume a lot of energy. You should make sure you are able to keep pace with this dog before getting one.
When the first version of the movie "101 Dalmatians" was first released, many people liked the way in which the breed was represented and rushed to get a Dalmatian of their own, without considering what taking care of this breed would entail.
This opened the door to a lot of underprepared, bad breeders and puppy mills, which resulted in a lot of deaf dogs or specimens with very bad conditions being born. Deaf dogs are more easily scared, which means that they are more likely to become aggressive, bark, or even bite when someone gets too close to them.
It all comes down to the way in which they were raised and trained. There are deaf dogs that are very loving and loyal, but it is all due to being properly handled and trained by an owner that had enough patience to do so.
How Much Does a Long-Haired Dalmatian Cost?
You can get a long-haired Dalmatian pup for anywhere between $600 and $1,200, if not slightly more, depending on the breeder and the pedigree of the dog. You might be able to get a long coat dog for a lot less if you find a breeder that only wants short-haired specimens. These sellers usually sell the longer-haired dogs for a lot less.
It would be quite a find to get a puppy for considerably less than $600, but at the same time, you will find a lot of breeders that would ask a lot more.
You should keep in mind that the price of the puppy itself is just one of the many expenses that come with having a pet. You will find below a list of things you should be prepared to spend on when buying a Dalmatian:
Getting the essentials, like food, grooming, and training lessons – anywhere from $500 to $1,000.
Getting the needed supplies for your dog, like a bed, collars, toys, shampoos, kennels, and others – at least $300 but can easily reach $800.
Getting you home prepared for a pet, with yard fences, other needed fixes, and dog proofing – This usually costs at least $400.
Getting the pet checked and spayed or neutered at the vet – at the very least $200.
When you add up all of these expenses together, you will get a price of around $2,000-$,2500 for the expenses required for the first year of owning a long coat Dalmatian. The years that follow won't be quite as expensive.
Where Can You Buy or Adopt a Long-Haired Dalmatian?
You can either choose to adopt a dog from a known and reliable rescue center, or you can get your long-haired Dalmatian from a reputable breeder. If you go on the breeder route, you should make sure you do proper research, to know exactly who you will buy your pet from. Here are a few questions you should ask a breeder before you buy a puppy:
You should always ask about the conditions in which the puppies are raised and handled. Also, ask if any training has been done and how do the puppies socialize with children, pets, and strangers.
Ask about any temperament issues Most breeders that really care about their puppies will know everything about the way in which the pups behave.
Ask the breeder when the pedigree documents will be available. Professional breeders will be ready to give you a clear answer regarding the pup's pedigree.
Don't forget to also ask about the BAER test. Even if you are ready to adopt a deaf puppy, you should know what you're dealing with right from the start.
There are a bunch of long coat Dalmatian breeders, some of the more popular being:
American Kennel Club (AKC) Marketplace
Country Nightz Ranch
Paradise Spots Dalmatians LLC
You can also try to adopt a long-haired Dalmatian from a shelter, but you will have to do some searching. Seeing that this breed doesn't see a lot of specimens, means that shelters won't have an abundance of this breed either. Here are a few places where you can look:
Dalmatian Club of America – Rescue
Dal Rescue (Canada)
Dalmatian Rescue of North Texas
Willing Hearts Dalmatian Rescue Inc.
Dalmatian Rescue of Southern California
Dalmatian Rescue of South Florida
Conclusion
Aside from the coat length, the long-haired Dalmatian is the same as a short-haired specimen. You should expect it to be very intelligent, energetic, playful, and loyal. It also looks amazing when all the spots develop on its coat.
Before getting this type of Dalmatian, you should make sure you do proper research and learn the important things about the breed, to make sure the dog will be right for your lifestyle.
You should be prepared for a very active dog that will need your full attention and a lot of time. Be prepared for a lot of exercising, walking, playing, and running. If you're a passive individual, then this dog might not be good for you.