Well, with the next 10 dog breeds that I will go through, the level of cuteness will surpass any imagination!
All the dogs on the following list possess qualities that have the power to melt any heart, and, to top it all, they need not do anything for it, but merely display their fluffy fur.
Without wasting time, I will start with the first quadruped from this category and talk about it:
Bolognese Bichon
The Bolognese Bichon males stand between 10 and 12.5 inches tall while females are between 9 and 12 inches. The typical weight range is from 8 to 14 pounds.
The Italian Bichon, as the Bolognese Bichon is called, is one of the oldest breeds of its kind, history marking its presence for the first time in Italy in the 15th century.
The history of this dog is, however, older, because at that time it was only brought by sailors to this country.
However, the popularity of this dog was so great that it was adopted as a native breed by Italians, enjoying rapid development, especially in the Italian region of Bologna, hence the name of the breed.
But the beauty of this puppy made his fame reach the Italian Royal Court, and beyond that! Caterina de Medici, Ecaterina I, or Maria Tereze had this beautiful breed as faithful quadruped companions.
Maltese Bichon
The Bichon Maltese has a height from 7" to 9", 18-23 cm, and an average weight of 3-8 lb., 1.4-3.6 kg. Its typical lifespan is of 12-15 years.
The Maltese is considered one of the oldest dog breeds, with a history of over 2.800 years, proven by discoveries made in painting, literature, and even ceramics.
Because of the name, you might believe that its origins are on the island of Malta, but the term "Maltese" actually means "port" or "refuge" in the Semitic vocabulary, with reference to the places where the ancestors of this race were most often found.
You might also like my articles about the top tiny dog breeds, the top teacup dog breeds for apartments, or the smallest dog breeds in the world.
Today, the Maltese Bichon represents the perfect quadruped company for families with children, with which it gets along very well. The Maltese also developed a soft and friendly personality, but also a very high level of devotion, being prepared at any time for a marathon of a few hours of spoiling, on the owner's knees.
Bichon Frise
The Bichon Frise has a height of 9.5" to 11.5", 24-29 cm, and an average weight of 12-18 lb., 5.4-8.2 kg. The Bichon Frise has a typical lifespan of 14-15 years.
This small and fluffy dog breed has gained fame with its adoption by the 16th century Royal girls, the King of France, Francisc I, but also the King of England, Henry III, being extremely hooked by the small fur-balls.
In fact, King Henry III loved them so much that he carried them with him wherever he went, in an extremely original way. He wore them in a special basket, hung by his neck.
Today, the BichonFrise is extremely loved by families with children, because of its extremely gentle, playful, lovely, and affectionate personality.
When we talk about this breed, it is important to mention two aspects:
it dislikes being left alone
it does not shed like other dog breeds, which recommends it as a perfect pet for people suffering from dog hair allergies.
Havanese Bichon
The Havanese Bichon has a height between 8.5"-11.5", 22-29 cm, and an average weight of 7-13 lb., 3.2-5.9 kg. The Havanese have a typical lifespan of 14-16 years.
The Havanese Bichon has always been a spoiled puppy. For many centuries, this breed has been preferred by the early wealthy families of the time, being privileged with a superior lifestyle, from which nothing has been lacking.
The name 'Havanese' comes exactly from the capital of Cuba with the same name: Havana, where the little fur is protected at a high level, being considered the national dog breed.
And it is no wonder that this adorable puppy has melted everyone's hearts, since, besides its lovely figure, it has an extraordinary personality, being extremely active, intelligent, and affectionate.
The Havanese Bichon has two advantages over the other dogs of its family, namely that it does not smell and like the Frise Bichon, does not leave hair.
Toy Poodles
The Toy Poodle has a height between 9.5-11-inch, 24-28 cm, and typically weights 6-9 lb., 3-4 kg. The Toy Poodle has a typical lifespan of 12-18 years.
In addition to their adorable figure, Poodle Toy dogs display a remarkable personality. They are full of life, playful, energetic, and loving, but also sensitive.
The quadrupeds of this beautiful breed are excellent pets. They are very quick to show affection and attachment, not only to the owner but also to the whole family, as they are extremely gentle and sociable.
However, like any other dog, the Toy Poodle dog can also show its patience limits, especially when it is taunted by children, but even then, their reaction will be retained, quickly returning to a  state of calm.
The same as in the case of the other two breeds of Bichon above, the poodle still doesn't leave any hair, which (although there may be exceptions) recommends him for people suffering from animal hair allergies.
Miniature Poodle
Its weight of 12-20 lb., 5-9 kg, fits it perfectly to small breeds of dogs, but the slim and athletic constitution of the body, which can reach 11"-15" (28-38 cm) height, places the Miniature Poodle at the border between small breeds and medium breeds. But this aspect is less important, compared to the kind of love it offers.
Intelligent and sociable, the miniature Poodle breed knows how to please its owner, being always obedient and ready to learn something new.
To sustain this effort, this dog has serious energy reserves, which you will often have to consume through long walks in nature, various games, and even swimming! Therefore, the Miniature Poodle is generally recommended for active persons, who can offer them these conditions regularly.
West Highland White Terrier
The West Highland White Terrier males are about 11 inches tall and typically weigh 15 to 22 lb., while females are up to 10 inches tall and weigh 13 to 16 lb.
Like any other representative of the Terriers family, the West Highland Terrier breed has a very interesting history.
Today, its main activities are related to food, sleep, training, and competitions. In the past, however, this adorable breed was actively involved in the actions of rodent, fox, and even otter hunting.
However, even if it is no longer used for these purposes, its overflowing level of energy has remained. In consequence, it needs daily activities like long walks or exercises, at least an hour a day. It is recommended to take long trips around the park or various games, such as ball games.
The Westie Terrier dog is loyal to the family. Sometimes, however, it can display a confident, impertinent, slyly, and stubborn character.
Pembroke Welsh Corgi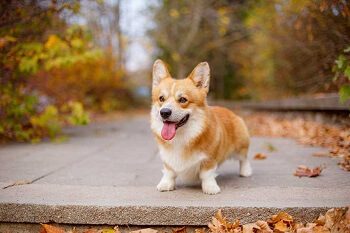 The average Pembroke Welsh Corgi has a height of 14–17-inch, 36-43 cm, and weighs between 22-31 lb., 10-14 kg.
Corgi Pembroke is famous for the affinity that the queen of the United Kingdom, Queen Elisabeth displays to this breed.
However, I think it doesn't need to necessarily be liked by a queen to become popular. It is enough just to look at the adorable Corgi-breed puppy, or at the way the tiny dog displays his sleek, elongated body that ends in a generous back, and you will fall in love with him at once!
Corgi Pembroke develops a very beautiful personality, being energetic, brave, and wise, although sometimes it can be stubborn. But it develops a strong attachment to the owner and accepts the children in, as long as it is not teased.
But, although you see it as fluffy and adorable, the Corgi Pembroke shows a tendency to dominate.
Cardigan Welsh Corgis
Cardigan Welsh Corgi has a height between 10.5-12.5-inch, 27-32 cm, and an average weight of 25-40 lb., 11-18 kg.
Although they share the same canine family, Cardigan Corgi has certain features that distinguish it from the Pembroke Corgi breed. The fur color is the main indication, but the superior silhouette in size and bone structure makes the difference.
However, the dog from the Cardigan Corgi breed resembles a lot in personality with its close relative, being equally energetic and equally in love with activities in the open air. It is also very loyal to the family and obedient and can be rhetorical with the children if he is taunted.
Tibetan Spaniel
The Tibetan Spaniel has a height between 10"-11",25-28 cm, and an average weight of 9-15 lb., 4-7 kg.
The Tibetan Spaniel has a fascinating history. It is an old dog breed of Tibet origin, resulting from the crossing of the Pekingese with the Lhasa Apso breed.
Energetically, proud and always vigilant, the Tibetan Spaniel served as a companion animal and a guard dog in the Buddhist monasteries. In Europe, it has reached the end of the 19th century.
The Tibetan Spaniel dog is friendly and affectionate with the family, always wanting to please the owner. He loves children and he also gets along with other dog breeds, if it was used with them since it was a puppy.
With the Tibetan Spaniel, I conclude this wonderful list of 10 breeds of small and fluffy dogs. Of course, there are many other breeds that can easily enter the top, but we let you enjoy these first.