A very beautiful type of cat that cat lovers will usually go for is the Tortoiseshell. Even though they are a pleasure to own, before getting one you should get familiar with whatever health problems this cat is more prone to.
This isn't the only type of cat that comes with some genetic predispositions. In fact, many breeds will be prone to developing all kinds of health issues and as long as you know what to look for, you can keep your pet in check to make sure you are prepared whenever something pops up. Regardless of whether you are just interested in getting a Tortoiseshell cat or you're already raising one at home, the next part of the article will tell you everything there is to know about these animals and their common health issues.
Details on the tortoiseshell cat
An important thing to keep in mind is that Tortoiseshell doesn't refer to a certain breed, but a certain fur color, which means that there are no health problems connected with these cats specifically.
Basically, a tortoiseshell cat will have fur made of a combination of a few colors like black, oranges, and reds, according to websites like Good Housekeeping. A lot of breeds will create Tortoiseshell cats and among the most famous ones are the Cornish rex, American shorthair, British shorthair, Maine coon, and the Persian cat. Depending on their actual breed, these torties can have either short, medium, or long hair.
You might also like my articles on the Orange Tabby cats, the Flame Point Siamese, or the Bengal Tabby.
Actual health issues of the Tortoiseshell cat
Although you might not expect the color of the fur to influence the health of the cat, there is in fact a very rare condition that a tortoiseshell specifically will be prone to. Experts state that the orange and black coat color gene is carried by the female chromosome X. This means that females, with their XX chromosomes, can come in coats of orange and black colors. Due to males having an XY combination of chromosomes, so just one X chromosome, their coats will only have one of these colors. They can be either orange or black.
The rare condition will basically mess a little with these colors. Males happen to be born from time to time with an XXY combination of chromosomes, according to ASPCA Pet Insurance. This means that although they are males, they will have two X chromosomes, which will make them have the tortoiseshell coat color combination.
Of course, the color of the fur isn't the bad part. This combination of chromosomes can cause something called Klinefelter's Syndrome, which is at the root of a lot of problems like an increased amount of body fat which can lead to heart disease or diabetes, behavioral problems, and even some developmental issues. Along with these health problems, these cats will also have shorter lifespans and will be completely sterile.
How long do Tortoiseshell cats live?
According to the same ASPCA Pet Insurance guidelines, as long as your cat isn't affected by Klinefelter's Syndrome, it will have a normal lifespan. A healthy Tortoiseshell will actually spend quite a few years close to you, considering that most of them will live more than 15 years.
How to keep a Tortoiseshell healthy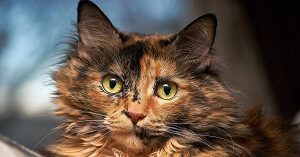 Although as long as your cat doesn't have Klinefelter's Syndrome, being a Tortoise won't make it prone to any other illnesses, you should still keep in mind that it might develop some health conditions related to its actual breed. If you already know what your cat's breed is, then a short research session online or even a talk to a vet will give you great insight into expected health issues and symptoms you should watch out for.
Other than this, you won't have to give any special care to this type of cat aside from the love and care you'd give any other pet cat. This means that you will have to provide your pet with a nice place to sleep, a healthy diet, and a lot of playtime and exercise.
Most cats are prone to developing weight problems, which can cause very severe issues like heart diseases or joint problems if left unattended. Enough exercise and playtime, coupled with a healthy diet are what will keep your cat within a healthy weight range. To keep your cat busy, you will have to get a lot of toys until you find the ones that it likes the best. You should also prepare for quite a few play sessions each day to make sure you consume the pet's energy. If you notice the pet goes wild when you give it food and eats it without a breath, just switch its diet for one made of multiple smaller meals per day. You can also look for some specific bowls and feeding toys made to slow down the food intake of your cat. This way, the animal will eat slower and feel full for a longer period of time.