Terrier breeds of dogs will be considered small if they are anywhere between 8″ and 16″ in height. This article will offer you detailed information on the smaller-sized terrier breeds and a list of most terrier breed dogs.
You will find terrier dogs in all shapes and sizes, from small to short, medium, tall, or large. They are very well-known for their hunting capabilities. Some people also breed them as show dogs, while most will only get these dogs as companions. Below you will find a detailed list of small terrier breeds with short descriptions and expected sizes.
| | |
| --- | --- |
| Names of Terriers | Small Terrier Sizes |
| Yorkshire Terrier | 8″ – 9″ |
| Toy Fox Terrier | 8″ – 10″ |
| Silky Terrier | 9″ – 10″ |
| Norfolk Terrier | 9″ – 10″ |
| Australian Terrier | 10″ – 11″ |
| Cairn Terrier | 9.5″ – 11″ |
| West Highland White Terrier | 10″ – 11″ |
| Border Terrier | 10″ – 11″ |
| Norwich Terrier | 10″ – 12″ |
| Manchester Terrier | 10″ – 12″ |
| Scottish Terrier | 10″ – 12″ |
| Cesky Terrier | 10″ – 12.5″ |
| Sealyham Terrier | 10.5″ – 12.5″ |
| Miniature Bull Terrier | 10″ – 14″ |
| Glen of Imaal Terrier | 12″ – 14″ |
| Jack Russel Terrier | 12″ – 14″ |
| Patterdale Terrier | 12″ – 14″ |
| Parson Russel Terrier | 12″ – 14″ |
| Rat Terrier | 12″ – 16″ |
| Lakeland Terrier | 13.5″ – 14.5″ |
| Tibetan Terrier | 14″ – 16″ |
| Wire Fox Terrier | 14.5″ – 15.5″ |
| Smooth Fox Terrier | 14.5″ – 15.5″ |
| Bedlington Terrier | 15.5″ – 16.5″ |
| Boston Terrier | 15″ – 17″ |
Let's go over some of the most common small breeds of terriers to see their particularities.
You might also like my articles on small dog breeds for yards, teacup dog breeds for apartments, and the smallest dog breeds in the world.
Norfolk Terrier: This type of dog is also known as the demon, which is weird considering that its nature is quite the opposite. This dog is easily trainable and obedient, unlike the other breeds of terrier. His pendulous, V-shaped ears fold and drop beautifully on its cheeks, it has expressive eyes, and a slightly-rounded, broad skull. It has a short body and sturdy legs, this is among the smaller-sized breeds, with a weight of 10 to 15 pounds. It has a hard coat with wire-like hairs. The fur will be longer on its eyebrows, beard, mustache, shoulders, and neck, while it will be shorter on its ears and head. The coat comes in a variety of colors like red, yellow or wheatish, black and brown, or gray.
This dog and the Norwich terrier are so similar that they are often confused. They are both great ratters and look pretty much the same. Up to a point, these two breeds of dogs were seen as two separate varieties of the same breed. Their differences are mostly in the position of the ears, with the Norwich terrier having pointed ones and the Norfolk Terrier more erect ones. The split into two breeds happened after 1964.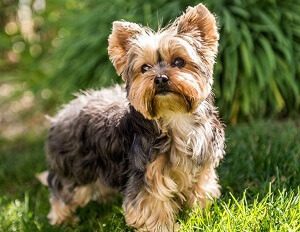 Although a Norfolk dog might be pretty reserved with strangers and outsiders, in general, it will be very happy, energetic, friendly, lively, and completely fearless. These dogs are great as family companions because smaller children will really like to play with this small breed.
Yorkshire Terrier: This dog is commonly referred to as a Yorkie. This dog also has pointed, V-shaped ears. It is a toy dog breed, but a very well-proportioned one, with medium-sized eyes and a small head. It has a shiny, straight, and long coat that will often touch the ground. It will usually have long hair on its muzzle and head. You will see owners tie clips or a bow around this dog's neck. When reaching adulthood, this breed will have a golden tan on its legs, chest, and head, while the body will be steel-blue. Younger specimens will have a darker shade. It should weigh anywhere between 5 and 7 pounds.
Toy Fox Terrier: Experienced owners will sometimes call this dog breed an Amer Toy. This is a rather athletic-looking toy breed of dog. It has round, dark eyes, a narrow muzzle, and a dome-shaped head. His body is muscular, although his stature is considerably small. This dog has a tail that is pointing upwards and V-shaped ears that are usually erect. Its coat is shiny, smooth, and short, with a tan-spotted or black shade. This dog can weigh anywhere between 3.5 and 7 pounds.
Cairn Terrier: A popular Cairn Terrier is Terry, the dog that was Toto in the Wizard of Oz. This is a dog that always seems happy and will like to have people around, although it is still considered a tough dog for its size. This is one of the smaller working terrier breeds. With its small and strong body and very short legs, it is a very active pet. It has a thick and rough coat and an undercoat that is furry, soft, and short. It can weigh anywhere between 13 and 17 pounds.
Silky Terrier: People also call the Australian Silky Terrier by its nickname, the Sydney silky. This toy dog breed is a very sturdy one. It has V-shaped, pricked ears, very expressive and small eyes, a wedge-shaped head, docked tail, and a low and strong body. It has no undercoat and its coat is silky and smooth. The coat of a puppy of this breed will have a light-brown and black coat that can have some hues of blue. When it reaches adulthood, its hair can grow up to 6 inches long, with a clear parting on its whole back, from the tail to the neck, and a cowlick on the head.
These are just some of the small breeds of terriers. They have different purposes, but overall, are great dogs to keep around the house and make great pets.