Even though Labradors come in three different coat colors, black, chocolate, and yellow these colors can still dilute into a few different colors like silver and charcoal. While silver Labradors will result from the dilution of the chocolate-colored dogs, Charcoal Labradors are a type of from black Labradors. Being members of the same big breed, these two types of dogs have quite a lot of things in common. The next part of the article will give you a very detailed comparison between the Silver Labrador and the Charcoal Labrador.
Silver Labrador
These types of Labs came to be by diluting the genes of Chocolate Labradors. There is currently a lot of confusion around the real origin of the Silver Labrador, which sparks quite a debate among experts. There is, however, a report that would suggest that these Labradors were first seen in the United States around the year 1950. One of the first kennels that ever made these silver-colored dogs is Silver Lab.
You will have a lot of fun playing with these kinds of Labradors, because just like the other types of Labs, they are very great at retrieving, but also hunting. They really enjoy water sports as well.
These pups have a water-resistant coat in a straight, double layer, which is a type of gray or silver. Compared to other types of Labradors, these Labs will usually have eyes and noses colored differently. The nose of the Silver Lab is light brown, while the eyes are light-yellow or blue. This is quite the contrast, considering that most Labs will have either brown or black noses and their eyes will be hazel or brown. You can register these dogs at the AKC as Chocolate Labs if you have proof of three purebred Lab generations' history.
Charcoal Labrador
The Charcoal Labrador is considered a purebred Labrador Retriever. These dogs find their origin in Canada, which was known as Newfoundland in the past. Most Labradors are known as water-loving dogs, but Charcoal specimens are much more inclined to hunting, having great hunting skills. They also make for great working dogs due to the strong bond they form with humans.
You might also like my articles on the Labmaraner, the Chow-Lab mix, or the general Labrador retriever.
These dogs will look very similar to pure-black Labradors and this is because they are basically a diluted version of the pure-bred Blacks. This unique coat color that makes the dog look like a piece of charcoal is caused by a gene that dilutes the color. Aside from this unique color, these dogs are just like other Labrador Retrievers, having a straight double coat and other similar features. These types of dogs are very quick learners and will usually need less training than other types of dogs due to their high intelligence levels. What they do need instead is a high amount of exercise on a daily level to stay healthy and active.
Noticeable Differences Between Silver and Charcoal Labrador
You will find the main differences between these two types of Labradors in the table below:
Characteristics
Silver Labrador
Charcoal Labrador
Origin
Germany and France
Canada and England
Gene
Dilute gene of chocolate lab
Dilute gene of black lab
Weight

Male: 70 pounds
Female: 55 to 60 pounds

Male: 65 to 80 pounds
Female: 55 to 70 pounds

Coat Color
Silver or gray
Charcoal
Lifespan
10 to 15 years
10 to 12 years
Noticeable Similarities Between Silver and Charcoal Labrador
I will go over some of the most important similarities between the silver Labrador and the Charcoal labrador below:
Purebred – Although a lot of people had speculations about the Silver variety, everything was cleared by the AKC when they chose to register this variety of dogs as Chocolate Labs.
Intelligence – These pups are both very easy to train and intelligent overall.
Height – In terms of height, these two dogs will reach between 21 and 24 inches tall, just like all other types of Labradors.
Shedding – These dogs are not hypoallergenic. This is the case with all Labradors, that shed a lot of hair due to their double coat.
Temperament – Both of these types of dogs are very loving and very friendly to humans. They can be very loyal dogs with a very even temperament, which makes them great for big families.
Training – If you have a Silver or a Charcoal Labrador, training the dog should be very straightforward and easy. These dogs love to learn all kinds of new things and never back off from challenges.
Exercise – Both of these dogs will need to burn a great deal of excessive energy so they will require a high level of exercise to stay happy and healthy.
Living Environment – Labradors are categorized as large dogs, which means they will require quite a space to move around freely. This is why it would be better if you have a large yard. Although these dogs prefer yards, they can also get used to living in an apartment, as long as they receive enough exercise and proper training.
Should You Get a Charcoal Labrador?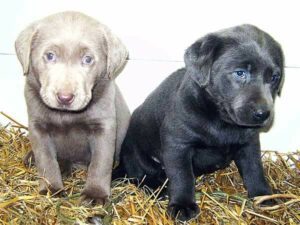 If you have a backyard or other large place where the dog can get its exercise, then you can get this dog. These dogs are very loyal, but they are also very loving to their masters. Due to their water retrieving history, Charcoal Labradors will love to play in and around water. If the owners have enough experience and can train them and take care of all their needs, these dogs will have no problem living in an apartment either.
If you don't want to spend a lot of money, then you can get a Charcoal Labrador. I say this considering that you can find this dog for around $800 to $1,000, which is really not a lot when talking about pure-bred dogs.
Should You Get a Silver Labrador?
You will really like the looks of these very beautiful pups with blue eyes. This is something you should consider if you're looking for a beautiful companion that will spark the interest of a lot of people. If you have an active lifestyle then a Silver Labrador might work great for you, because they really enjoy playing.
They are not only very chill in general, but they also bark less than other breeds especially when their owners aren't home most of the day. This means that if you're gone for most of the day, then you need a dog like the Silver Lab, so you're sure that it won't stress the neighbors with its bark while you're away.