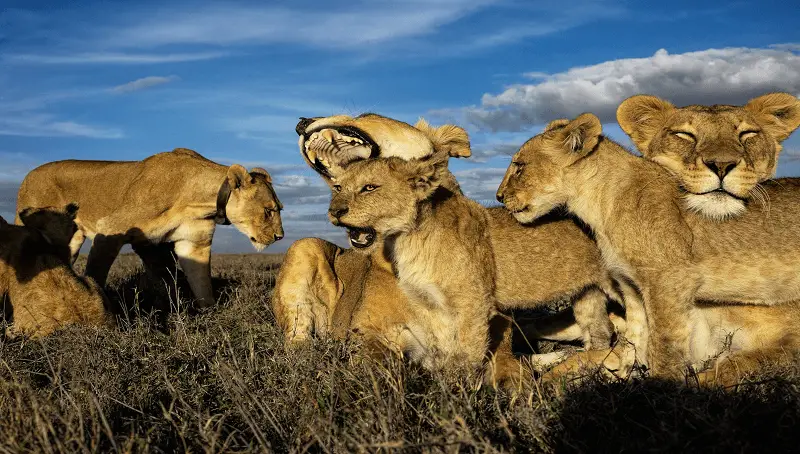 What is a Group of Lions Called?
May 4, 2022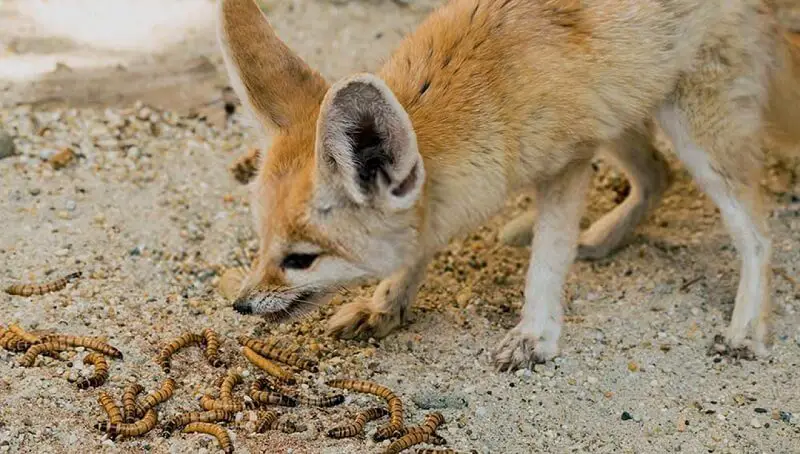 Are Foxes Omnivores? What Do Foxes Eat?
May 4, 2022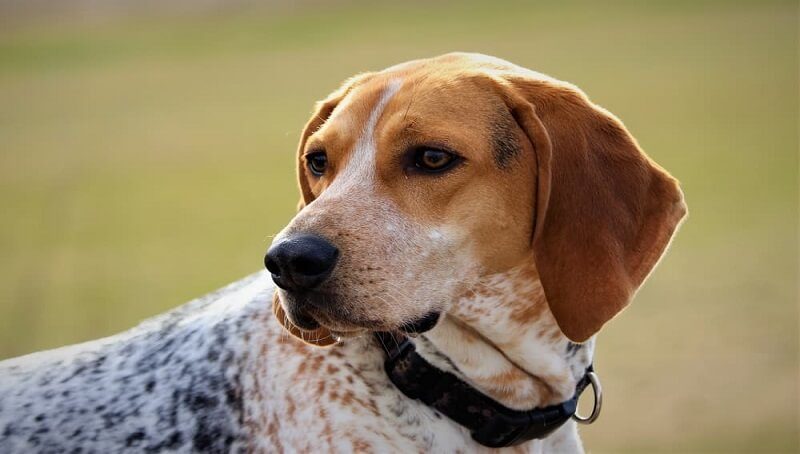 The Redtick Coonhound, also known as the American English Coonhound, is a breed that has its origin in the Southern United States. If you're planning to get a Redtick Coonhound for your home or you just want to know the key aspects of this dog, here are a few very important tips about the breed.
Did You Know?
Up until the year 1945, both the Treeing Walker Hound and the Bluetick Coonhound were also known as American English Coonhounds. It was in the year 1945 that experts decided to split this breed into three different breeds.
A coonhound is what people call a scent hound. These dogs get their name from their ability to find and hunt raccoons. They will usually hunt game mainly with the help of their amazing olfactory sense. They were used in the past not only to hunt raccoons, but also to catch bears, bobcats, boars, and deer. This breed reached the European continent in small numbers by the 17 and 18th centuries. They were first named 'Virginia Hounds', in Europe, but in 1905, the United Kennel Club (UKC) decided to stick to their final name, Redtick Coonhounds.
You might also like my articles on other breeds like the Johnson American Bulldog, the Toy Australian Shepherd, or the Long Haired Dalmatian.
Qualities like their intelligence, speed, endurance, and sense of scent are what make this breed very popular. This breed is considered perfect for the usual American family and is just one of the six official breeds of Coonhound. They are amazing watchdogs, even though they don't excel as guard dogs. These dogs are great around children. As long as strangers don't harm them or their owners, these dogs won't be aggressive towards unknown individuals either. Below, I have shared some general information on their temperament, physical characteristics, training needs, suitable diet, and common health issues you should prepare for when talking about this particular breed.
Physical Characteristics
The breed's appearance will be a rather normal one. This is a dog that can weigh anywhere between 40 and 68 pounds, (somewhere between 18 and 31 kg). Males are expected to reach a height of 22 to 27 inches (meaning they will be 56 to 68 cm in height), while females will be somewhat shorter, with a height of just around 20 to 25 inches (50 to 64 cm). Their lifespan will be of around 12 years.
You can get an idea about the hound's coat from its name. It will be a low-maintenance, all-weather coat, of medium length, rough, and pretty short. It will protect the dog during both high and low weather fluctuations. which protects the dog from extreme temperature fluctuations and brush. But what about its color? This breed can come in a lot of color combinations, from black with white patches, to red and white patches, tri-colored with ticks, red with white ticks, and even blue with white ticks.
An interesting thing about the purebred American Coonhounds is the fact that you won't be able to find one with a solid color coat. Most will have a type of pattern on their fur. Grooming will mean just cleaning and brushing the coat regularly because it won't require any professional touch or complex grooming. If you want to keep a Coonhound inside the house, you will have to prepare for some intensive shedding. They will basically fill the house with fur, from the furniture to upholstery and carpets, and any other places.
Temperament
You will see your Coonhound tracking scents all over the place. It will love to explore your house and backyard and will roam in any available space. These are very friendly, loyal, and loving dogs. They really love to play with children and children will really love them. Although they are not aggressive, you should still only walk them on a leash, to prevent them from wandering away.
They have inherited the howling from older breeds of hounds, along with multiple other tracking abilities. While hunting, their howls will be strong and long. The same sounds are expected when a stranger will knock at your door. If you live in a smaller community with neighbors close by, they might get annoyed by these howls. A dog from this breed will simply love nesting, although they are considered very active.
The hound will try to make a nest out of the things that are around him. This means that the dog won't need more than an old couch and a pile of rags to make a resting place out of them. You should always take care of the things that are within their reach because they really like to chew on everything they find.
Diet and Exercise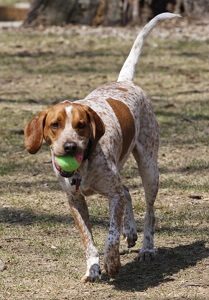 You should gather from what I said so far that the American Coonhound is a very bubbly and energetic dog. This means that you will also have to prepare a balanced diet for it to maintain its energy levels to the max. Meat should be the most important part of the diet and out of all the meat types you should emphasize lamb beef and turkey, but you should also give it some fruits and vegetables at least as treats. From time to time you can add some yogurt and an egg to the diet, but don't overdo this.
As for the exercise itself, you should try to take this dog on long walks and brisk runs. Never let your Coonhound lead you. Always try to assume the role of dominance. This is mainly due to the personality of the Redtick Coonhound, which is a pack dog that constantly looks for a leader to follow. This won't be very hard as long as you try to set some rules from the start. In time, due to the fact that you will be the one to feed it, but also set and enforce the rules, it will consider you the leader pretty easily. Keep in mind that these are also very stubborn dogs. If the hound won't consider you its leader, you will have a way harder time training it. While you use a leash on walks, you should make sure that it won't hurt the pet around its neck, but you should also make sure that the dog will stay close to you and not pull on the leash.
Common Health Problems
As with most medium to large dogs, one of the biggest health issues is hip dysplasia. This breed will also be vulnerable to illnesses like polyradiculoneuritis, progressive retinal atrophy, and ear infections, to name just a few. To always make sure that your dog is healthy, you should schedule veterinarian visits every six months. You can avoid ear infections if you check its ears regularly. This breed has drooping ears and these are a lot more susceptible to infections than pointy ears in dogs.
These are the general things you should know about the breed. Of course, a dog is a big responsibility so you should do a lot more diligence regarding the breeder you buy it from, the particular health issues of the puppy, and so on, to make sure that there will be no problems.