The Toy Australian Shepherd is a smaller version of the Australian Shepherd. Despite their name, they do not come from Australia – in fact, they come from the United States.
The Mini Australian Shepherd became very popular quickly due to its compact size and hard-working nature. They are highly talented in the herd, but they are not yet recognized by the American Kennel Club.
This pooch started as a line of Australian herders raised for their smaller size, but eventually became their own distinct race, even though they are not toy-sized dogs.
Toy Australian Shepherds are classified as shepherd dogs, as their higher counterparts.
These dogs have been bred to guard other animals and to help work around the farm.
Toy Australian Shepherds have a very large brain behind that adorable face. These natural learners can be trained to perform all sorts of tasks and are prepared to learn any game that keeps their minds engaged.
Their helping nature comes from their history of shepherds. Work is like a game for them and they want to help their owners as much as possible.
Overview: Pure breed
Purpose: Herding.
Weight: 40 lbs.
Size: 14-18 inches.
Temperament: Full of life, concentrated and working.
Pros and cons
Pros:
It can be trained to perform all kinds of work.
Great fitness partners.
Listening and intelligent temperament.
Highly adaptable.
Very loyal and protective of their family.
Cons:
It has a strong instinct to hunt and track.
It can be destructive and unpleasant if it is bored.
It needs a lot of care.
Training can take a long time.
It is not ideal for those who live alone.
Toy Australian Shepherd's look
Toy Australian Shepherds have a long, wavy double-layered coat that comes in a variety of colors. They may be tricolor, bicolor, or only one color with white accents.
They have broad chests and shoulders on muscle bodies and their head will be proportional to the size of their body. Their attentive eyes may be brown, blue, or even in double colors (heterochromia).
Their basic color is dark, with lighter or darker spots. The chest and bottom are always bright white.
Height and weight
These dogs usually have a height between 14 and 18 inches. The females are only one or two centimeters shorter than the males.
Both males and females weigh 20-40lb, with females weighing slightly less than males. According to the official breed standard, a fully grown Toy Australian Shepherd should be over 12 but under 20 inches high. It should not be small enough to be confused with a toy race.
Breed and Pantone colors
The basic colors for this breed are usually black or reddish-brown. The white, light brown and beige colors appear in layers over the fur.
Merles are identified by a mottled look on a black or red coat, which makes the base seem easier. In a merle specimen, the black base color is dimmed to blue-gray, and it is known as the Australian Miniature blue merle.
The double cover of the breed has a thick outer layer with a fluffy substrate. The outer shell can be straight or appear in splendid waves.
6 funny facts about the Toy Australian Shepherd
Since 2018, the Australian Shepherd and his miniature counterpart have been the 17th most popular dog breeds in the United States.
The names of breeds come from the origin country of the original breeder. The breed itself comes from the State of California.
Historically, the breed was known as the Californian Shepherd, the Spanish Shepherd, and the new Mexican Shepherd.
In addition to the standard size Australian Shepherd, this breed is also closely linked to the Border Collie.
Occasionally, its fur can have a double merle pattern that makes the dog look almost completely white.
Other names of the breed include Mini American Shepherd, Mini Aussie, or simply MAS.
Personality and temperament
Commonly called Mini Aussie, this race is strong, sturdy, and medium in size. They are well-balanced dogs, extremely agile, and possess high resistance. Extremely versatile, this race is very intelligent, a great companion and guard.
The Toy Australian Shepherd is loyal and affectionate. It is joyful, playful, and alert. Their exuberance and herd instinct make them unsuitable for families with young children. Usually, they are not aggressive with other dogs.
These little job seekers are really happy only when they have something to do. As their owner, it will be your primary responsibility to keep them busy.
A bored Mini Aussie will be agitated and irritable. They can protest by destroying your furniture or making your house dirty.
They will be happy if they are stimulated, and you will have an affectionate and loyal friend with a strong desire to keep your family safe. They are full of endless energy which they need to consume through daily work and play. They love running, bringing stuff, and making great friends during hiking.
Unless they are alarmed or under-stimulated, they are generally quiet dogs. Excessive barking usually means something is annoying or alarming them.
Their attentive nature leaves them cautious about people outside their family. You'll need to be patient when you teach them to distinguish a friend from a threat.
It is possible for them to get along with other pets because they have been bred in the herd. They can jump and run to smaller pets or even larger dogs.
Typically, they pay more attention to the details than most other dogs do.
They know when something is wrong and they will be very keen to protect you and your family.
Is Toy Australian Shepherd a good family dog?
The infinite loyalty of the Toy Australian Shepherd makes it an absolutely fantastic family dog. In fact, they are better for families than for those living alone.
These dogs only love the tough and agitated games children play. Your Toy Shephard will do a good job of entertaining and exhausting your children.
The care you need to put in a Toy Australian Shepherd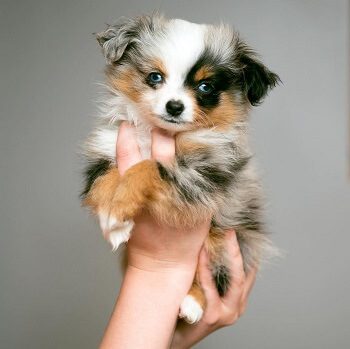 Toy Australian Shepherds are dogs that are considered high maintenance and need to keep their large brains busy all the time. Most of the time this can happen through training and game.
They are great for families who are as active as they are, but it will be difficult for lonely people or even couples to keep up with them – also, it is not a good idea to get a dog of this breed if you are a dog owner for the first time.
Requirements regarding the exercise
The love of long walks comes from the history of agricultural land on which they worked. You can take it on an hour walk or divide it into 2 quick 30-minute walks each day. Every day they need an hour of walking plus 30 extra minutes of playing time per day. Tracking and jumping are their favorite ways to play.
They must be kept on the leash at any time, because they may want to jump onto people or run to other animals.
They like to help their owners and they will want to be offered daily tasks to do in their home. If you live on a farm or keep animals, they are one of the best four-legged hands you can find.
The number of trips per day: 2.
The total exercise required per day: Minimum of 90 minutes.
Grooming
These dogs shed a lot – especially in the spring and autumn seasons!
You might also like our articles about the cost of The Long Haired Dalmatian, the Johnson American Bulldog, or the Exotic Bully.
You will need to wash your dog every day and check their fur for dirt, fleas, and ticks.
Special brushes and combs, which touch both layers of the fur, can be used for shed control. A fine-toothed comb can brush the dirt or bugs that can hide in their fur.
Your active Toy Shepherd will probably dull its nails naturally as it runs. If the dog's nails turn, it's time to cut them.
Feeding and diet
Although this is a very active breed, it is also a small breed. You won't have to feed them as much as a standard size Australian Shepherd.
An adult dog needs 2 cups of food per day, 1 cup per meal. If you want to give them wet food, replace one of their meals with a box.
Both wet and dry food should be made of raw meat ingredients with little or no additives or fillings. Meat should always constitute the majority of any dog diet, followed by natural sources of healthy fat. Carbohydrates and cereals should only be present in small quantities.
Calories per day: 800-1200
Known health problems
The eyes of this dog are susceptible to a variety of disorders. Eye problems and blindness are very common in the breed.
They can be born with IRIS chrobomas, which are the result of an underdeveloped iris. A chroboma iris appears as a black spot on the iris and causes different levels of visual impairment.
The same pair of genes leading to the attractive double layer of merle can also cause microphthalmia, an underdeveloped eye. This can occur in one or both eyes.
The Toy Australian Shepherd is also prone to blindness, deafness, ocular disorders, hip dysplasia, and knee dislocations.
How long does a Toy Australian Shepherd live?
Your Toy Shepherd will be an 11-13-year commitment.
How to train a Toy Australian Shepherd
It is very easy to train these dogs because they want to thank their masters, however, it will take you a long time.
This is a team effort between you and your puppy. Your Toy Shepherd is clever enough to understand your attitude and will become discouraged if you walk away, get angry, or get irritated during your training.
Your dog must learn to respect you as their good friend and mentor. They must know that you are rooted, no matter what.
Love and praise will be the best way to train them. When they succeed, make sure you show them how proud you are of them.
Your puppy will be very agitated around strangers and should socialize as soon as possible. Their enrollment in puppy training will make them feel comfortable around other people and dogs.
Keep them busy with little tasks all day. This can be anything from carrying a pack of sticks to finding hidden toys.
You can play the classic game "of fetch" that Toy Shepherds love. When they bring the toy back, replace it with a different toy or make it run a longer distance to get the next toy – your puppy won't know what's going to come!
Size differences
The only difference between the miniature and classical varieties of the Australian Shepherd is the size. Traditional Australian Shepherd is 18 to 23 inches high and weighs between 40lbs and 65lbs. The miniature version is 10-14 inches high and weighs less, between 7lbs and 20lbs.
Final thoughts
If you've already had a Border Collie, an Australian Shepherd, or another shepherd race, you should have no trouble with a Mini Aussie.
Once one of these sweet souls has become friends with you, they will corner you with unconditional love for the rest of their lives.
If you are looking for a vigorous working dog but are not ready to take a bigger breed, the Toy Australian Shepherd can be a perfect choice.
The Australian Miniature is a great addition to an active family. As in the case of standard size Australian shepherds, if you can keep up with their high energy, you will have a friend for life.