Meat that is obtained from mature cattle is called beef. A healthy beefsteak of high quality should be bright red in color, thin-grained, lean, velvety and solid. It should also have creamy-white fat contents properly distributed on its surface.

Venison is what you would call game meat that comes especially from deer. It is usually leaner, although it mimics most of the characteristics of beef and mutton.
Are venison and beef good for cats?

Yes, cats can eat both venison and beef, both foods proving to be very nutritious for both humans and their pets. Although they can become the cat's favorite food very fast, you should remember to keep the amount and frequency of these types of meats in the pet's diet under strong regulation, to avoid any health issues.
If you overfeed your cat with meat, the pet will risk facing arthritis, kidney stones, heart problems, obesity, and a multitude of other complications.
How Much Beef and/or Venison Should Cats Eat?
Although most specialists would agree that only a few small size pieces of red meat two to three times a week should be enough to keep your cat healthy, no study has been able to confirm or infirm this claim.

You might also like my articles on whether cats can eat salmon skin, shrimp, or mushrooms.
With this general rule in mind, there are a few factors that you should keep track of when considering the right amount of venison or beef for your pet.
Its size: The larger cat breeds or cats that are considerably bigger than average can eat more venison or beef compared to smaller-sized specimens. This is because smaller cats will usually require less food to sustain their energy consumption. Keep in mind: Overweight isn't the same as bigger in this particular case.

Existing underlying conditions: If you know your cat is suffering from illnesses like heart issues, obesity, arthritis, or anything else that will require a regulated diet, then you should try to avoid feeding it beef or venison, as these can make things worse.
Its age: One of the most important factors that will influence not only the diet but also the pet's way of life would be its age. Older cats have a harder time digesting some types of foods.
At the same time, any kitten below 6 months of age should be kept away from both venison and beef, because they don't have yet the necessary digestive capabilities to handle complex meals.

 Don't just throw big meals made of meat to your cat as soon as it reaches the age of 6 weeks. What you should do is gradually introduce meats into its diet and see how it reacts to them.

Any known allergies: There is such a thing as an allergy to beef, venison, or other types of meat. Make sure that your cat doesn't have an aversion to these meats by adding them in small quantities at first, and stop adding these foods to its diet if you notice any side effects. An allergic pet that eats something that it shouldn't, can have real health issues and is even at the risk of death.

Even if your cat has no issues eating beef or venison, you should only feed it with these meats moderately to make sure you keep it away from the issues I talked about above.

How to Cook Beef and Venison for Your Cat?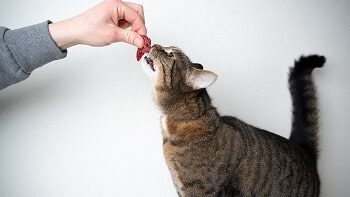 Meat shouldn't be completely removed from your cat's diet. In fact, most experts recommend you feed your cat with meat two to three times per week. At the same time, overfeeding your cat with meat can have really damaging effects on its health and way of life.
The first thing you need to make sure is that the meat is free of any micro-organisms. Wash it properly and then cut it into smaller pieces, so that your pet can chew and swallow them. If the pieces aren't small enough, your cat might choke on them.

You can feed your cat with cooked beef or venison as well. Your pet will usually enjoy eating a properly cooked meal comprised of meat that you prepared for yourself. But you should refrain from adding spices, onions, garlic, or other additives if you want your cat to have a bite of the cooked meat, as these can lead to stomach issues and bloating.
Nutrients Inside Beef and Venison
Risks Associated With Beef & Venison
Although meats such as beef and venison are very important in your cat's diet, boosting its development and way of life, they should be added into the pet's diet in moderated amounts.

These meats are almost the same; the only difference is that, while beef is usually obtained from farm-grown cattle, venison comes directly from game animals. Hunters will sometimes use poisonous spears while hunting animals and that poison can be passed on to whoever eats that meat. This is why you should be cautious and know exactly where the venison meat came from and how it was procured.

Regardless of the benefits, both beef and venison can become rather harmful when you overfeed your cat with them. These meats, when in excess, can lead to heart issues or obesity.

They can also have parasites or other micro-organisms that could be passed on to your cat and infect it, leading to all kinds of medical problems. You should make sure that any meat you feed to your cat has been tested for any parasites beforehand.
Is Your Cat Protein-Sensitive? Here's How To Find Out
There are a few signs that you can look out for to find out if your pet is allergic to foods that contain high amounts of protein:
Skin rashes and abnormal scratching

Difficulty in breathing

Swelling in limbs and face

Paw inflammation

Vomiting & diarrhea

Lethargy
If you spot any of these signs you will have to go to a vet as soon as possible to figure out if it is an allergy or something else.
What other foods can I serve my cat?

A proper, complete diet for a cat will mean meats like beef or venison along with whole grain, chicken, vegetables like cucumber and broccoli, fruits like bananas or apples, and other healthy treats.
What are the toxic foods for a cat?
Ingredients like garlic, onion, chocolate, fish, raw eggs, bread, yeast, and tuna should be avoided when you feed your cat. All of these foods come with some nasty side effects.

This article should be enough to know not only whether your cat can eat beef or venison, but what else you can or shouldn't add to your pet's diet. You should always talk to a vet if you're unsure about a type of food and whether your cat can eat it safely or not. If you have anything to add, you can always comment below.