Mushrooms are integrated into many types of food for humans, but veterinarians are more concerned about the wild varieties of mushrooms that may occur overnight during rainy months in many parts of the United States. So, are mushrooms found on a thrown-away slice of pizza safe for cats to eat?
From time to time, you can feed your cat store-bought mushrooms, as they are considered the safest ones. When talking about wild mushrooms, keep in mind that there are also some sorts of shrooms that are good for humans but toxic for cats. If you are not sure which one is safe, don't let your cat eat any type of mushroom.
How are mushrooms good for cats?
Mushrooms contain oils exceeding the content of all vegetables. Carbohydrates are favorable to the activity of intestinal microflora and promote the excretion of cholesterol and various toxic substances. Various proteins from fresh mushrooms reach 2-5% and they are also rich in thiamine, niacin, provitamin D, vitamin B, and so on. This is why through their components, mushrooms are products that can help with the proper development of a cat.
You might also like my articles on whether cats can eat salmon skin, sausage, or shrimp.
Mushrooms are very nourishing and resemble meat products. With their flavor and quality taste, a cat will enjoy eating them from time to time.
How do all these nutrients help your cat?
the potassium content helps to maintain low blood pressure and prevents cerebral attack;
copper prevents heart problems and ensures a good functioning of metabolism;
calcium strengthens the bones and the iron prevents anemia;
the antioxidants strengthen immunity and prevent infections;
the combination of protein, fiber, and vitamin B helps to a healthy metabolism.
In order to maintain their organism in good condition, cats use all these nutrients and components to boost their metabolism.
What kind of mushrooms can cats eat?
If your cat eats a mushroom while enjoying some forgotten leftovers, there's no need to panic. Not all mushrooms pose a threat to a cat. Usually, the mushrooms bought from stores are not dangerous for your cat.
You can offer it sticks with a very small quantity of shiitake, button, or Portobello mushrooms. It is also important to make sure they are cooked well and you shouldn't add spices. They can irritate the cat's stomach.
Wild mushrooms are not safe for cats to eat. There are countless varieties of mushrooms and many of them have been associated with toxicity to cats. While some mushrooms are non-toxic, it is encouraged to consider any mushroom ingested in the open air by your cat, as toxic.
ASPCA strongly recommends against cats eating wild mushrooms and also recommends removing any signs of them in your yard.
What do you do if your cat eats mushrooms?
If your cat has eaten wild mushrooms, look for the following symptoms:
vomiting
diarrhea
excessive salivation
lethargy
If your cat suffers from any of these symptoms, seek veterinary assistance immediately.
Can kittens eat mushrooms?
If you intend to offer your kittens mushrooms, the safest ones are the white, store-bought mushrooms. Remember: moderation is best, both for cats and kittens!
Can cats eat mushroom soup?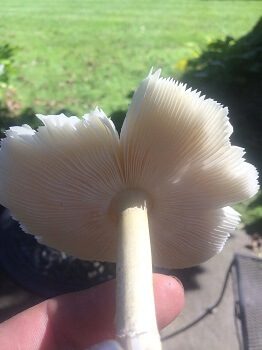 If a cat can eat mushrooms, it can also eat mushroom soup, as long as it is properly cooked. It is very important for the mushrooms to be well cleaned and cooked so any type of bacteria will be eliminated.
Mushrooms are difficult to digest because the walls of fungal cells contain chitin substances that do not decompose into gastro-intestinal waste. The best way to offer your cat mushrooms is to chop and cook them well. When you mash the mushrooms, the chitin comes out of the cells, and thus the product is assimilated up to 70% better.
Can cats eat raw mushrooms?
Yes, cats can also eat raw mushrooms, but don't forget that they might give indigestion due to chitin.
Types of wild mushrooms to avoid for cats
If you decide to give your cat wild mushrooms, then start by giving them a very small amount. Watch your cat if there are no allergic reactions or intoxication.
Depression, weak response to stimuli, thirst, discharge from the nasal cavity, anemic mouth and mucous membranes, vomiting, diarrhea, all these testify to signs of allergy or poisoning.
Here are some wild mushrooms you must avoid giving your cat:
Slender Caesar's Mushroom (Amanita virosa var. alba)
Solitary Dapperling (Leccinum versipelle)
Sickener (Russula emetica)
Poison Pie (Amanita bisporigera
Panther Cap (Amanita pantherina)
Destroying Angel (Amanita virosa)
Fly Agaric (Amanita muscaria)
Death Cap (Amanita phalloides)
Can cats eat dried mushrooms?
Dried mushrooms are harder than canned or fresh mushrooms, so they will be more difficult to be digested. Either way, cats can eat dried mushrooms.
Can cats eat oyster mushrooms?
Oyster mushrooms are softer than dried mushrooms, so if cats can eat dried mushrooms, they can also eat oyster mushrooms.
Can cats eat morel mushrooms?
Morel mushrooms are also rich in iron, potassium, phosphorus, calcium, selenium, vitamin D, Fiber, and protein and should be given in moderation. They are often used as ingredients in stews and soups.
Can cats eat white mushrooms?
Cats can eat cremini or white button mushrooms because they contain niacin riboflavin which is good for their immune system, nervous system.
Can cats eat maitake mushrooms?
Maitake mushrooms should be well cooked before offering them to your cat in order to avoid any adverse reaction. They are rich in vitamin D and niacin.
Can cats eat portabella mushrooms?
Portabella mushrooms are called this way because their cap is so large it can fit in one's hand, and yes, cats can eat this type of mushroom.
Can cats eat enoki mushrooms?
Enoki mushrooms are low in calories and have a soft flavor, perfect for a cat.
Can cats eat psychedelic mushrooms?
Psychedelic mushrooms contain psychoactive compounds so it isn't recommended to give them to your cat. They will affect your cats' nervous system by causing them hallucinations and making them sick.
In most cases, mushrooms are best to be avoided. An exception makes a small number of mushrooms that can be purchased from shops. Wild mushrooms can be extremely poisonous and cause health problems for your cat. When a wild mushroom is seen in your backyard, it is better to assume it is toxic. If your cat swallows any type of mushrooms, it is best to call the veterinarian immediately to seek professional treatment.