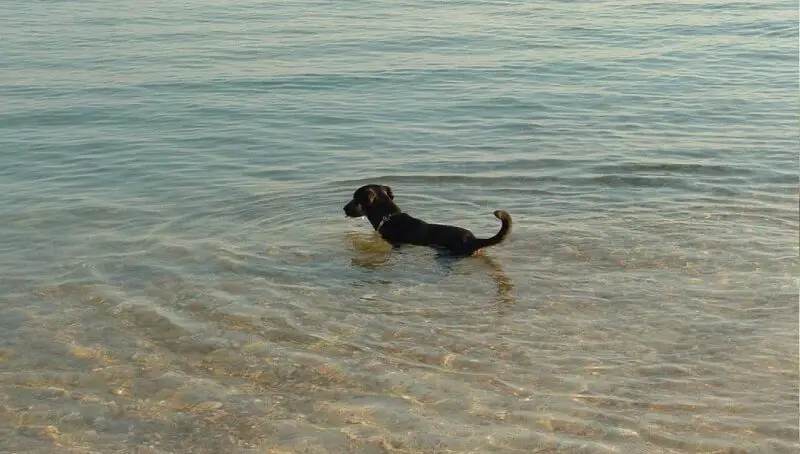 Can Dogs Drink Ocean Water?
May 25, 2022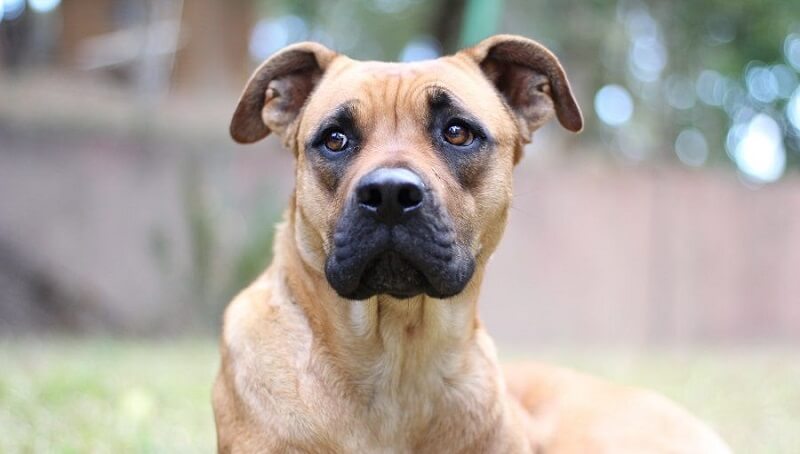 The Great Dane-Boxer Mix (Boxane) Breed Information
May 26, 2022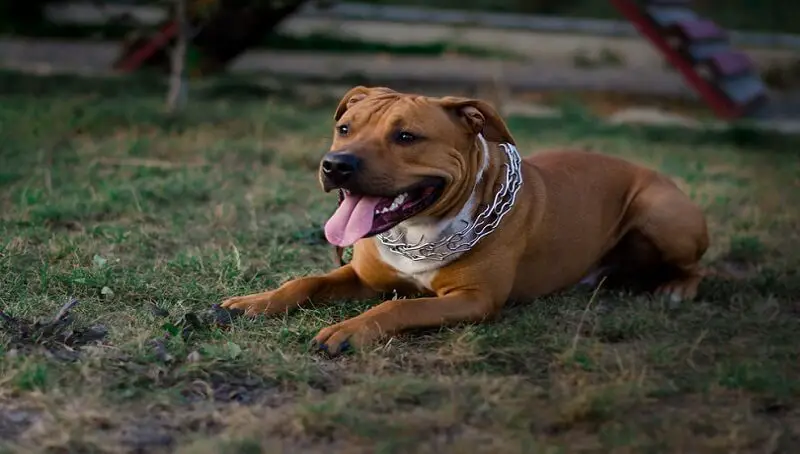 The Amstaff, also known as the American Staffordshire Terrier is a type of dog that was brought to life in England in the 19th century, by mixing the terrier and bulldog breeds. At first, it was bred only as a fighting dog. It started to gain popularity as a watchful and loving guard dog only around the 20th century when it was introduced in popular culture and the army.
About the American Staffordshire Terrier
Some of the words that perfectly describe the Terrier are medium-sized, active, aggressive, interesting, loving, and fearless. These dogs can make for great friends and human companions. This type of terrier is basically a close relative of the European and English dogs that migrated in the early 20th century to America. Considering that it was not only perfected in the US but also used a lot by people in American society, this dog is actually seen as a thorough American breed.
You might also like my articles about other dog breed mixes like the Bo Chi, the Labmaraner, or the German Shepherd Boxer Mix.
This dog has managed to prove its worth both in fighting rings and while helping farmers and settlers to protect their lands. Among the contributory breeds that made this dog come to life are fox terriers, black Teresina, and the white English terrier, although there is still a debate over the exact type of ancestry. Nowadays, there are multiple Amstaff mix dogs that are bred and sold to people.
Its Brutal History
In the 19th century, although dog breeding was still a developing area, some breeders from Great Britain and especially the Staffordshire region, managed to create a new breed from a few types of terriers and bulldogs. It was the Staffordshire terrier, the masculine and powerful dog that was showing great skills at defending his master or the land of the master regardless of the threat. It was known to fight until winning or losing conscience and while cornered, it got angry and fought back like a cannon.
It managed to get respected inside fight rings for this fierce temperament in the early 1900s, right before it was completely banned in the US. A short period needed for adaptation coupled with the apparitions of further strains of the breed resulted in the creation of a totally different breed called the American Staffordshire terrier. It was slightly bigger than the original English Staffordshire terrier.
In The Current Times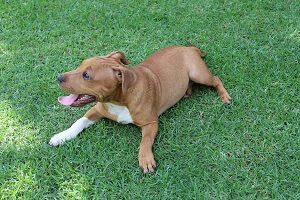 The American Staffordshire terrier is different than the original, having a wonderful temperament and personality. It can become a very obedient and loyal companion and can adapt perfectly to mild training, especially when made to feel like a pack member and a friend. Keep in mind that some mild discipline lessons will be very important in its first months of life because this is a pack animal that has to learn its place. You will only be able to avoid behavioral problems if you give the dog enough socialization. It will have to have a clear understanding of who its master is as well. This means that the owner will also have to consider consistent asserting. This breed will be especially happy if it gets a lot of playtime, friendly company, and long walks. This dog can also protect children it gets close to.
Amstaff Mix Breeds
A lot of Amstaff mix dog breeds have managed to get to live in the United States in the recent past. You should keep in mind that these types of dogs shouldn't be adopted from unknown sources and should only receive accurate care. Below you will find some of the most common mixes of Amstaff.
Old Anglican Bulldog
One of the most common mixes of the American Pitbull Terrier is the Old Anglican bulldog. It was designed to be a cage fight winner and is known to be a ferocious dog. It will have the usual bulldog face and brown color fur. It has a very heavy build and a healthy look to it. Some issues you should get prepared for when getting this type of tog are cataracts and a bad temper.
Bullboxer staff
The Bullboxer staff, also known as the Boxer Amstaff Terrier mix, is another very common mix of breeds. It will take the build from the Terrier, while its appearance will be more like that of a bulldog. You will have to train it as you would both a Bulldog and a Staff. It will usually get some problems from both its parents, which could be snoring, cataracts, skin allergies, thyroid problems, stubbornness, or hip dysplasia.
Old Staff Bulldog
The Old Staff Bulldog holds third place in terms of the most common mixes, having an appearance that resembles both the Old English Bulldog and the Amstaff Terrier. Most dog breeders will call this breed a multi-generation cross. It will require regular exercise and medical attention, as well as proper mastering that shouldn't be cruel or extreme.