If you have a dog and you want to go on vacation with it at the sea, you must know that you are exposing it to lethal danger. Saltwater is fatal for dogs if swallowed or if the animal spends a lot of time in the water.
The ocean water can make a dog sick and can be fatal in severe cases. For this reason, it is important to try to prevent your dog from drinking water from the ocean.
Can dogs get sick because of ocean water?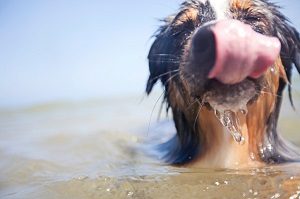 In most cases, a few sips of saltwater can only cause diarrhea. However, consuming large amounts of saltwater can be fatal. When a dog ingests saltwater, excess salt draws water from the blood into the intestines, leading to diarrhea, vomiting, and dehydration.
You might also like my articles on the number of nipples on a dog, dog eating issues, or seed ticks on dogs.
Dogs can swallow small amounts of saltwater while swimming and playing with toys in the ocean or sea. Small amounts of salt water can dehydrate your dog and give it an unpleasant condition known as beach diarrhea. Its stools will become frequent and liquid and may contain mucus or blood.
Drinking too much water from the ocean causes severe salt poisoning or hypernatremia, which can cause a disaster for your dog's health. The rapid onset of diarrhea and vomiting is followed by neurological symptoms such as depression, convulsions, unstable gait, and stumbling. Salt poisoning results in severe and dangerous swelling of the brain, which requires immediate emergency treatment.
Saltwater excess can lead to rapid dehydration of animals. The water increases the level of sodium in the blood, which leads to hypernatremia.
To balance the high concentrations of sodium, the cells excrete water into the bloodstream, which is severe dehydration at the cellular level. When brain cells are damaged, dogs can suffer seizures that are fatal to them.
How do I know if my dog suffers from saltwater poisoning?
According to the pet poison helpline, the most common signs of saltwater poisoning include vomiting, diarrhea, excessive thirst, lack of appetite, and lethargy. In this case, their body works a lot to regulate the balance of salt and water.
Salt poisoning in dogs and cats leads to rapid breathing, agitation, increased pulse, hypersalivation, glassy eyes, dry mucous membranes, wobbly walking, deep eyes in orbit, or vomiting, excessive thirst or urination, potential kidney damage, tremor, coma, and can even be lethal when it is not treated in time.
How long does salt poisoning last in dogs?
For all affected animals, treatment should slowly return the animal to the normal balance of water and electrolytes over a period of 2-3 days.
Is ocean foam toxic to dogs?
Most dogs lick themselves after swimming and will consume any toxin/organisms that's on their fur. Do not let your pet play in the ocean or sea foam – it has been proven that the foam is 10 times more toxic than the water. If your pet has asthma, don't take it to the beach when red tide toxins are in the air.
How to prevent your dog from drinking ocean water
Monitor the time spent in and around the water.
ake frequent breaks in the shade while playing.
Bring fresh water and a bowl with you to the beach and give it a cold drink every 15 minutes. This prevents dehydration, which should discourage it from thinking it needs to drink water from the ocean.
Final words
Veterinarians recommend limiting the time spent at the beach and in the water for the dog to an hour or two to prevent saltwater poisoning. Intoxication can occur gradually, meaning that it is often too late to save an affected animal, as salt water poisoning can quickly affect the brain.
Therefore, it is the duty of every animal owner to take care of it pet and not to allow it to stay in the water for a very long time when it is at sea. It is also recommended that as soon as the dog comes out from the water it should take a shower (if they are available on the beach), and if that is not possible on your way home, shower it at home to remove the salt left in your dog's fur.