It's quite the combination between a lovable rogue and a gentle giant. This article should give you an idea as to what you should expect from a mix between a Great Dane and a Boxer. So let's talk about the resulting dog, its size, behavior, and temperament.
What Should You Call This Dog?
As you know, most mixed breeds will receive a portmanteau name, a combination of the names of their parents. The Great Dane-Boxer mix goes by this rule as well and is often called a Boxane.
This dog takes the fearsome aura and its imposing stature from both of his parents, the Boxer and the Great Dane. These are the characteristics you will see at a first glance, but once you get to know the dog better, youțll find that it has a lot of other important traits. Although both parents tend to be a little mischievous, they are also even-tempered, lovable, and very friendly.
You might also like my articles about other dog breed mixes like Amstaff mixes, the Bo Chi, or the Labmaraner.
You will actually have no issues raising a Boxdane as a family dog, considering it is a very loving and affable dog. Of course, one issue still stands: due to it being a mixed breed, you won't know exactly which parent's traits it will get, so it will be pretty hard to predict its health concerns or overall temperament. Even if you're prepared for the personalities of both of the dog's parents, keep in mind that each dog, and each creature for that matter, will have its unique personality type and some unique traits. Nevertheless, knowing how the parent breeds behave will have you prepared for their offspring.
Great Dane
Lifespan: 7 – 10 years
Weight: 100 – 200 lb.
Height: 28 – 34 inches at the shoulder
The Great Dane is known as a 'gentle giant' and is usually a very elegant and affectionate pet. Although there is no dog bigger than this, which might make him seem threatening, his gentle eyes will give away his good nature.
Although his nature isn't an aggressive one, the Great Dane will still need obedience training, especially due to his impressive size. His natural animal traits will have him chase things and jump on people if he isn't properly trained. It will be a lot easier to teach him to strictly follow voice commands instead of trying to physically contain him. This is why behavioral training and proper socializing are a must.
His size will also require some special types of treatment, including moderate exercise as often as possible, special diets for orthopedic problems, and a containing space big enough for him to walk around as comfortably as possible. It has a pretty short average lifespan, unfortunately, something all big dogs have to face. He will only live to about 10 years old.
BOXER
Lifespan: 10 – 12 years
Weight: 60 – 70 lb.
Height: 21 – 25 inches at the shoulder
A cute thing about Boxers is that it takes a lot for them to get past their puppy state. This dog will be considered mature only 3 years after his birth, which is the longest time to maturity of all the dog breeds. This dog will keep you entertained with his antics and will be very lovable and goofy. Even though this is a baby in a big dog's body, he will be very protective of his loved ones, especially due to his herding ability.
Boxers have a clear reputation for being some of the most lovable rogue dogs. They are muscular, square-jawed, and large. This dog has an almost endless energy reserve, which makes it a great pet for people that like to play a lot and are very physically active.
A Boxer will also have to go through enough socializing and behavioral training for the best results. This is to make sure that the well-mannered, playful and loving Boxer puppy will stay the same as he grows. This breed doesn't have extensive medical issues aside from their short snout, which translates into Boxers having a really hard time in extreme temperatures.
The Great Dane-Boxer Mix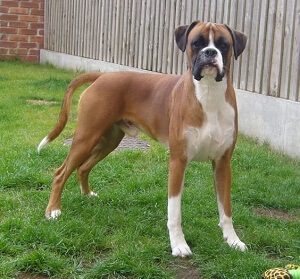 You should expect your Boxane to have a very cheerful disposition, being a very sociable and loving dog. Although he might get his mischievous attitude from the Boxer parent, his energy levels will be high but will usually go towards play activities. You should try to avoid isolating the Boxane for too long, as he will get a strong need to forge relationships with his family, a trait he gets from both parents. Although it is a rather big dog, it can still be kept in an apartment as long as it will have enough space for the dog to move in without destroying your furniture.
When getting a big dog breed, you will have to know that it is vital that you take care of their diet and exercise while they are puppies, because they will need some special care and they will take their time growing up. You will have to do a little reading around to make sure that you are educated and prepared to take care of this dog's needs to ensure you can prevent and overcome any medical issues, especially those related to orthopedic concerns.
Regardless of the breed of dog you want to get, keep in mind that socialization will always be important. If the Boxane isn't socialized enough with people and other pets, it will become suspicious, which is against his playful and lovable nature. IF they aren't prepared for the surrounding world, Boxers especially will be so protective of their family that they will actually become aggressive at the slightest threat.
Most Boxanes will have a shiny, short coat, which will require just some minimal grooming. You should take him on long walks and keep him entertained throughout the day.
If you have the possibility, you should always adopt a puppy instead of buying it, especially if the breed is not important for you. If you choose to buy it instead, be sure you buy it from a reputable breeder. These dogs can have a lot of genetic issues, so you will want to make sure you get a puppy that has been vetted to turn into the best possible dog in adulthood.