Dogs with heat strokes have changes in behavior and a general condition visible enough to be easily interpreted. They are usually apathetic, anxious, and sometimes even aggressive. Depending on the severity of hyperthermia, digestive disorders can be seen through vomiting, diarrhea or diarrhea with blood, viscous saliva, lack of appetite, or food refusal.
These dogs are drowsy, disoriented, and walk with difficulty, their eyes are red, their breathing is heavy, and their gums are red, or purple. In severe cases, it can lead to convulsions, loss of consciousness, and death due to the rapid onset of cerebral edema.
All of these clinical signs can be noticed in a glance within a few minutes depending on the temperature value to which the dog is exposed.
What is heat stroke?
Heat stroke is a serious disease that occurs when dogs are exposed to high temperatures and cannot lower their temperature by sweating through paw cushions and panting.
Heat stroke in dogs occurs quite frequently in the summer months with hot temperatures. This health problem is due to direct sunlight acting on the head of the animal.
Veterinarians advise dog owners to pay attention to their dogs and when they notice that there is something wrong with their pets to shelter them in the shade and provide them with water.
Heat stroke in dogs occurs both due to the high-temperature environment and the fact that the dog is active, runs and thus their body heats excessively. Dogs do not have well-developed sweat glands; they regulate their body temperature by panting. When panting a dog lowers his body temperature, but he also dehydrates.
The normal temperature of a dog is between 38 – 39.2 °C.
Some dogs, especially those with long, unbrushed coats, may suffer from heatstroke more than short-furred dogs.
You might also like my articles about:
How do you know if your dog suffers from heat strokes?
he has a body temperature higher than 40 degrees, measured with a thermometer;
strong panting;
over salivating;
vomiting;
he has diarrhea;
pale gums;
his heart beats very hard;
he is drowsy, sleepy, weak, lethargic, or unconscious;
he cannot walk straight.
What are the emergency measures if your dog suffers from heat stroke?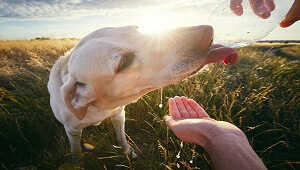 Removing the animal from the environment that caused the temperature rise is the most important first aid measure in case of heat stroke.
The dog will be placed in a cool room preferably in which there is an air conditioner or a fan that will turn to him. You can put the quadruped directly on the tiles or on another cool surface.
Apply wet towels to the abdomen, on the hairless area, and paws to help the body lose stored heat. Watering these towels will be done with cold but not too cold water, as there is a risk that in case of applying too cold towels or ice, peripheral vessels will contract, and the accumulated heat will remain in the body and cause major damage to vital organs.
The same thing happens if the whole body is wrapped in wet towels. The towels are replaced frequently as they warm up.
With a damp towel, you will cover the head, especially the cephalic area.
Gently massage the paws to stimulate peripheral circulation and thus ensure heat loss.
Cold water should be given to animals in small quantities, as there is a risk of pulmonary edema if too much water is ingested in a short time. Water will only be given to perfectly conscious animals.
If the animals cannot be transported into the house, they can be housed in a shady place, and sprinkling the animals can be done with the help of the garden hose.
You can also make him take baths with the right water temperature and ensure that the head is always carefully held above the water so that there is no danger of drowning.
Avoid offering anti-thermal medication for human use that often only aggravates the situation.
During this period, the temperature will be monitored periodically at 10-15 minutes intervals, by measuring it at the rectal level. At 40°C the situation is urgent and at 41°C it becomes critical. Once the temperature drops below 39°C, all these measures are interrupted because the body will be able to achieve its own thermoregulation.
You must not feed animals until their condition becomes stable.
The help of another person will be sought, who will call the ambulance and contact the veterinarian.
In case of transport to the clinic, the transport will be done with the air conditioning on or with the windows wide open. Until the car, the animals will be transported in your arms or on an improvised stretcher, forbidding walking or any other effort that will only generate heat and make the situation worse.
Even if the animals seem to have recovered, check at the veterinarian remains a priority, as secondary complications after heat strokes can occur within a few hours to a few days, and throughout this period the risk of death remains high. There is no specific antidote or medication in case of heat stroke, therapeutic conduct will follow intravenous fluid therapy, temperature drop, and supportive treatment of eventually affected organs.
Some dogs have a higher risk of heatstroke.
brachycephalic breeds with a flattened muzzle, such as pugs, bulldogs, and boxers.
dogs with heart/lung disease or hyperthyroidism
fat and obese dogs
geriatric dogs, older than 6 years
Northern dogs: Alaskan Malamute, Husky
What are the complications of heat stroke in dogs?
Depending on the temperature and duration of heat exposure, vital organs are deeply affected and can be registered with cerebral edema, renal failure, liver failure, heart failure, abnormal blood clotting, and risk of spontaneous bleeding.
Compared to other diseases whose incidence can be controlled or not, heat stroke is actually a great negligence on the part of the owners whose end is often tragic for the pet.
How to prevent heat stroke in dogs?
For those who go to the seaside, it is good not to take their dogs with them on vacation. It is much better to leave them at home if there is someone to stay with them. A dog that usually stays at temperatures of 25 degrees Celsius or less will hardly get used to high temperatures of 35 degrees Celsius.
On hot summer days, your dog should only be taken for a walk in the morning and in the afternoon when the sun's radiations are not so strong. It must also be walked in shaded places and not in direct sunlight. From time to time he must be offered water to drink and be allowed to rest in a cool place if he feels the need.
The dog may suffer from heat stroke if kept in the car on a hot summer day, even if it is parked in a shady place. After a short period of time, although the window of the car is open, the animal may feel bad because of the heat, he will start to pant more and more until he becomes dehydrated, then by having the airways blocked he can asphyxiate.
During the summer months, the animal must have permanent access to cold water. The pot or water should always be checked because the water heats up. You can put frozen water from the freezer and during the day it will melt slowly and the dog will drink cold liquid to quench his thirst and cool.
Those who want to protect their pet from overheating can buy a special cooling vest. It has an outer shell that reflects the sun's rays and a crystal-based filling that will protect it from high temperatures. By watering it, the vest will keep the temperature low inside for more than 60 minutes.