If you're really serious about raising a puppy, you've surely already prepared to give him the best possible food in the cutest food dish you can find. You've probably already figured out the right combination of nutrients and went over this with your vet to ensure that your puppy only gets the best for healthy growth. But what if all of a sudden the pup stops eating? This can create quite a panic for the owner, as a good appetite is usually a sign of good health. And of course, the pet needs enough food not only to grow properly but also to have the needed energy for play sessions and daily walks.
There are a few different causes for your puppy eating very little or refusing to eat at all. Below you will find some of the most common reasons and actionable advice for each of them to get your pup to start eating again.
So why might a pup not eat?
Unfortunately, just like in the case of small babies, you can't actually ask a pup why he is refusing to eat. Even so, vets and animal behavior experts have spotted through research a number of reasons why this happens, and these include:
Teething and teeth-related problems in your pup
As I said before, pups are very much like small toddlers in a lot of ways. A pup that is teething or has some issues with its teeth will experience pain while eating. Although this is temporary and might get better with time, it is still one of the causes that lead to your pet not eating properly.
Your pup has parasites or is ill
A pup can often stop eating due to an infection, parasites, or a simple stomach ache. Although this is something that your vet should look over and figure out a fix for, you should still make sure the pup hasn't swallowed something it shouldn't have and make sure that it doesn't have a fever either even before going to a professional.
A new type of food has been introduced into the diet
It happens when you try to substitute the brand of food your pet is used to with something else, either because the old one isn't available in stores anymore or because you're trying something else in terms of nutrients. Although it might not seem like an important change and the ingredients might be the same, your pup might feel differently about this change and not like the texture or the taste. This will make him reject the meal, especially when there was no transition period so that he can get used to the new taste.
You might also like my articles on:
Your pup is stressed
Stress often makes humans change their eating habits. This also happens to dogs, according to pet nutrition experts. Give some thought to what could stress out your small, furry friend. Among the most common stressors for puppies are:
Changes in routine. If the pet is part of your life for some time, then you might think that there is no more adjusting to be made. But there are situations that can affect the lifestyle of your pet. Like you working from home all of a sudden and not going to the office anymore. These kinds of changes can be quite hard on your pet and might cause it to not eat as much as it used to.
Another pet in the house. Did you get another pup or a whole different type of pet not long ago? The other animal may be stressful or even scary for the pup.
Trouble adjusting. Big changes like moving into a new home, can cause stress to even the strongest people, let alone a pup that is just a few months old. You will usually have to have some extra patience and show some additional love and snuggles to your pup to help him go through this type of big change.
What can I do if my puppy stops eating? Should I be very concerned?
There are some things you can actually do to help your furry companion get back to eating properly. Below you will find some of the actionable steps experts recommend.
1. Mix it up
You can always try to mix up pet food with some table food like peanut butter and chicken if you notice that your dog is having trouble eating his meals. If you're going for peanut butter, then make sure it doesn't have any xylitol or other sugar replacements in its composition. It might also help if you try to switch between or mix dry food with canned food instead of just giving your pet kibble.
2. Try to transition slowly between foods
When thinking of changing the pet's food, according to experts, the safest way to go about it is by transitioning over a period of say 10 days so that the puppy has time to adjust. On the first day, don't add more than 10% new food in the mix and move up from there until you completely replace the old food with the new one.
3. Warm up the food

As you know, puppies have some very specific requirements when it comes to food. It may help to warm up their meals, especially when you're giving them wet food. This isn't a sure fix but it doesn't hurt to try.
4. Have patience

Your pup might just need time if it seems to refuse to eat without a medical reason. Try to have patience and help your dog feel as comfortable as you can. Designated playtime, long walks, fun toys, and a cozy-looking crate might help the pet feel at home.
Set up a vet appointment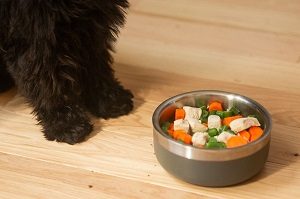 Before treating it with patience, make sure you rule out any underlying medical factors like infections, GI troubles, or parasites. These problems are usually nothing to worry about when spotted in time, as temporary dietary changes and medication will usually treat most of them. Keep in mind that, just like any other medical issue, when left untreated these can get worse. Your vet will be able to give you tips on the treatment and temporary diet you will have to make use of.
Make meals fun
Who wants mealtime to be stressful? I can tell you for sure that your pup doesn't. Try to use puzzles and food dispensers to make the experience of eating more engaging for the pet.
Establish a routine
Pups, just like humans, really like having a daily routine. This especially helps with pups that are stressed out, because it helps them be prepared for their daily activities. Try to set a certain hour for meals and feed the puppy at that hour every day.
Limit treats
Not only training sessions but also the pet's puppy eyes might make you load him up on treats. Even though you will have a hard time keeping your pet away from treats if you notice it starts to have issues eating, try to limit the amount of tasty snacks it gets.
Your pup will get on track
Food is one of the main things helping puppies grow strong and big. A healthy pup will usually have a good appetite. This is why a lot of dog owners will start to panic when they notice that the pup stops eating all of a sudden. The first thing you should do is relax! A lot of times a pup will simply eat less due to stress and your anxiety might just make things worse. You can seek the help of the vet to make sure you rule out any health issues and get some guidance to make things better. You can also encourage your pup to eat by trying different food types, transitioning between foods slowly, and figuring out and removing any of the stressors it has to deal with. Cutting down on treats and feeding your dog at the same time each day might also prove to be helpful. You always want to make sure that your pup has enough room in its stomach to eat properly.