Dry heaving is actually trying to throw up without anything coming out. Not only people experience dry heaving, but also dogs. Dry heaving is usually a symptom that happens before actual vomiting and is most of the time very scary for dog owners. Below you will find some of the reasons leading to your pup or dog developing dry humping, along with what you can do to prevent or treat this.
Something is stuck in your dog's throat
Something stuck in the dog's throat is one of the most common reasons for the pooch to start dry heaving. It's very common for dogs, and especially puppies, to ingest all kinds of objects, a lot of them far from edible. These objects can land in your dog's throat where they get stuck and cause the dog to instinctively try to throw up. Among these objects are paper towels, tissues, rocks, balls, sticks, and a lot of other foreign items that are too big to be simply ingested by the animal.
The blockage is behind the dog's need to dry heave, as a way of getting the object out, in this particular situation. Dry heaving could also be accompanied by other symptoms like coughing, heavy breathing noises, drooling, pawing near his face, or pacing. If the object is still close to the throat's exit, then these efforts will usually make it come out through vomiting.
A Respiratory Illness
You might not know, but the second most common reason for a dog's heaving is actually respiratory illness like kennel cough, for example. You will usually be able to recognize kennel cough due to its classic nasal discharge and dry cough. Keep in mind that this particular illness is very contagious. Dry heaving is usually noticed pretty late in the development of the illness when it reaches a more severe state. If you suspect your dog has kennel cough, make sure you quarantine him away from other dogs and other pets as well, to avoid a rapid spread of the disease.
There are some other respiratory illnesses as well, which could be blamed for dry heaving, among which is the swelling of the dog's tonsils, known as tonsilitis. Your dog will have issues breathing properly due to a swelling of the glands. This swelling can easily lead to a gag reflex, which is basically the dry heaving I am talking about. The dry heaving of a dog can also be caused by tumors that are very close to the throat, but those usually come with other symptoms as well.
GDV or Canine Bloat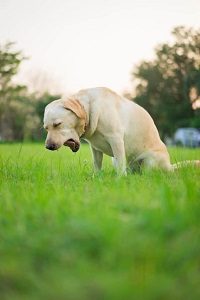 If not treated as soon as possible, canine bloat can become so severe, that it can put the life of your dog in danger. And when I say as soon as possible, I`m talking about the illness becoming lethal just hours after the dog is affected, which is why you should know its symptoms so you can take your dog to the vet right away. GDV is still somewhat of a mystery inside the veterinary community, although it is known that it causes volvulus and gastric dilatation. A simpler explanation would be that the stomach of the dog will get twisted up, leading to an accumulation of gas.
You might also like my articles on why is a dog not eating but vomiting, why dogs whine in cars, and what to do when your dog ate a sock.
Among the most obvious symptoms are a very swollen stomach and a dog that looks really bloated. It's not uncommon for dogs with this medical condition to whimper in pain, drool, pant, and walk around chaotically. Although your dog won't vomit, he will dry heave as well. If you notice any of these symptoms, then you shouldn't waste a breath and just take the dog to the vet as soon as possible, because bloating can easily become lethal.
How to Stop a Dog from Dry Heaving
The easiest way to help a dog get rid of dry heaving is with the help of a veterinarian. They can check the pet and find out what is behind the dry heaving. You will also want to look for any other symptoms before getting to the vet, to make the job of determining the underlying illness and its seriousness easier.
Although preventative surgery is a solution (and a good one, I might add), there are some things you can still do at home to try to help your pet. Change the meal schedule from a few big meals to smaller meals in bigger numbers and also make sure your dog has enough fresh water to drink. Avoid giving your dog food in an elevated food bowl. Also, avoid giving your dog dry kibble and make any changes you feel might reduce stress during meal times.