Have you ever noticed that, when petting your cat's back, it might start to twitch all of a sudden? Although this is considered a pretty normal behavior and is a reaction very common among cats in general, if this happens way too often, it might be a reason for you to worry. Keep reading through this article to find out the truth about the back twitching behavior.
So why would cats' backs twitch?
Here are some possible causes for the back of your cat to twitch:
1. Your petting might overstimulate your cat
If you overstimulate your cat's back while petting her, she might start to twitch. Your cat seeing a bird outside the window or other stressors or reasons for frustration might also cause this issue. When they are overstimulated, cats will have different types of reactions. Although there are instances where cats have exaggerated reactions like biting, others might just twitch their tails.
If you want to prevent any adverse reactions from setting in, you should stop petting your cat as soon as you notice her back twitching and an increased state of agitation.
Common signs of overstimulation among cats:
the skin on her back is twitching and rippling when you pet her
her head is moving toward your hand or turning
ears are flicking back and forth or turning back
restlessness
twitching tail
You should stop petting your cat as soon as you notice one or more of the above signs. Let her jump away or sit on your lap quietly instead until she calms down. It isn't a bad idea to use foods and treats as a way of prolonging your cat's tolerance for petting. Great foods to offer as a reward in this case are pieces of chicken or tuna. If you combine light petting with treats made from the food she likes, she will eventually learn how to enjoy petting sessions for longer periods of time. Keep in mind that you should always stop petting her as soon as she starts to exhibit aggressive behavior.
You might also like our articles on:
2. This issue can also be caused by an excessively sensitive layer of muscle on the cat's back
Your cat has a muscle on her back that is called "cutaneus trunci muscle". It is located right under the skin of the back and it can cause twitching when it is touched gently. Although this muscle can move independently in a natural way, it can also be triggered when you touch the back of your cat or when the mood of the pet changes. A bowl full of food can also trigger the movement of this muscle, as can your cat being excited or scared. The muscle doesn't show sensitivity in the same way on its whole surface. Some areas might be more sensitive and if you manage to poke those specific regions, the whole muscle might start to twitch. It's somewhat the same as in the case of dogs that kick their legs unconsciously when they are rubbed on their bellies.
3. Feline hyperesthesia syndrome might be the reason
This condition is pretty complex and would cause the muscles on the backs of some cats to twitch mainly due to their very sensitive skin. This syndrome is known under a few different names and would affect domestic cats regardless of age, gender, or breed. Some of the most common names for the syndrome are:
twitchy cat disease
atypical neurodermatitis
pruritic dermatitis
psychomotor epilepsy
apparent neuritis
Cats will usually start to experience this issue when reaching adulthood, which happens between one and five years of age.
Its most common clinical symptoms would last anywhere from a few seconds to full minutes and usually appear in episodes. Here's what to look for when you suspect that this is the issue your cat is going through:
erratic and agitated behavior
dilated pupils
the violent swishing of the tail
twitching of the skin
repeated and frantic scratching, excessive grooming, and biting of the lumbar area and the tail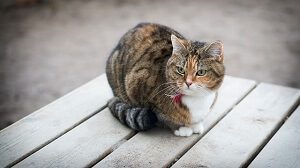 Aside from the episodes that show some or all of these clinical signs, the cat will usually act normal for the rest of the time. It's not uncommon for cats to also seem lethargic and absent-minded while going through these episodes. This condition isn't necessarily considered a very severe one but even so, you should book a visit to your local vet as soon as you notice signs of self-harm or self-aggression.
The root cause of feline hyperesthesia can be anything from environmental stress to behavioral problems, a neurotic condition, or even a seizure-causing disorder. If you have a nervous or hyperactive cat, then you should know that she is more prone to developing this particular condition.
This condition is also very hard to diagnose with certainty, mainly because it doesn't show any definite physical causes. This is why your average vet will need to rely on the cat's medical history and get to this diagnosis by ruling out all other diseases that show these same symptoms. In fact, there isn't a specific test that your cat can take to get this definitive diagnosis of feline hyperesthesia, although MRI or other imaging processes can surely help. There are no known cures for this syndrome but it can be kept in check with pet meds that help suppress the episodes themselves and behavior modification training.
According to experts, it is likely that twitching was developed as an evolutionary habit that helped cats to survive in the wild. It might have been used throughout time to help cats get rid of dirt, parasites, mosquitoes, or other debris from their backs. There are also experts that say felines would use twitching as a way of communicating with others through body language.
There are also other possible causes for a cat's back to start twitching and these include a sore tail, back, or some issues with the anal glands.
Conclusion
Cats have very complex behavior and traits, although most of the time they might seem docile and calm. One example is when their back skin will start to ripple and the back itself will start twitching. There are a few different causes for a cat's back to start twitching and these include overstimulation while getting petted, or even a somewhat rare feline hyperesthesia syndrome that would effect all kinds of domestic cats, regardless of their gender, breed, or age.