Dogs aren't all that picky when it comes to where they choose to sleep. They can sleep anywhere from your bed, to their bed, to the floor, when warm enough, but also in their dog crate if they have one. Getting a dog crate can be a great way to get some peace of mind when you're leaving the house, but also a great way to calm your pet while it is misbehaving. A dog crate doesn't have to feel like a cage. It can be personalized to the unique needs of your dog, becoming a place of comfort and security. While getting a crate for their dogs, most people ask themselves what is the best place for it around the house.
So what is the best location? Well, let's see. The way you have your house set up is very important. It is also important to remember that you will use the dog crate both as a training assist and to offer the pet a safe space.
Best places for a dog crate in your home
Dogs really love spending time around their human owners and are considered some of the most social animals out there. They usually get to the point where they are considered an important part of a family's daily life. This is why the crate should be placed in such a way that the dog can see humans, creating a positive experience and a way to socialize.
A high-traffic area is best for social pups
Socialization needs are why the best place for a dog crate is actually in one of the busier areas around the house. This is to make the dog feel like a real part of the family, while also enabling him to get a vibe of the house and its inhabitants.
You might also like my articles on when puppies stop biting, why dogs start whining, and why puppies breathe fast.
Regardless of whether you are trying to crate-train a new pup or have had a dog for quite a while and only have started realizing the benefits of a crate, regardless of whether you want your dog to relax in the crate or train him to feel comfortable inside one, it's always a better idea to place the crate in one of the busiest areas of your home. This will make them feel like they are part of the family. You should never just hide the crate in a laundry room or basement because this will be very stressful for the dog when realizing he is excluded from all family-related activities.
Of course, the perfect place for a dog crate will differ from one house to another. While some might consider that the busiest place is the kitchen, others might place the crate in the living room instead, or any other busy room for that matter.
For an anxious dog, a quiet place is better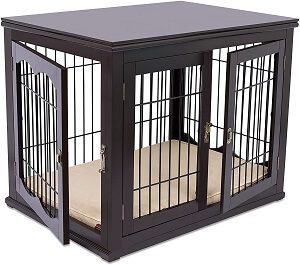 You can also try to place the crate in a less trafficked corner of the room. Although this is basically the exact opposite of what I've been talking about up to this point, keep in mind that dogs are all different so your might really not like a central location all that much. The dog's anxiety can be triggered by a lot of things, from guests coming over, to busy activities like loud music, family dinners, and even parties.
Is your bedroom a good place?
The bedroom can be a really great place for a crate especially if you just got a small puppy. This is the room that can be a warm and inclusive room for a pup. It will be the perfect way to fill a void that will be created when the dog is taken away from his foster home, shelter, or litter. If the bedroom isn't the best choice for you, try at least to move the crate there at night. If you're having a small pup sleeping in a different room than yours, he might feel abandoned, stressed, and insecure. You can even get a second crate if you don't feel like moving one from one room to another each and every day.
Tips for choosing a spot for your dog crate
Try to keep your dog's crate away from any radiator or fireplace you might have in your home.
If you go for a location that is too drafty, the dog's health might be affected over time. You should also try to avoid any areas that are either too hot or too cold.
Also, keep the dog away from direct sunlight.
It's always best to consider your family's lifestyle and your dog's personality when looking for the perfect place for the dog crate. If you go for a place with high visibility and considerable foot traffic, this will make the dog feel more like part of the family. However, this won't work if you have an anxious dog, in which case, a quieter place will be a lot better for your pup.