Many people refuse to teach their animals to stay in a cage because they consider it an inhuman practice. However, a dog cage, a crate, can give dogs a sense of safety.
Whether you're planning to go on a day trip, go shopping, or have fun for a few hours, you wonder if it's acceptable to leave your dog, be it a Shih Tzu, bichon, Yorkshire terrier, or any other breed alone for a long time.
Uses of Crating
It is of great use in teaching puppies where they are allowed to do their needs. Because no dog likes to do his needs where he sleeps or eats, the crate prevents accidents around the house. Of course, the puppy or adult will get enough chances to go out and do their needs before being locked in the cage.
It can help eliminate separation anxiety and boredom if the dog has enough toys or chews in the cage. Most dogs perceive this place as their bed and then spend the most time in the crate sleeping.
It can also prevent injury or damage around the home. A dog left alone at home, especially a puppy who doesn't really know what's right and what's wrong can destroy anything that falls within his reach if he gets bored. In all this rebellion he can also get injured, swallowing inedible objects or pulling things that can fall on him.
A crate is a place where you can close your dog when you do not want to be disturbed or when it cannot be supervised. For example, when you throw a party, when you cook, when you sleep at midday, and on other occasions when you want to keep it away from family activity for 2-3 hours.
The crate is useful for transporting animals to the veterinarian, by car, by plane, and wherever you need to go. A dog accommodated in a cage will be more relaxed and disciplined on all these occasions.
You might also like my articles about:
If you have an overactive dog, the crate may be helpful in tempering it a little.
Most dogs accept the crate without much effort, as they associate it with the burrow, where their wolf ancestors raised their young. There, the little ones would eat, sleep, and stay, whenever they felt threatened.
Appropriate Crating Times
A dog can stay home alone for 1 to 8 hours, depending on its age, on whether it was fed before leaving home, and on whether it was taught to stay home alone.
Before leaving the dog alone in the house and to avoid any accidents, you should make sure that you do not feed the dog after the walk. It's not good for him. You'll feed him after you get back home, from work or other places. Because thirty minutes later, after eating, he has to do his needs.
As a general rule, it's best to form a habit and go outside with your 3-4-month-old puppy every 30 minutes to an hour, for him to empty his bladder. So, he learns that the next time he wants to go do his needs, he asks to be taken outside.
Puppies no older than 2 months should not be left alone, in the house, for more than an hour, since they have not yet learned to control their bladder.
Puppies between 2-3 months should not be left alone, in the house, in a crate, for more than two hours, as they are just learning to control their bladder.
Puppies no older than 4 months can keep their bladder under control for up to 4 hours, but it depends very much on how developed the puppy is.
Dogs over 18 months can be left alone in the house, in the crate, for up to 6 hours.
If you cross the 8-hour threshold and leave the dog alone in the house, make sure it is an adult dog, with not a very energetic nature, no behavioral problems and you have gradually accustomed him to staying alone in the house, in a crate.
Consecutive Crate Time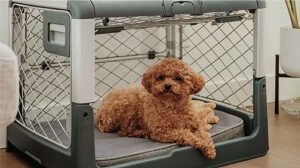 Through consistency and repetition, your dog will quickly learn that this crate is a pleasant place to sit and chew something good. Dogs trained this way, tend to be less destructive to the things around the house because they will associate chewing with the crate. In the same way, he will be less likely to eat off the ground or steal food from the table because he will understand that food exists only in his cage. This will happen if you offer him food only in his crate.
While you want to put your dog in the crate, your ultimate goal is obviously to bring him to the point where he feels so comfortable that he will take possession of his crate without any offense. To properly guide him to this point, it is vital to make the experience as positive as possible for him. As long as he associates negative things with the cage, he will act as if it were a cruel invention, and he will definitely try to let you know about it.
For example, you may want to deliberately place your dog's crate in a room where you and your family usually spend time, or you may want to bring it closer to something that carries your scent. In this way, he can comfort himself and feel safe knowing that even if you are not physically present, he is still part of the pack and that the pack has not abandoned him.
Final thoughts!
The crate provides the dog with a feeling of safety when left alone at home or when you can't keep an eye on him. But, if used as punishment, the dog will avoid it, refuse to enter or become very agitated and anxious to get out.
Ideally, a dog should stay in the crate for a maximum of 4-5h. In the case of puppies, the time spent in the crate should not exceed their physical ability to control their bladder, which can sometimes mean a maximum of 1h.