Even though they have a reputation of being very stinky, skunks can still be interesting pets to own. They are cute but also intelligent, and their curiosity will have you laugh and keep you entertained all day long.
If you are really into skunks and want one as your pet, then here are some ideas of funny and cute skunk names to choose from.
A Famous Skunk Name
I figured a great way to start this article would be with a very cool, famous skunk.
This is Kicks. You might know Kicks as the skunk from the fictional but very cool video game series, Animal Crossing.
In the game, Kicks is known to run an interesting service. The service is called City Fold, where you can take your character to have its shoe color changed, for a fee.
Animal Crossing portrays Kicks as a shoe seller. He runs a store with the same name, where you can buy socks, boots, and shoes for your character. This is also where his name originates from.
The new release of Animal Crossing called New Horizons, which was released in 2020, finds this character portrayed as a traveling merchant that sells all kinds of items like boots, accessories, or book bags.
He is known for his brown shorts coupled with suspenders and a really nice hat on his head.
Kicks is probably the coolest-looking skunk ever made.
There are a few famous skunks in cartoons as well
Many cartoon series that appeared on TV over the course of years have had fictional skunk characters as main characters. I only chose to talk about three of them, which I consider the most known ones, and you can find them below.
Flower: You're surely familiar with this character, especially if you're a fan of the old Disney movies. Flower appears in the movie Bambi from 1942. This is a very cute skunk that is really empathic and cares about other creatures around him. He overflows with kindness all throughout the movie.
Bradley: Bradley is also a fictional skunk, but is a special agent that appears in the TV series Codename: Kids Next Door. You might have also known Bradley by his nickname, which was Numbuh 6. He is part of a team of special agents that find themselves in missions of helping or saving other people.
You might also like my articles with names for polar bears, groundhogs, or caterpillars.
Pepe Le Pew: This is one of the oldest skunks to appear in cartoons and can be seen in the very old series Looney Tunes. Pepe was seen for the first time in 1945 and since then it has been very popular among both children and adults alike. He makes himself known by his very weird way of starting romantic relationships. You can also see this particular character in Space Jam, a movie from the late 90s.
Female Cartoon Skunk Names
TV screens aren't full of female skunk characters to pick a name from. This is why this is one of the smallest lists I have. I was able to find at least a few famous skunk girls.
Fifi La Fume: This is the female character that has to deal with Pepe Le Pew from the Tiny Toon Adventures movie. She is a skunk with a lilac color that is constantly looking for love. The name is pretty long but you can either use Fifi or Fume to make it shorter.
Below you will find three more female skunk names from cartoons:
Petunia
Stella
Pepper Clark
Baby Skunk Names
Sugar: Sugar is sweet, who can argue with that? It is also used as a term of endearment, to evidentiate someone's sweetness. You can name your baby skunk just that, and the pet will surely like it.
Cupcake: This is a great nickname for both small babies and bigger children. But you can also use it to call your baby skunk.
Below you will find some other great baby skunk names to pick from.
Toffee
Tango
Sweetpea
Snoopy
Sammy
Roxie
Pixie
Peanut
Nugget
Nico
Murphy
Mira
Mia
Mary
Marshmallow
Kobe
Joy
Jellybean
Flip
Dinky
Cutie
Cosmo
Buttons
Buddy
Booboo
Biscuit
Baby
Common Pet Skunk Names
Kylo: You should name your skunk Kylo if you're a fan of Star Wars. This name comes from the character Kylo Ren, which is short and simple, but with strong resonance. This character almost always looks angry and is mostly dressed in black, both of these being characteristics of your skunk as well. If your pet is a little feisty, then this name will surely fit it.
Mozart: Your pet can also take the name of a famous musician from the Western Classical music area. One popular name is Mozart and it works great especially if you're a classical music fan. This name comes with a cute version as well. You can call it Mozzie for short.
Badger: This is a popular nickname for people but also a great name for smaller animals like skunks. This name also has just two syllables, which makes it really easy to pronounce.
I have made a longer list with good names for pet skunks that you can find below.
Thor
Teddy
Tank
Spike
Sparky
Simba
Shadow
Scout
Scooter
Samson
Sammy
Sam
Rusty
Rufus
Prince
Pixie
Pipsie
Pinot
Picasso
Phoenix
Pesci
Persia
Peanut
Otis
Oscar
Oreo
Ollie
Oliver
Max
Marti
Marshmallow
Margo
Malibu
Malble
Madonna
Joey
Jasper
Jake
Jackson
Jack
Hunter
Henry
Harley
Hank
Faya
Faith
Elwood
Elton
Ed
Ebony
Dutch
Dulus
Boo
Bo
Blue
Bentley
Benny
Benji
Beau
Bear
Baxter
Good Skunk Names
Yoda: Skunks are considered very intelligent. This is why you can name your pet skunk after one of the most intelligent characters from Star Wars, Yoda. Yoda is a great name for a skunk even if you're not the biggest fan of the movie franchise.
Sleepy: This name has more to do with how this animal behaves in general. Some people consider that skunks hibernate during the winter even though they're not actually hibernating, but sleeping a lot. That's why I like the name Sleepy for a pet skunk. It also sounds really nice, doesn't it?
Digger: By nature, skunks will like to dig. Regardless of whether they live in captivity or in the wild, they will like to dig all-around their environment. Just leave your pet in the yard for a little while and you will understand why Digger is the perfect name for it.
Below you can find some other great skunk names.
Sunny
Summer
Stitch
Sprite
Spike
Spice
Sparky
Snoopy
Nico
Nell
Nate
Nanda
Murphy
Mulligan
Mulder
Muggle
Mr Biggles
Mooshie
Monkey
Monet
Mochi
Moby
Happy
Guinness
Gray
Gills
Gibson
Fuse
Fritz
Foxy
Fido
Bones
Funny Skunk Names
Funky: The word Funky has a meaning on its own, but can also be a combination between the words fun and skunk. A skunk will surely be very fun to keep around so this name seems to fit perfectly.
Skunkle: Most fans of Simon and Garfunkle can understand the greatness of the name Skunkle, a great homage to the band.
Check out some other funny skunk names below.
Toffee
Stinky
Smelly
Sleepy
Skunky
Puny
Noodle
Furry
Fluffy
Dinky
Cute Skunk Names
Happy: If you're a pet owner, you surely want your pet to be happy. So why not call it Happy, as a way of reminding yourself that you have to make its life great?
Milo: A lot of people like to call their dogs Milo, and this is a thing since the name was featured in the popular comic book and movie the Mask. But who says that it can't be a name for your skunk as well.  If you've seen the movie, you surely noticed how cute Milo was. This is why I consider it to be a cute name for a pet.
Nugget: This is one of my favorites, especially because I really like chicken nuggets. They are very tasty, cute, and small. These characteristics can describe your skunk as well, as long as you're brave enough to take a bite out of it. This is why you can call your skunk Nugget. You can add even more cuteness to the name and call the pet Nuggie, or Nug, especially when it is still a baby.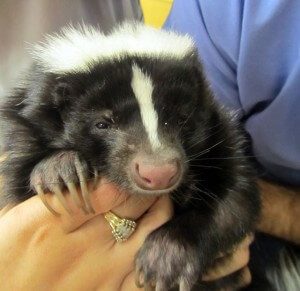 Below I have made a list of what I consider to be cute skunk names, for your cute little skunk. Use any of the names below to express how cute you consider the pet to be.
Whiskers
Velvet
Turbo
Trix
Toast
Tinker
Tibbs
Teddy
Taco
Swoopy
Stitch
Stinker
Roxie
Rose
Roo
Rocky
Riley
Poochie
Pixie
Pipsie
Petunia
Pepper
Pearl
Peanut
Oreo
Nino
Nacho
Munchkin
Meadow
Marzipan
Marshmallow
Marble
Lolo
Jellybean
Fluffy
Fido
Dove
Dahlia
Cuddles
Coco
Cleo
Buttons
Brownie
Boots
Boo
Bolt
Bluebell
Birdie
Bear-Bear
Barney
Female Skunk Names
Zelda
Violet
Toffee
Tink
Tallulah
Summer
Skye
Skitty
Sheba
Roxie
Rose
Poppy
Pixie
Olive
Noodle
Nina
Nina
Molly
Milan
Mika
Meadow
Maya
Marigold
Margot
Madonna
Mabel
Lucy
Lola
Lily
Lexi
Leia
Larissa
Keesha
Kate
Kassie
Kalyee
Joy
Jennie
Jean
Jasmine
Ivory
Iris
Iris
Faye
Faith
Dhalia
Coco
Camilla
Bubbles
Brandy
Biscuit
Bianca
Bella
Begonia
Azalea
Final Words
Skunks have a reputation of being dirty and smelly, which usually isn't the case. They use their stink only as a defensive tactic and will surely have no reason to use it on you if you're a decent owner and treat them nicely. A skunk that feels loved will almost never spray people it recognizes. If you like one of the names from these lists of have other ideas for pet skunk names, you can leave a comment below.