You might know groundhogs as the cute and furry animals that like to burrow in the ground where they spend time on their own, but did you know that they will also climb trees occasionally? They are also known as an important cultural part for the Americans.
Every year in America, people celebrate Groundhog Day, a special event in which one groundhog is picked as the most important guest. The job of the main guest of the event will be to tell people when would Spring start in that particular year. This will be done by checking out the animal's shadow on the ground.
This is an important part of the American culture that will entertain a lot of people even though it can't be considered an accurate method to predict the upcoming weather.
If you ever get the chance to give a name to a groundhog, here are a bunch of funny and cute names for groundhogs to choose from.
Pet Groundhog Names
The two names below are great pet groundhog names that are based on what people call these animals in general.
Shadowfall: This is a great name, considering that people will look on Groundhog day at the position of the groundhog and its shadow to figure out when will the Spring come in that particular year. This is a great name for a groundhog because it also has significance behind it.
You might also like my articles about names for zebras, caterpillars, or polar bears.
Yellowbelly: A groundhog is very similar to a yellowbelly marmot, which is also a type of rodent. Most of the time, these two creatures get confused one for another. The Yellowbelly can usually be found in Southwestern Canada and in some parts of the western United States.
Funny Groundhog Names
If you're the type of funny guy, then giving the groundhog a funny name will make sense. Giving a groundhog a funny name can be entertaining. So, check out this list of funny groundhog names and see what you can use:
SpringBringer: As I said before, it is part of the North American culture for a groundhog to predict when will Spring start each year. This is why the name SprinBringer simply makes sense. Considering that some people actually think this prediction is something to guide their wardrobe by, the name is something to consider.
Winter Potato: Groundhogs not only predict when Sping will start, but obviously, they also tell you when the winter season will end. Also, you can't notice how they look like walking potatoes. Their shape and color both point to a potato. Based on these two facts alone you can name your groundhog Winter Potato and a lot of people will laugh when they hear the name.
Whistle Pig: Some people also called groundhogs whistle pigs. This is mainly because they use whistling as a defensive method when they feel threatened by a predator. This is used both to scare predators and also to alarm other groundhogs from their colony that danger is around. This is a really funny name for people that know a few things about groundhogs.
Famous Groundhog Names
In some parts of the world like the United States, groundhogs are really popular mammals. This is the main reason why you will also be able to find famous groundhog names. Below you will find the names of some of the most famous groundhogs.
T-Boy: T-Boy the Nutria is the name of a really popular groundhog from New Orleans. T-Boy has been used to predict the weather each year for Groundhog Day celebrations, ever since 1996. T-boy is a really great name to give to a groundhog, especially if you're looking for a name with a history behind it, but also something that sounds like a rap star's name.
Woodchuck: This term is usually used to name groundhogs. This usually comes from the misconception that a groundhog chucks wood to eat it.
Even though they don't actually chuck wood, they would chuck dirt when they try to burrow into the ground. The story behind this nickname is what also makes it a great name for this mammal.
Jimmy the Groundhog: You've probably heard about Jimmy, the Groundhog that has bit the mayor of Sun Prairie, Jonathan Freund, by his ear in 2015. This is the happenstance that made Jimmy a popular groundhog in that city, later on becoming the official groundhog of that community.
It has been released into the wild after being held in custody for some time. Since then, it has been replaced by another groundhog although a lot of people don't know the difference. During Groundhog Day celebrations, this groundhog will be kept in a cage to prevent any similar accidents from happening.
This means that if you come across a biting groundhog, the name Jimmy will suit it well.
Chattanooga Chuck: The popular groundhog from the Tennessee Aquarium has this name. It is one of the most known creatures in the aquarium and a lot of people go there just to see the animal. He's been a member of the aquarium's family for over 8 years.
He's one of the groundhogs that are used to predict the weather. He is able to do this with some help from the people working at the aquarium. You can also find him on his Twitter account (although I suspect that he has someone writing things for him), where he shares some of his thoughts.
This is a great name for a groundhog if you want to give it the name of a star.
Punxsutawney Phil: According to the Pennsylvania club, this particular groundhog is over 132 years old. Some people consider this particular groundhog one of the worst in predicting weather and to coming of Spring, with an accuracy percentage below 40%.
If you come across a very old groundhog and want to give it the perfect name, then Punxsutawney Phil will suit it well, considering its impressive age.
Good Groundhog Names
Weatherman: As I have repeated over and over in this article, groundhogs are known as great predictors for when Spring comes and the weather changes. This is why a simple Weatherman as a name will work great for a groundhog. From time to time, their predictions will actually happen. You know what they say: "Even a broken clock is right twice a day".
Below you will find some other great names to choose from:
Zen
Xander
Walter
Walker
Sylvester
Shallum
Sebastian
Santana
Ronald
Roger
Rob
Richie
Rich
Reaper
Ottie
Oscar
Murphy
Mercury
Juggernaut
Jorah
Jamie
Jack
Ignacio
Hogg
Harlan
Gus
Gerry
Gerbie
Gerald
Gavin
Frosty
Fred
Ford
Darko
Darkie
Cole
Clark
Chipper
Butler
Burt
Buddy
Balthazar
Canadian Groundhog Names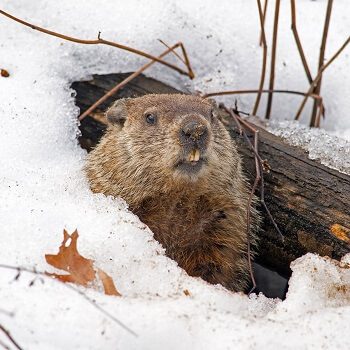 You will also find groundhogs in a lot of places around Canada. This country also features some popular groundhogs that withstood the test of time. Below you will find some of the most popular Canadian groundhog names.
Shubenacadie Sam: You might have heard of this groundhog if you have ever heard of the Shubenacadie Wildlife Park. This is a park that can be found in the small town of Shubenacadie in Nova Scotia. So, The first name of this groundhog indicates the place where it is from.
On each Groundhog Day, which comes on the 2nd of February, Sam is also a groundhog used to predict the upcoming weather. Due to the time zone from Nova Scotia, Sam will be the first groundhog to make predictions about weather year after year, which makes it considerably more important than your average groundhog.
This means that Sam is a great name for a groundhog, especially if you're Canadian.
WiartonWillie: This groundhog lived in Brue County, in the Wiarton community. He was one of the stars of the Wiarton Willie Festival, which was held each year on Groundhog Day.
Willie was also used to predict when would Spring come, just like most of his captive brothers. Wiarton Willie passed away sadly in 2006. Some people choose to honor him by naming different groundhogs, Willie. This is also a really easy name to pronounce.
Girl Groundhog Names
Most names we covered up to this point were male names, but what about female groundhogs? I have a list prepared for the ladies as well and you can check it out below:
Sidewinder: This is the name of the well-known groundhog that people called Dunkirk Dave. The owner of Sidewinder, that has a license as a wildlife rehabilitator, used this female groundhog to help him predict when spring was bound to come.
This got this groundhog to be featured in the DUnkirk Evening Observer newspaper. It didn't take long for it to be known by most people as the Dunkirk Dave.
If you want to find the perfect name for a female groundhog, then Sidewinder is probably the perfect one. This name is not only cool, but it also comes with a great story behind it.
If you want more aafunny and cute groundhog names for females, then check out the list below.
Zelda
Yevette
Violet
Victoria
Venus
Valeria
Ursula
Tiffany
Tess
Sydnee
Stephanie
Skye
Savanna
Sarah
Samantha
Sam
Sally
Roxy
Rachel
Penelope
Olivia
Nicole
Nelly
Natalie
Molly
Mikayla
Mia
Meg
Marona
Marigold
Maria
Marge
Margaret
Mandy
Malyia
Maggie
Macy
Luna
Lulu
Lola
Liya
Lisa
Lindsey
Lily
Lexi
Layla
Kristina
Kenna
Kendra
Kelsi
Kelly
Katie
Katelyn
Kate
Julia
Jessie
Jenny
Jasmine
Jacqueline
Isabella
Iris
Hailey
Gertie
Gabbie
Freya
Faye
Fantasia
Eva
Erin
Emma
Emily
Eliza
Elise
Dorothea
Donna
Demi
Delia
Debbie
Cindy
Charmaine
Charlotte
Cathy
Cassie
Carlotta
Camilla
Cali
Britney
Betty
Ava
Aspen
Asia
Ariana
Ariadne
Aphrodite
Annette
Ann
Anastasia
Amber
Amanda
Allie
Alexis
Alexa
Abbie
Cool Groundhog Name
I only have one cool name for a groundhog in my head, but I'm sure you'll agree: It's pretty cool!
Wolverine: I'm sure there are very few people that don't actually know who Wolverine is. This is a mutant from the well-known Marvel Comics, an important member of the X-Men team.
Wolverine has his iconic metal claws that can show up from his fists at will. What most people miss is that the wolvering is also a mammal.
A wolverine is very similar to a groundhog, even though their mammal families differ, one being a weasel and the other one a rodent.
This is why, if I were to give a groundhog a really cool name, I'd go for Wolverine.
Final Words
Groundhogs are a vital part of the traditional Groundhog day celebrations. This is why you should give your groundhog a really memorable name. I'm pretty sure that the lists from above will give you some great ideas to name a groundhog. If you have other name ideas or you found one you really like on my lists, please leave a comment below.