A ferret is a favorite in many homes, but will they mix with your family? If you're considering bringing one into the house and want some information on how well does it interact with children, then this article will give you all the info you will need.
Ferrets are fantastic pets for children. They're entertaining, playful, and clever animals that can teach your child responsibility while growing into an amazing furry friend! However it's important to be careful when choosing one as toddlers might not know how to handle them or what their needs really entail – so make sure you educate yourself and your family members first before going any further with this commitment.
Having a ferret as your family pet can provide many benefits, from teaching your children responsibility to having fun and getting exercise. The article goes into detail about how best to make the furry little friend feel welcomed in his new home. If this sounds like something you'd be interested in then read on and find out if a ferret is the right fit for your household.
Are ferrets good pets for a family with kids?
Let's explore why ferrets make excellent pets. In this section, we will look at three reasons why they are good as a child's pet and three more where it might not work out so well for you in a home with children or other animals present. After that is all said and done though? Well…everything's up to YOU!
Ferrets can create a sense of responsibility
Being the owner of a pet can be an experience that builds character for children. They get to take care and look after something, which will give them responsibility in their lives as well as teach values like empathy towards people and animals.
If you have an older child, they may be able to take care of their ferret mostly on their own. However, younger ones can still help out and learn how to care for a soul.
Children are often at the forefront of developing an emotional bond with new pets, especially if they're allowed to feed and provide water for their pets. You could even teach them how to wash, brush or clean up after the ferret.
Ferrets are pretty stimulating
A lot of people think that ferrets are just wild animals, but in fact, they can learn many tricks and act like any other pet. For example, one way to stimulate your pet's brain would be by having it use basic tools for different tasks.
Don't expect them to fix your car, but they will be able to use small items like rocks and sticks to help themselves do different chores. Watching these little critters work can be interesting and funny, your kids will love it and so will you.
Ferrets don't mind being handled
Ferrets make a great pet for both children and adults. They're adorable, furry animals that enjoy snuggles from time to time but don't want constant contact like many other pets might require.
Not all pets are created equal. Some love cuddles and attention, while others can be very temperamental about being handled or touched in certain ways. Cats for example might have a difficult time with it if you squeeze them too tightly – ferrets also vary widely depending on how they feel about affectionate contact from people: some seem to enjoy it while others might not be all that sociable.
It's best to let your ferret get used to going through the weekly routine with you first, as it may take some time for them to get calm and relaxed. Remember that bubble baths are not common in their worlds so you should have patience and take them slowly. Q-tips are also items they aren't used to in the wild, so they will have to learn to enjoy all of these before you can have your children do these tasks.
The drawbacks of having ferrets in a family with small children
When placing kids, especially very younger ones, close to ferrets, there are a few things to consider
Ferrets are great escape artists
Ferrets are known as great escape artists. They're so agile that they can fit through any opening larger than 2 inches in diameter, which is what makes them such elusive creatures. This is due to their incredible skeleton that can twist into almost incredible shapes.
If you have children, you surely know that they are very forgetful. If they ever had to take care of a cat, a dog, or any other common pet, they might be inclined to just open the door and let the ferret go play in the yard. This is where ferrets and other exotic pets are different from your normal cat or dog: They won't come back once they feel free. They will probably run away.
A dog that runs away is hard to catch as is. But imagine if that dog was only 15 inches long and could climb trees, or fit through 2 inch high gaps in the fence. It would be almost impossible to catch such an elusive creature.
You can avoid all of this hassle if you simply teach your kids right from the start that they shouldn't take the ferret outside without a leash and constant supervision.
Ferrets don't like screaming children
Parents, in general, are aware that their children can make some really ear-blasting sounds for some reason or another. This can be pretty annoying for the parents that love their children to the moon and back. Now just imagine how those same shoulds are taken by a wild animal.
Ferrets are very sensitive to sound and because of this, they may find it hard or irritating when children scream. Ferret owners should be aware that these animals don't always get well with toddlers; the same goes for young kids if they are noisy.
Ferrets and their germs
Although ferrets are relatively clean and don't shed all that much, they are not as clean and hypoallergenic as people think they are. In fact, pet ferret owners need to be aware of the risks their pets may pose for children–especially during those early years when immunity is still developing.
A lot of the risks associated with ferrets can be avoided if you keep your pet bathed regularly, clean its ears and enclosure thoroughly. After all, they are no worse than indoor cats when it comes to the germs that they can bring into your home.
This means that is very important to teach your child as soon as possible not to rub the ferret on their face or other sensitive parts. If your child is too small to understand, then it is vital that you keep an eye on them until they are big enough.
A ferret might bite
Ferrets are playful but also like to bite. They have a natural tendency for biting, but that doesn't make their bites malicious in any way. It's just their way of playing with other ferrets – and they naturally think it's the right thing to do when playing with people as well.
Ferrets are playful but nippy animals. Make sure to watch playtime and separate your ferret from children if it starts getting too rough with them. Kids can react poorly when their new furry friend bites their hands or feet.
Keeping your baby away from the ferret is important, especially at a young age, because it may well try to bite them while playing. A little one's immune system is fragile and any bites could cause undesired complications.
Children often want to cuddle their new ferret. But the best way is on this animal's terms – and even though they might seem like a loving pet that can take cuddling at any given hour, they might become nippy.
Ferrets are great pets for children. They're small and cuddly, but it may take your child some time to get used to his new friend! In the end, you will all have a lot of fun together as your children learn more about responsibility.
How to make your new ferret feel at home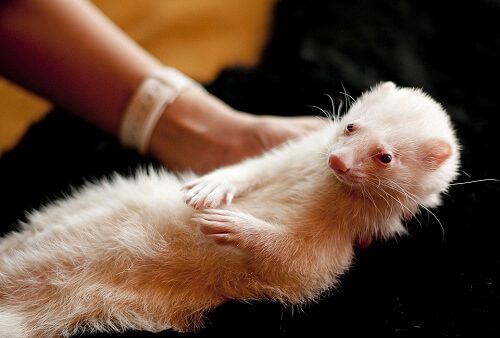 First things first, you'll want to make sure that your ferret has everything they need: a cage of some kind (ideally with bedding), water bowl and food bowls, and toys, among other things.
Introducing your ferret to his new home can be a bit overwhelming for both of you. A good idea is to let him roam free while he's settling in, then confine him and leave it that way until things calm down from excitement.
The new house is full of strange smells and sounds that can be overwhelming. You should take him to a closed, isolated room first, if possible, for him to get used to the new environment.
Introduce the new family member slowly and patiently to prevent any stress. Once they get used, you can take them out again for a little bit before returning him back into his cage.
Give your ferret free roam of the house over a week and gradually increase their time outside the cage. You can give them as much or little freedom as you want, but make sure that any new areas in which they're allowed access are ferret-proofed.
It is important that you check for any little cracks in your house as ferrets are capable of slipping through them. They can slip under doors, which may make them escape and get lost easily or hurt themselves trying. So be thorough when checking for cracks so there aren't any areas that would enable them to escape.
Supervision is vital
Ferrets need at least two hours of playtime a day in order to stretch their legs out of the cage. They must be supervised, especially around young children who may not understand how delicate ferrets are. This is important for the safety of them both.
Ferrets are known for being crafty and quick. They can often hide from their owners in places that would be difficult to find, like behind furniture or under rugs which makes them even sneakier than we thought. This means that it is very important to supervise them at all times.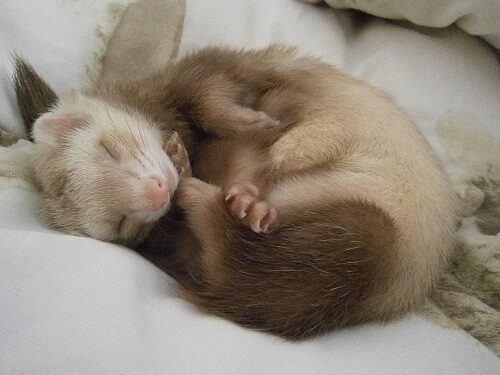 Your ferret will love playing with your children, but if things get a little too heated then you should step in and put the pet back into its cage. Don't worry though; as these two become more accustomed to each other they'll start gelling a lot better.
When a child has been friends with the ferret for a while, they could be trusted to get along by themselves, so you can leave them alone to play for short periods of time.
Conclusion – Are Ferrets Good With Children?
Ferrets are the perfect animal for children to have. They're so beautiful and unique, not to mention that they provide hours of entertainment with their shenanigans.
Although ferrets are filled with energy just like kids are, but at least the ferret won't throw tantrums and cry loudly when he gets too tired.
If he becomes overwhelmed by the environment around him, your ferret may retreat into his own little world until he's ready for more. This is perfectly normal and can be kept under control by setting strong boundaries for your children to let the pet rest when needed.