When thinking about St. Bernards, the image that first pops into the heads of most people is that of a massive dog that stands on top of a mountain, covered in snow and with a small cask around its neck. In fact, experts say that this breed was not actually used a lot for hauling brandy and helping people get down from the mountain. Even so, they do make for amazing rescue dogs. But outside of their ability to help people, these awesome creatures have some other notable characteristics. Let's strip the St. Bernard of all the mystery and find out more about this very interesting dog.
The name of the breed wasn't always St. Bernard
Although St. Bernard is considered a breed originating from Switzerland, historians say it most likely came to Switzerland around 2,000 years ago, brought by Romans. This breed is believed to have spawned when some local mountain breeds were bred with what are known as modern-day mastiffs, the Molossers. The older names of this breed were Bauernhund, which means farm dog, and Talhund, meaning valley dog. The name of the breed actually came from a monk that was canonized as a saint in 1124.
You might also like my articles on other breeds like the Redtick Coonhound, the Johnson American Bulldog, and the Long Haired Dalmatian.
His name was Bernard de Menthon and a mountain pass was named after him. It took a few hundred years for St. Bernards to be brought to the St. Bernard Pass hospice where their task was to provide companionship, protection, and also rescue stranded travelers. The pass gave them their name and it stuck.
It doesn't take a lot of maintenance to take care of their amazing coats
You've probably noticed that some St. Bernards have a very short coat, while others have a very long one. This is in fact due to an interesting reason. In the search for a longer, thicker coat for their dogs, as a way of protecting them throughout very cold seasons, monks also crossed the St. Bernard dogs with the Newfoundlands, a breed with amazing fur. This didn't go very well as snow and ice started to get trapped in the long coat, making the dogs even more uncomfortable than they previously were.
Even so, regardless of the length of hair in your St. Bernard's fur, you won't have to spend a lot to take care of it. You won't even have to bathe the dog all that often, considering that the coat has a protective oil, which keeps the water out. In fact, this dog is known to have no problem with going as much as eight weeks without a single bath and you shouldn't even try to bathe it more than once a week. What you should do instead is to constantly brush them to prevent the coat from matting.
They are great in big families and around other pets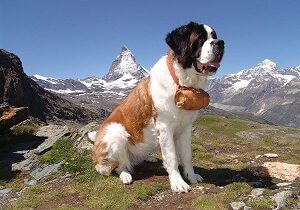 St. Bernards are known as one of the biggest breeds of dogs in the world, with a weight of anywhere between 120 and 180 pounds and a height between 26 and 31 inches at the shoulder. Although they are commonly known as mountain heroes, they also have a more gentle side and almost endless patience with other dogs, humans of all sizes, and even cats. If you're looking for a large dog but you're a cat owner or have small children, then St. Bernard is the perfect breed to go for, as they show almost no aggressive traits.
The worst a St. Bernard will usually do is knock over furniture and people while playing, although dogs within one breed can have some unique personality characteristics. Although St. Bernards will basically act like puppies throughout their lives, they aren't exactly hyperactive so you don't have to worry about having to run after them. They are, in fact, very lazy and will usually only walk if they have to.
Get ready with having drool everywhere
The St. Bernard dog has a pretty unusual head shape. This, along with the loose skin around its lips and a jaw with a unique shape, leads to huge amounts of drool spilling everywhere. To make sure they don't drool so much, make sure you keep your dog as cool as possible, have a drool rag around at all times, and keep the pup outside while cooking. Although they are pretty messy dogs, they do make up for this with playfulness and a lot of affection. If you can stand a great deal of drool around the house, then there is no reason not to get one of these great dogs.
The Brady cask carrying part is basically a myth
Experts say that St. Bernards never had a cask of Brady around their neck to help travelers that get stranded. In fact, this myth came to life when a young painter named Edwin Landseer drew two St. Bernards with the casks around their necks, in a painting named Alpine Mastiffs Reanimating a Distressed Traveler. He was also the one to say that the casks were full of Brady and things just picked up from there. In reality, although St. Bernards might have casks while on the mountain, these are usually filled with water and food.