The first thing a Samoyed makes you think about is happiness. This is because the breed is considered that old friend, attentive and sweet by nature, emanating joy at every step. All these traits made us know Samoyed as the "Smiley Sammy."
The Samoyed is a medium-sized dog with remarkable white fur and a happy expression, who served the people of Siberia as a hunting, sleigh, herd dog, guard, and "bed-warming" dog. The friendly and active dog still feels the need to be close to its owners today.
Character traits
These beautiful Spitz dogs were more than utility dogs for the nomads of Nenets, the Samoyedic people. They were full-fledged family members who slept with their owners in tents and warmed their beds on cold Siberian nights. His friendly and open character and loving way of being have not changed at all. The Samoyeds love company and always seek to be close to their family. Locking them in a cage would lead to the "atrophy" of this sensitive soul.
You might also like my articles with interesting facts on the Long Haired Dalmatian, Miniature Pug, or Bichon Shih Tzu.
Sociable sports companion and friendly playmate
His lively temperament and a strong instinct for movement make him the ideal companion for active people who want to take their quadruped on all sorts of adventures. Because of his happy and docile character, he is a good playmate for children, whom he loves very much. Shyness or aggression is completely foreign to the friendly Samoyed. He is hardly used as a watchdog, although he barks when someone enters his territory, but he does it to faster greet the stranger by waving his tail than to protect.
Appearance
The friendly and open-minded character of this breed dog will fill your heart with love immediately because it fits the typical "smile" of the Samoyed, created by the oblique base of the eyes and the corner of the lips, which is slightly raised. Another feature, which makes this sled dog so popular among humans, is its white, glossy coat. It forms a kind of mane on the neck and shoulders, especially in males, and so-called "pants" behind the legs. The raised tail, which reaches the ankles when resting, usually holds it on its back or side, and it is also very furry.
Amazing fur, which protected it from the polar climate
The hair is quite short, straight on the head and on the front of the legs. Short hair stands out behind small, raised, and triangular ears. Compared to other sled dogs, such as the Husky, the Samoyed's fur is quite long. In combination with the short and soft substrate, the hard and smooth top layer provides perfect protection in the cold polar climate of its native country. It goes without saying that the Samoyed, with its thick, shiny coat, prefers to stay outdoors. However, it is highly adaptable to climate change. There is even a small Samoyeds farm in Zimbabwe, whose dogs have adapted very well to the African climate. However, make sure your dog has enough shade in the summer and avoid exposing it to too high temperatures.
Color, size, and weight
Even though the original Samoyeds could also be brown or black, the current breed standard only accepts pure white fur, which can be at most white to beige, with a few colored markings, type "biscuit", or cream tones. With a height of 57 cm in males and 53 cm in females, these white dogs belong to medium-sized breeds. Depending on the size of the body, the weight should be between 20 and 30 kg.
Health and diseases typical of the breed
Of course, it does not necessarily have to be a breed dog, but in terms of health, a breed puppy from a good kennel has certain advantages. Strict mating approvals and detailed health examinations ensure that the spread of breed-specific diseases is controlled and stopped. In any case, the Samoyed is associated with the following breed-specific hereditary diseases:
Diabetes mellitus
Progressive retinal atrophy
Deafness
Hip dysplasia
Hereditary nephritis
Nanism (associated with eye malformations)
Pulmonary stenosis (breathing difficulties/ arrhythmia)
The nutrition of a Samoyed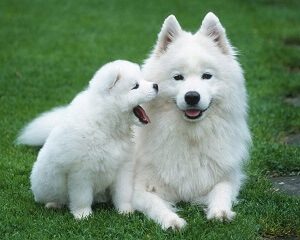 A balanced diet plays a key role in maintaining your dog's health. In order to stay active and have a beautiful and shiny coat, the Samoyed needs enough minerals, trace elements, and vitamins. Your veterinarian or breeder can give you valuable advice and inform you about your dog's exact needs. In principle, the Samoyeds should receive a lot of fresh meat or fish, and vegetables. Cereals have no place in a carnivorous regime and should exist in very small quantities. Look closely at the ingredients, especially when you buy dry or wet ready-made food.
Grooming
In addition to healthy food, proper care also has an effect on the quality of the Samoyed's fur. The motto is: "Less is more!". Shampoo and soap destroy important fur fats and should only be used in an emergency, if the fur is extremely dirty. It is generally enough to brush the dog once or twice a week because the fur cleans itself. The need for brushing only increases during periods when they shed. During this period, the Samoyed leaves a lot of hair, which either needs to be removed with a comb or then vacuumed off the carpet or sofa.
Keeping up with a Samoyed
It takes more than good food and attention to care to make a Samoyed happy. Being a utility Nordic dog, he loves to spend time outdoors, whether it's raining, lightning, or snowing. A garden of its own, in which it can lose its energy from time to time, in addition to long walks together, would be perfect. Of course, you can keep it in a small apartment with its own green space, but in this case, you have to be dedicated and ready to walk, regardless of the weather. The smaller the apartment, the more time you have to spend with your pet outdoors.
If he has enough physical and mental activity, he will be balanced, calm, and docile in the house and will enjoy the hours spent on the couch with his masters. Of course, this does not make him a suitable dog for inexperienced lazy people.