Designer dog breeds are gaining more and more popularity and among them, the Bichon Shih Tzu is quite the fad. These dogs are known for their very friendly nature and great looks. Keep reading this article to find out some of the main characteristics of the mix.
The Bichon Shih Tzu was created by cross-breeding the Chinese lapdog Shih Tzu with the french toy dog called Bichon, as the name surely shows. Some of the qualities that make these two breeds very popular are their loyalty, friendliness, and overall intelligence. The Bichon Shih Tzu dog will get its main traits from both his parents and will be a nice dog to have if you're looking for a loving and happy pet dog.
Its Features
The Bichon Shih Tzu is clearly not a purebred dog, as it was made from the crossing of two different breeds. It has other common names like the Shichon-Teddy Bear, the Teddy Bear, the Tzu Frise, the Shichon, or the Zuchon. You will notice that usually, Bichon Shih Tzu dogs will have a curly and fluffy coat, which is a genetic trait of the Bichon Frise, coupled with a flat face inherited from the Shih Tzu parent. You will find these mixed dogs in a lot of different colors and even in combinations of colors. Their body weight will range between 10 and 14 pounds, while their height will usually range between 10 and 12 inches at the shoulders. Depending on the size of their body, they will be considered either small, medium, or large. The nose of the Bichon Shih Tzu will usually be small, flat, and with a one-inch nose bridge, while its eyes are brown and large. This dog will love to live among humans and has a very friendly and gentle nature.
You might also like my articles about other dog breeds, like the Boxer Pitbull Mix, The Labmaraner, or The Pit Bull Poodle Mix.
Why Pick a Bichon Shih Tzu?
Before getting any breed of dog you should always try to learn about and understand its pros and cons and expected traits. One of the biggest plusses of the Bichon Shih Tzu is his personality, which is usually considered gentle, friendly, and with a very happy disposition. This is why this dog is perfect for elderly people and families with small children. They also adapt perfectly to apartment life due to their small size and calm temperament. Bichon Shih Tzus also make for great watchdogs.
Another advantage of this particular mix is its minimal shedding. The Bichon Shih Tzu will shed very lightly, although it does have a generally dense coat. This is why this is among the best dogs to own if you know yourself as suffering from allergies. Even though they don't shed all that much, you will still have to groom them regularly to avoid issues with their long coat. Most people prefer to cut the fur of these dogs to short lengths to enhance their teddy bear looks. The Bichon Shih Tzu can inherit some genetic diseases due to it being a cross between two different breeds. This will, of course, depend mostly on other factors, like the condition of his parents.
Bichon Shih Tzu Problems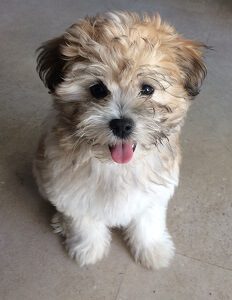 These dogs are very friendly, which also makes them very popular among dog breeders and owners. Even though they are lovely, you should still have a clear understanding of the breed before actually getting a Bichon Shih Tzu. Considering the dense hair of this dog, one of the most important tasks you will have will involve its regular grooming, which is something you won't be able to avoid. If you fail to groom him regularly, the dog might end up suffering from irritation around the eyes and may even develop mats. This breed is also prone to dental issues caused mainly by the dogs' small teeth. Keep in mind that it will also help to brush their teeth as often as you are able to.
Another important issue this dog can deal with is related to its weight, which is why you should be very careful what and how much food you're going to give it. Giving them healthy food will greatly reduce their chances of getting overweight. These dogs will really require your constant attention and will always want to play and socialize with you. This is why this dog isn't recommended for people that don't have enough free time. You should also avoid leaving them alone in the home for a long time.
Conclusion
Bichon Shih Tzus are great dogs to own with an adorable character and nice looks. However, you must understand their pros and cons, beforehand. If you find that the advantages overweigh the disadvantages, you may go ahead and get one as a pet. They are also a great match for people with small kids, big families, and even elderly people. Their small size also makes them a great pick for people living in smaller apartments.