If you consider that, for example, even children can get scared of people dressed in Santa Claus or other holiday characters, dogs or cats could be totally confused by their own "disguised" masters. This could explain, if you asked your veterinarian, episodes of anxiety or aggression seemingly without reason. All the noise of the holidays, the constant doorbell ringing, the costumes, and the changes in the environment can have a stressful effect, potentially harmful to the dog in the house.
And yet how could your dog have a good Halloween? What could scare you more than chocolate poisoning left unattended, toys swallowed entirely or shredded completely, or two or three days of altered behavior?
Halloween is one of the most fun nights of the year, but it can also be a nightmare for pets. If you have a dog at home and are worried about its safety, here are some useful tips you can put into practice during the holidays:
No candy should ever be given to your dog. Candy and chocolate are strictly for trick-or-treat visitors, not for animals. Why? Because chocolate and sweet candies can be extremely dangerous for domestic animals, such as dogs. If you have a reason to believe that your pet mistakenly ingested candy or chocolate, you should immediately contact the veterinarian or the Poison Center in ASPCA.
Keep the pumpkin and corn away from your pets. Even though these foods are traditionally thought to be harmful to dogs, they can cause irritation to their stomach.
if you are creating or buying a Halloween costume for your dog, make sure it does not have any threads, fibers, or pieces that can be chewed easily or get the dog stuck in them. The animal can chew and swallow things, or they could be trapped in objects as they move.
More importantly, don't force your pet into a suit, if it is more than obvious that it is not comfortable playing around. It's okay for it to wear a Halloween costume, as long as you make sure the clothing is comfortable, anti-allergenic, and allows for easy breathing.
Halloween strings and lighting wires need to be arranged and kept away from the reach of both dogs and children. If chewed or handled, can cause burns and cuts, but also fires in extreme cases.
Halloween is an occasion that sees many bells ringing continuously. This can agitate some pets, and a few dogs might run away through the front door when the owners open it. To prevent this, keep your pet in a room that is far from the front door so that they do not get agitated seeing so many strangers at once. Leave it with a few favorite toys and leave it on the radio or TV.
Also, you can put the collar around its neck, and make sure it has all your contact information. You can also add your current veterinarian's phone number, in case of an unexpected inconvenience. If your dog is microchipped, make sure the information in the chip is up to date.
If you decide to take your dog out for trick-or-treat trips, keep it on a short leash so that it does not get into fights with other animals or harm the people it will encounter.
Halloween jack-o-lanterns and lighted candles must be kept at a safe distance from all pets, as flames can be a threat to their safety and well-being. Alternatively, you can use flame-free candles, so that your curious canine friend will not burn itself if it gets too close.
Safe homemade treats
You have time to get used to it slowly, so you don't have to worry if your dog gets bored of the suit after a few minutes. On Halloween, our furry friends can also go after the sweets with the children. To keep them safe you can prepare some snacks and rewards in advance.
You might also like my article on how to deal with your cat's need to ruin your Christmas decorations.
Dog biscuits with pumpkin and peanut butter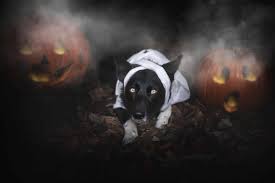 Let's prepare an autumn snack that our dog can safely eat.
Ingredients:
300 g whole flour
2 eggs
110 g of pumpkin
2 tablespoons of peanut butter
½ teaspoon ground cinnamon
Preheat the oven to 175 °C, then mix all the ingredients. If necessary, add some water. Form the cookies the size of a coin. Place them in a tray on a baking sheet and bake the biscuits for approximately 40 minutes. Let them cool completely before serving. You can keep the leftover snacks in a jar with a hermetically sealed lid.
Go for the usual relaxation and relieving needs walk, because your dog will not know it is a holiday and will hardly refrain from all the stress around. Have on hand the phone number of your veterinarian who can answer your questions and offer you a specialist consultation during difficult times.
I hope that the above tips can help you in keeping your beloved dog safe during Halloween. Contact your nearest pet shelter for other tips on the holiday season for your pet's safety and security.