The fur of the German Shorthaired Pointer is the most distinctive feature of the breed. It is dense enough in the water to protect against the harsh cold, but during the summer sheds until it becomes almost invisible.
However, hair shedding can be more visible for several weeks from late spring to early summer as it throws its thick winter coat. In general, a German Shorthaired Pointer's shedding is more seasonal but in areas with a warm climate, it happens year-round. All you can do is groom your dog frequently with a special glove.
The dog's fur may be purple-gray or a combination of these shades and white. It can show various spots in isolated areas with black shades or a small mix between several colors. At first, any purple-gray dog from this breed will have light shades of red or white.
You might also like my article on whether bull terriers shed.
How bad does a German Shorthaired Pointer shed?
A German Shorthaired Pointer's fur is silky, short, and easy to brush, especially because the animal does not shed excessively.
In warm climates, the German Shorthaired Pointer could shed all year long, but usually, the shed is more seasonal. However, their short hairs can be found all-around your house. If you groom your dog every few days you will stop most of the hair from reaching your sofa, carpet, bed, socks, cabinets, etc.
There is also a genetic factor that may influence the shedding, because some may shed more than others.
How do you stop a German Shorthair from shedding?
You cannot prevent the shedding. All you can do is just brush their fur every few days or daily with a grooming glove and wash the dog only when it is necessary. Wipe the quadruped's fur with a towel that will make his fur stay bright. Due to the water-resistant nature of its fur, it dries quickly after a bath or a swim.
The dense and short fur of the German Shorthair requires minimal care. It should remain clean with just regular brushing.
Tips:
You can reduce its shedding by 25% by feeding them an omega-3 supplement daily. This can be found in chia seeds, fish oil, and flaxseed oil.
In order to keep their skin healthy bathe them whenever it is needed.
If you will groom the regularly you will no longer have dog hair all-around your house.
Are German Shorthaired Pointers cuddly?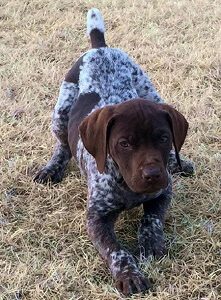 German Shorthaired Pointers love people and do not love solitude, especially when they have to face long periods of time with no occupation. This breed of dog, quite agitated, is capable of finding something to do by itself, usually entering certain situations where you would not initially want it to be.
This animal is made especially to be a house companion and not a yard dog. The puppy will love anyone in the family but will pick a favorite. The quadruped has a great training capacity.
There is no doubt about their athletic skills or intellectual abilities, but most families choose German Shorthaired Pointers because of their affectionate personality and loyalty. Whether they live for hunting or prefer to make long trips before they hug on the couch, these dogs are excellent family members and of course, they love cuddling.
Does German Shorthaired Pointers' shedding cause allergic reactions?
German Shorthaired Pointers shed and like all dogs can cause allergies to those who are already sensitive or allergic.
It is possible to enjoy a wonderful life with dogs if you experience allergies or if you have family members who are allergic to dogs. Not that it would necessarily be entirely comfortable, keep in mind, but you should know it is possible.
Some people report the development of immunity to their allergies to dogs while others note developing a stronger allergy. Remember also that an allergic reaction may get worse with higher exposure.
Are German Shorthaired Pointers hypoallergenic?
There is no hypoallergenic dog breed, although some individual dogs may cause fewer symptoms of allergy than others. Many people believe that allergies to pets are caused by the fur of the dog or cat, but the real source is often a protein found in their saliva and urine.
How to stop allergic reactions to German Shorthaired Pointers shedding?
Here are a few pointers:
First of all, protect your household from allergens. Pet allergens are tiny and light, so they easily stick to curtains, furniture, carpets, and bed linen. This means that you have to vacuum and clean them frequently.
Secondly, keep the surfaces clean.
Thirdly, consider keeping proper hygiene.
Finally, there are many medicines available to ease allergy symptoms, such as eye rashes or clogged noses.
Keep in mind that it is rare for allergic people to fully adapt to their life with dogs, except for children who can beat allergies. Also note that you may be allergic to a number of different allergens, not just dogs and their hair.