A bathroom is a perfectly acceptable place for a fish tank with one condition: The tank should be larger than 10 gallons. This is to prevent any temperature fluctuations, like the ones you would get from taking a hot shower, won't affect the fish tank and its ecosystem.
It will also be important for the bathroom to be large enough to host the tank without becoming too crowded and that the tank isn't directly exposed to harsh chemicals like the ones used to clean the toilet.
Some harsh substances that shouldn't get close to the tank are:
Air Fresheners
Bleach
Cleaning Agents
Although most people use very strong chemicals to disinfect the bathroom, this will have to be avoided when you install a fish tank.
You might also like my articles on how to get rid of nerite snail eggs, whether crabs can swim, and whether sharks have tongues.
These chemicals will release vapors that will get into the water, ultimately harming the fish and all life in the tank.
So can you actually have a fish tank in the bathroom? Yes, you can, as long as you follow some simple rules to protect the life inside it.
Tips for Installing a Fish Tank Safely in a Bathroom
1. Use a Larger-Sized Fish Tank
Bathrooms are fairly different from any other room in a house and you should consider this when trying to place a fish tank in it.
The bathroom is used for taking hot baths, hot showers, and whatnot, so steam will quickly become quite the issue. The bathroom can become hotter in a matter of minutes, which could be very bad for fragile creatures like fish.
A small fish tank will change its temperature faster when the room temperature changes because the water will be concentrated in a smaller space. Abrupt changes in temperature will be very bad for small fish.
You will be able to take regular showers with a bigger fish tank in your bathroom because all of the additional water will keep the general temperature of the tank low for a longer time.
A larger fish tank has the following benefits:
Can store a larger volume of water
Can handle an increase in the room temperature due to warm showers
pH fluctuations that are easier to control
This means that the first thing you have to do when you want to add a fish tank to your bathroom is to go for a fish tank that is 10 gallons or more in volume.
Anything below 10 gallons will mean faster-changing temperatures inside the tank, which is very bad for their health. Going for something as big as 20 gallons or even bigger would be a great idea if the space allows this.
This is a great way of using the additional volume of the water to protect your fish.
2. Change the Water Often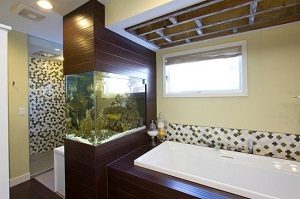 Having a fish tank in any other room of the house won't require you to change the water too often. You can have a clear schedule and only change the water periodically.
This isn't the case when you want to have the fish tank in your bathroom. You will have to change the water considerably more often in this situation.
This is done to prevent pH levels from rapidly changing, putting the health of your fish in danger.
If you change the water in the tank within proper intervals, you won't have to worry about the pH level of the tank water.