What Does Parvo Poop Look and Smell Like?
September 19, 2022
General Information About The Belgian Hare
September 19, 2022
Watermelon is a refreshing fruit and a perfect summer treat for us humans. But is it safe to feed it to your hamster? Yes, it is! All types of hamsters, including dwarf hamsters and Syrians, can safely have watermelon in their diet, but in moderation.
If you want to learn more about the health benefits of watermelon for your hamster, how much you should feed it, and what parts of a watermelon can safely be offered, continue reading to learn more.
Health benefits of watermelon in hamsters
Watermelon really respects its name, because it is almost 90% water! As expected, this fruit is also low in fat and contains only about 43 calories per slice.
Watermelon also contains potassium, magnesium, calcium, phosphorus, zinc, and copper, essential for your hamster's health.
Eating watermelon can not only help the hamster stay hydrated properly, but it is also an excellent source of vitamin C and carotenoids. Eating watermelon can help increase collagen production, improve the health of the circulatory system, fight heart disease, lower blood pressure, and fight infections.
How to feed watermelon to your hamster
To feed your hamster this healthy and delicious treat, you should first wash the watermelon to get rid of any pesticides. Just give your hamster fresh pieces of core watermelon. Never serve watermelon to your pet in yogurt or juices, just give it simple pieces of watermelon.
You might also like my articles on whether hamsters can eat apples, grapes, or bananas.
If your hamster is not used to eating fresh vegetables, start by giving it a very small piece. You can hand-feed the hamster with watermelon or mix the piece with its usual food.
Never give a Syrian hamster more than one teaspoon of watermelon a week, while Robo and Dwarf hamsters, being smaller, should be fed even less.
Possible watermelon feeding risks in your hamster
Despite the fact that it has a lot of health benefits for your pet, there are some risks to feeding the hamster with watermelon. These may include:
Obesity: Hamsters are easily prone to obesity. This is why you always have to feed them with measure, as watermelon contains high levels of sugar.
Choking: Hamsters can choke with large pieces of watermelon. Always cut the melon into small bite-sized pieces for your pet.
Diabetes: Because watermelon contains a lot of sugar, feeding your pet too much can lead also to diabetes.
Dehydration: As mentioned earlier, watermelon contains a lot of water. Too much of this juicy vegetable can cause dehydration in the hamster, due to eventual diarrhea.
Can the hamster eat watermelon seeds and peel?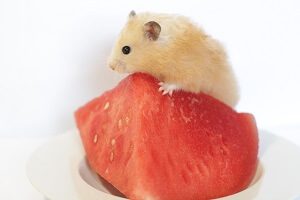 While hamsters will adore feasting on the fragrant core of the melon, they can be stopped by the peel. This is because it contains a powerful aromatic amino acid called citrulline, which may not be pleasant to taste.
As for the seeds, it depends. Syrian hamsters can probably eat seeds without any problems, while smaller breeds of hamsters can suffocate on seeds, so avoid giving them that part of the fruit.
Never give red melon juice or any kind of juice to a hamster. The juice contains a large amount of sugar and can easily dehydrate your little pet.
The proper diet for hamsters
Never feed your hamster a watermelon diet. It should be administered as an occasional treat or snack.
A proper diet for hamsters includes:
Hamster pellets
Protein and chewable treatments that promote dental health
Timothy fresh hay
Bird seeds
Fresh and clean water
What are some healthy alternatives to watermelon for hamsters?
When you want to change the treats, try to give your hamster the following delights:
Celery
Broccoli
Cucumber
Carrots
Red salad
Baby corn
Green beans
Basil
Mint
Beets
Summer or winter pumpkin
As with watermelon, all these options should be fed to your hamster only as an occasional treat.
Final words
Watermelon, pre-rinsed, and organic, when offered with measure, is perfectly safe and even beneficial for a hamster to consume. Never give the hamster large amounts of watermelon or watermelon juice.
If you want to treat your pet with a delicious and healthy taste, try giving the hamster a small piece of watermelon today! As long as you feed your hamster watermelon in moderation, this fruit can be a great addition to its diet.