You surely noticed that cats will sometimes partially stick their tongue out of their mouth and this might have made you wonder what would be the reason behind this. I`ll go ahead and start with the most important part: Yes, cats have a habit of sticking their tongues out and this, in most cases at least, is nothing to worry about and is considered normal behavior. People have even turned this into a meme and called it "blep" in the online world and you can now find thousands of photos of cats doing just this and looking very funny with their tongues out. So why would a cat want to blep? There are several different reasons behind the behavior and I'll talk more about them below.
Reasons for a cat to stick its tongue out?
A way of exploring its surroundings
Among the most common reasons for a cat to stick its tongue out will be to use it as a way of exploring its surroundings. A cat will leave the mouth wide open and the tongue out to collect pheromones on it. This behavior is known as the Flehmen response. Among the most important pieces of information a cat will get from those pheromones will be related to other cats in heat. This means that while looking for a mate, a cat will use this unusual posture to find other cats.
You might also like my articles on whether cats can have autism, how to find a hypoallergenic cat, and why cats meow all the time.
Your cat is simply relaxed
It might happen that the cat is simply relaxed, making them forget about keeping their tongues inside their mouths. Their mouth will open when their jaw is relaxed and loosened up. This will give their tongues just enough room to roll out.
A pet cat will usually be sticking its tongue out as a sign of being overly relaxed when they're almost asleep or completely asleep, or when you're patting it or cuddling with it. It won't take more than focusing on something else or simply waking up from a sleep that you'll just see it pulling its tongue back inside the mouth and get on with its life.
Your cat might be trying to please you
You might be behind your cat's tongue sticking out all the time. If your cat notices that you are amused, laugh, or even give them attention or a treat when they stick their tongue out, then they will quickly understand that this is how they can make you happy and they'll continue to do so. This means that in the hopes of getting yet another pat or another treat, your cat will repeat this action around you.
Your cat is missing teeth
Another common reason for a cat sticking its tongue out is the lack of teeth, especially canine teeth. The teeth are basically among the few things stopping the tongue from slipping out of the mouth so as soon as the cat will be missing one or even worse, two of them, it will likely start to show its tongue a lot more frequently.
Your cat has something stuck to their tongue
The cat's tongue is very similar to a human's, in the way that it has tiny barbs called papillae on its surface, covering it almost completely, and is also rough and dry. Although papillae are very useful for a cat when drinking water and eating, they can also have food stuck onto them. This is for a cat as annoying as a hair strand getting stuck to the inside of your mouth, which is why the cat will stick the tongue out in the hope of getting rid of whatever is stuck to it.
Your cat has dental issues
Although most of the time is very much normal for a cat to stick its tongue out from time to time, if it is recurring very often and things are going from bad to worse, there could be a physical issue behind this behavior. This might require additional attention and sometimes even professional help. A dental issue for your cat might make it stick out its tongue. This behavior could mean anything from tooth decay, gum disease, or even an abscess, along with some other painful dental issues. An infection or even an inflammation of the inside of the mouth can also lead to this behavior in cats.
Some other health issues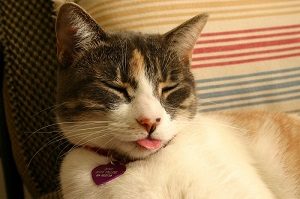 Your cat might also stick its tongue out as a response to a health issue causing it intense discomfort like stomatitis, for example. There are instances in which sticking the tongue out just partially can mean a mental health issue like dementia.
If you think that this type of behavior is due to your cat suffering from a health issue, then you should not postpone a visit to your vet. A thorough examination of your cat should tell you everything you need to know about its physical state and whether any type of treatment is required.
Conclusion
It is usually very normal for a cat to stick its tongue out. It will usually depend on the cat how often it does this. While there are cats that will stick their tongue out a few times per day, others might never do this at all. If you notice that the cat is doing this more often than usual, then it might be a reason for concern. You will usually need to watch your cat carefully for some signs that would point you toward the problem. as there could be a lot of causes behind it.
Although most of the time there really isn't much to worry about, there are instances where this behavior is brought one by an underlying health problem that will need to be fixed. An unusual amount of sticking out of its tongue combined with blood or drooling should make you call the vet as soon as possible. Until your visit to the vet, make sure you keep your cat under observation si you're sure things don't get worse.