The cats' claws and sharp teeth not only make them formidable predators but also make them skilled paper choppers. Many cats love to tear and eat different paper products around their owners' house, from toilet paper and cardboard to wallpaper and bills. A cat playing with a toilet paper roll can be cute, but the behavior can become real trouble and, in some cases, can even lead to significant health problems for your cat. Below are some of the causes of this behavior, along with tips on what you can do to stop it.
Why do cats like to play with toilet paper?
The cat has the pleasure to destroy the toilet paper roll, whether it is within its reach. This habit is very popular around homes where people have cats. Those who are not careful where they put the toilet paper rolls, shouldn't be surprised if they become toys for cats and have to buy other rolls over and over again.
Instincts
It turns out that the cat's habit of unwrapping and breaking toilet paper rolls is related to her way of being, its tendency to clasp its claws and manifest its hunting instinct. It seems that the roll stimulates its hunting instinct, so the cat will immediately jump on it like a predator. So, the fun starts there and continues until there's nothing left from the roll. It is advisable to keep the roll hidden in a closet where the cat does not have access to it.
Anxiety
Another study shows that cats experiencing anxiety also break paper. Cats also like to leave their scent on things to mark their territory and chewing on paper could be part of this behavior. However, if your cat is trying to eat or ingest paper, you should take it to the veterinarian to rule out any nutritional deficiencies or dental problems that are causing the behavior.
You might also like my articles on how much cats hold grudges, how to stop a cat from growling and how to stop her from meowing.
They like the sound and the sense of paper
Almost all cats will be interested in something new; that's just their curious nature. Some will just want the paper to make noise, and this will be a sufficient reason for them to destroy it and sit on it.
If it's the noise they like, keep that scrunched paper. Listen and see if your cat is purring while kneading and stepping on it, too; that's always a good sign that they have a wonderful time.
What you can do about it?
Toys
Give your cat toys of her own, and if she insists on paper, you can get her a cardboard box or paper bag to destroy. If you can't pay enough attention to your cat because you work long hours or travel often, you might want to hire an animal caregiver to visit your cat and play with her.
Pheromones
You may also think about getting cat pheromones that you can diffuse into the air, around the house. They can help some cats cope with stress.
Although not everyone may be a fan of this, the use of aversive sprays on the tip of a roll of toilet paper or perhaps, putting a piece of tissue with aversive spray on the top of a tissue box will discourage your feline companion from getting near them. Cat sprays sold at pet stores can keep cats away from certain areas of your home.
Tips and tricks
The best way to protect your toilet rollers is to use an elastic band or hair band and wrap it around the toilet roll. This way, it cannot be easily pulled and unrolled by your cats, plus it is cheap and simple.
Another idea would be putting plastic on the floor in areas where your cat likes to destroy paper. This can be effective as most cats don't like to walk on plastic. If your cat loves napkins and toilet paper, hold the napkin boxes upside down and get a toilet paper dispenser.
Attention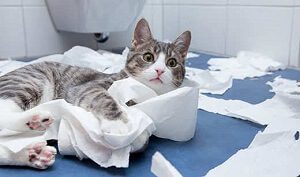 To prevent your cat from destroying your precious paper, the best thing you can do is play with her regularly. Make sure you give your cat plenty of interactive play, where she is challenged, and enjoys some movement.
We all know that cats need time and attention from us. The number one cause of this phenomenon is boredom. Just like us, cats get bored too. Giving the right amount of play time that can attract their interest and energy, it will make your kitten easily forget to play with toilet paper. So, there you have it. You can try some of these tricks if your kitten likes to terrorize your toilet paper. But among all the suggestions, nothing beats the attention and fun you spend with your feline friend. You both can get bored, so why not get rid of boredom together?
When to go get help?
If your cat chews paper constantly while playing with it, whether it's toilet paper, cardboard, or napkins, she might be dealing with some health problems. Check her teeth and gums for inflammation and make sure your cat does not ingest any type of paper. If she does ingest some, it can cause severe intestinal blockages that could be fatal. Take your cat to the veterinarian if you suspect she has eaten paper or cardboard and is experiencing dental or digestive problems.
It is already known that every cat has a special pleasure to play with a roll of toilet paper, making acrobatic jumps, and manifesting their creativity, the need to scratch and break the paper into numerous pieces on the floor. It seems that the cat enjoys the feeling and sound of toilet paper, and never gets bored playing with it.
To prevent the cat from spoiling the paper roll, she ideally must not have access to it. The best idea is to keep the roll hidden in a closet where the cat does not have access at all.