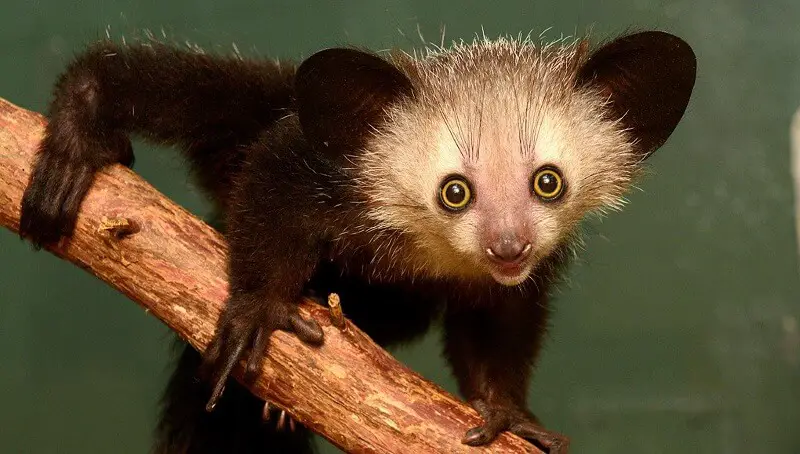 Interesting Facts About Aye Aye – A Weird Animal
November 17, 2022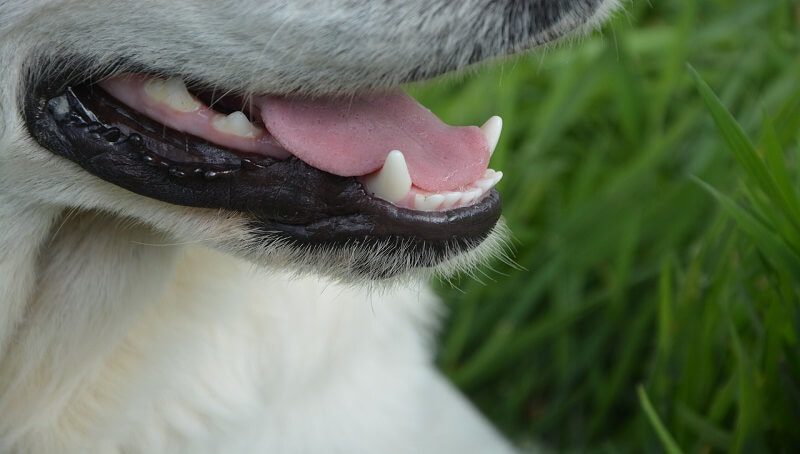 Why is the Dog's Tongue White? And Should You Worry About it?
November 17, 2022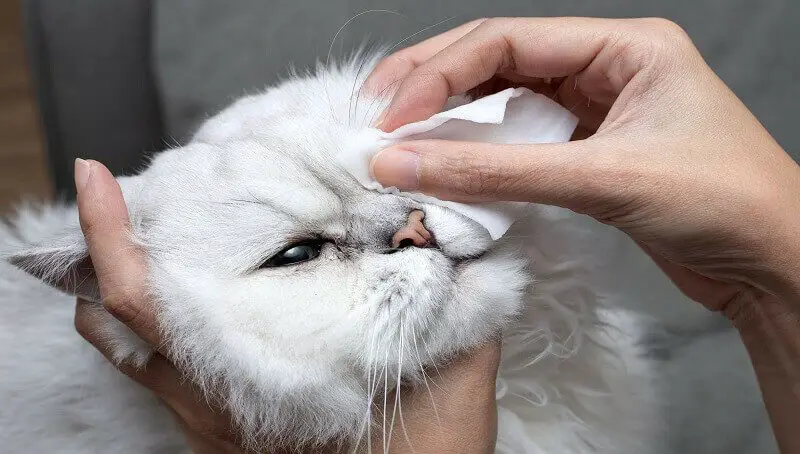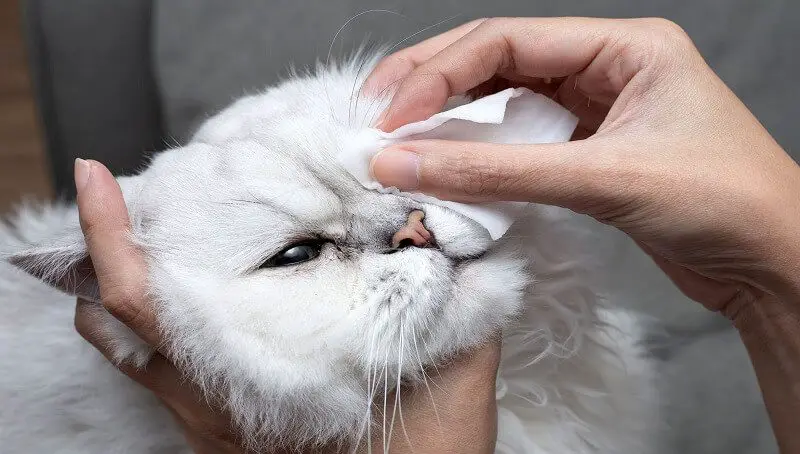 Your cat's eyes should always be clear and not red.
Did your cat wake up today with swollen and glued eyes? She may suffer from conjunctivitis. Read everything you need to know about feline conjunctivitis in the following article.
When do you need to worry?
Conjunctivitis in cats is not very dangerous. However, it is usually associated with significant pain and discomfort for the cat. In some circumstances, however, conjunctivitis can become chronic or, in the worst case, can lead to blindness. Therefore, you should not hesitate, especially if you notice other symptoms, to call your veterinarian.
How does conjunctivitis occur in cats?
The development of conjunctivitis in cats can have multiple causes, so differentiation between infectious and non-infectious causes is needed to better understand it.
Infectious causes
Conjunctivitis in young cats is often a sign of a cold. This is an infectious disease that occurs all over the world, caused by various bacterial and viral pathogens. However, feline herpes virus 1, the FHV-1, and the bacterium Chlamydophila Felis play a particularly important role in the development of conjunctivitis.
Both infectious agents are transmitted by drops, for example, through contact with contaminated nasal secretions. Normally, the places where more cats live, such as animal shelters or cat exhibitions, have a higher risk of spreading pathogens due to their high density.
In addition to typical conjunctivitis, this respiratory disease is often accompanied by other symptoms, such as sneezing, fever, or loss of appetite.
Non-infectious causes
This category specifically includes allergic reactions and inflammation caused by foreign bodies. Allergies are very common in cats and, in addition to conjunctivitis, can often lead to hypersensitivity reactions such as itching, difficulty breathing, or other skin inflammation.
You might also like my articles on:
Besides these allergic reactions, foreign bodies can also cause eye irritation, resulting in inflammation of the conjunctiva. A good example of foreign bodies would be different particles in the environment or hairs.
What are the symptoms of conjunctivitis?
There are some signs which help you recognize conjunctivitis in cats. These include:
Reddening of the eye (conjunctive infection)- pinkeye;
Swelling of the conjunctiva and a more frequent tendency to blink;
Lacrimation, e.g., watery or purulent;
She feels like she has a foreign body in her eyes;
Depending on the disease, additional symptoms may occur, such as sneezing or coughing, or other skin inflammation.
What possibilities to diagnose conjunctivitis in cats are there?
Conjunctivitis in cats is not always caused by a serious illness. However, if other symptoms appear or do not heal by themselves within a few days, consult a veterinarian.
At the beginning of the visit to the veterinarian, he will make a detailed medical history. Its purpose is to collect important information on the occurrence of the disease. The situation of the cat's vaccines, the appearance of other signs of disease, or contact with other sick animals help to exclude differential diagnoses.
After anamnesis, a general clinical examination is performed, which determines the general condition of the cat. This is very important because the final diagnosis depends on the current condition of the cat. The most important parameters are the general condition of the cat, the heart and respiratory rate, as well as the condition of the mucous membranes, and the internal rectal temperature of the body.
If the clinical examination does not show a significant deviation in vital parameters, the veterinarian may begin the special examination. To exclude the presence of a foreign body, he carefully examines the eye. However, if the cat is not cooperative, local or general anesthesia may be required. Infectious diseases can be detected quickly with the help of a sample taken by tamping. To identify the bacteria or virus in question, the sample is examined both microscopically and using the PCR method (polymerization chain reaction). However, very few veterinary offices have the latter option, so samples are often sent to special laboratories. In general, the veterinarian receives the result a few days later. To find out the causes of an allergy, an elimination regimen, a skin test (intradermal test), or blood tests can be used.
How is conjunctivitis treated?
Depending on the cause of conjunctivitis, treatment may differ. In case of a bacterial infection, your veterinarian will prescribe eye drops or antibiotic ointment, which should be administered several times a day. If viruses are the cause, antiviral medications are used accordingly.
If a foreign body causes the infection, your veterinarian will carefully remove it. Anesthesia may be required for this procedure. The cat then receives anti-inflammatory ointments for the eyes, which will promote regeneration for several days.
What natural remedies are there for conjunctivitis in cats?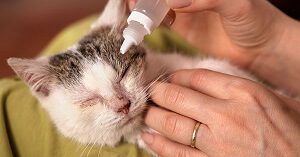 If your cat has very mild conjunctivitis, you may be able to help her with some simple home remedies. For example, the eyes can be cleaned with a cloth and lukewarm water. This removes some of the itching and, consequently, provides relief to the cat. Under no circumstances should you use chamomile tea or anything similar to rinse her eyes. The particles in the tea will irritate her eyes more.
Homeopathic eye drops have also been shown to be effective for mild conjunctivitis in cats. However, they should only be used if the cat's eye leaks are clear. If the eye leaks are yellowish or greenish, the only thing that can help is to go to the veterinarian.
However, if the inflammation does not go away within a few days, or if your cat develops other symptoms, such as fever or fatigue, you should immediately consult a veterinarian.
What is the prognosis?
The prognosis of conjunctivitis depends on the cause of the disease and generally does not affect the eye very severely. But if the inflammation spreads to surrounding tissues and affects the structures of the internal eye, it increases the risk of blindness.
How can I avoid conjunctivitis in cats?
Infectious diseases, such as feline coldness, can be avoided with the help of the following prophylaxis measures.
Avoid contact with sick animals. There are vaccines against feline herpes virus 1 (FHV-1), Chlamydophila Felis, and other causes of feline colds. Basic immunization occurs at weeks 8, 12, and 16 of life, and depending on the vaccine, a booster should be performed every 3 years by the veterinarian.
Avoiding foreign bodies is more difficult. However, you can reduce allergic reactions if you take certain precautions. The following measures are recommended:
Removing allergens from your cat's environment, if possible.
Effective anti-flea prophylaxis: for example, collar or anti-flea drops.