Most people know what squirrels are. They are innocent, entertaining, independent, and unique creatures. Squirrels will use most of the day up until early evening to look for food. Squirrels will always be more active at the start of the mating season, which is usually late winter.
All around the world, there are over 300 documented species of squirrels in 7 big families, including the popular tree squirrel, the flying squirrel, and the ground squirrel. The home of a squirrel will usually be somewhere between two strong branches and are called 'dreys'. They are built mostly from twigs and leaves.
Squirrels are very quick. They can run at around 20 miles per hour, which is very fast for such a small animal. They will survive jumps from 100 feet high due to their padded feet.
Squirrels can stay still, basically becoming motionless, anytime danger is close. They are always on alert and on the lookout for any predators. Their eyesight is laser-clear.
Some people ask themselves what does squirrel poop look like and this article is for them. We will explain everything there is to know about this animal's poop.
What is Squirrel Poop?
Professionals (yes, I know, it's weird to think that there are professionals in squirrel poop but there really are people with expertise in the field) also called squirrel feces droppings because it usually looks like mouse poop. Both types of poop are smooth and dark brown in color, the only difference being that squirrel droppings will look more barrel-shaped and longer, while mice usually leave smaller, oblong-shaped droppings that have sharp tapered ends.
To know if squirrels are present or not in certain areas, you will have to monitor the distribution of their poop. Squirrel droppings can be found in areas that were inhabited by these creatures in the past and places where they still live, the only difference is their freshness.
What Does Squirrel Poop Look Like?
So, let's get into the real issue: what should squirrel poop look like? As I have already said, droppings from squirrels will have a dark brown color and should be barrel-shaped, large, and smooth.
Identifying if a poop comes from a squirrel would help you to exclude the existence of mice, rats, or other rodents from an apartment or around it.
When talking about the actual size, you should know that the feces are split into pieces that should be around 1/8 inches in diameter and 3/8 inches in length, with an oblong pellet shape.
It should be slightly bulged in the middle with rounded tips.
How Big Is Squirrel Poop?
Once you know the difference in size between the poop that comes from a squirrel and droppings from a mouse, it will be really easy to differentiate between the two.
As I already said, you can expect squirrel poop to be somewhere around 3/8 inches in length and about 1/8 inches in diameter, with a bulgy center and round tips.
This means that squirrel droppings will be considerably bigger than whatever a mouse could poop. So, if you stumble upon something that looks like a giant mouse's poop, it could in fact come from a squirrel that lives close by with or without your approval.
Does Squirrel Droppings Smell?
Wanna know if you can put your nose close to squirrel poop? Well, I can tell you from the start that it does smell and quite a lot. It might fill your apartment with an undesirable smell if it were to reach it.
It would be a real shame for a squirrel to end up in your attic because it will make a house out of it and with this, they will also turn it into their toiled, leaving there over 20 poops each day.
They will also urinate approximately the same number of times per day and in roughly the same amount. You have to keep in mind that this combination of urine and droppings will not only fill your home with a bad stench, but they will also be a health risk, making you prone to a lot of illnesses.
Not only this but with the bad squirrel poop smell more squirrels will also come, which would in the end mean even more droppings.
How to Identify Squirrel Poop
If you think that you have a squirrel infestation and want to get rid of the pesky creatures, then the easiest way to find out will be to look for and identify squirrel poop. The harder part will be to differentiate between squirrel droppings and those coming from any other rodents of similar size.
You will have to follow the guide below to make sure you're actually dealing with squirrels and their poop:
The poop coming from squirrels will be barrel-shaped, large, and smooth.
It will have a bulge in the center and an oblong shape.
Its ends are rounded and have a length of about half of an inch.
With time passing, their appearance will be chalkier and drier.
It will get brown or red in color and lighter in general weight.
This poop will have a unique smell so it will be pretty easily identified.
Pictures Of Squirrel Poop
You will find below a couple of pictures of squirrel feces.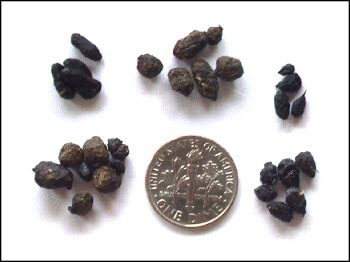 Best Way to Clean Squirrel poop
You will have to clean any squirrel poop to make sure that you get rid of any infections from your house or apartment.
When cleaning squirrel poop, you will have to follow the two steps listed below:
1. The First Step
The first thing you will have to do is to remove the poop. Remember to wear protective gear like hand gloves and a mask and then pick the droppings manually one by one. The good thing is that usually, these types of droppings won't crumble when you pick them up.
Remember to never touch the squirrel poop using your ungloved hands. As soon as you finish with this first step, you will be able to move to the next and last step of the cleaning process.
2. The Second Step
The second step after removing the droppings will be to properly sanitize the house, especially the areas where you found the droppings.
One of the most common cleaning solutions involves water and bleach. This combination works great for most people, but if you want an even better cleaning, you can always make use of an enzyme-based cleaner. This will help you remove any hard-to-get bacteria.
Is Squirrel Poop Dangerous?
Most people that have squirrel poop around their house will at some point or another ask this question: Is Squirrel Poop Dangerous?
Knowing if you are in any danger when touching squirrel poop will help you decide whether you have to take any preventive measures or not.
You might also like to find out what does it mean when a bird poops on you.
Squirrels, like most rodents, will excrete poop and urine all over the places where they live.
To be honest, you can't even imagine how much damage fecal matter from rodents could cause you if you were to either inhale or ingest it. This is why you should be very careful and take all preventive measures when dealing with these excretions.
There are a lot of bad, disease-causing organisms inside squirrel feces, making it the ideal place to get a disease from. These microorganisms can cause a lot of issues, especially bacterial infections or viral outbreaks to humans or pets around the house. Some of the most common diseases include:
Salmonellosis: Humans or pets will only have to inhale or touch squirrel poop particles to risk getting contaminated with Salmonellosis. Most of the time, this disease won't lead to a fatality, but the symptoms aren't negligible either. This is why you should take all precautions and clean all of the areas and surfaces where you found squirrel poop in your house, apartment or office.
Ticks and Fleas: Although fleas, ticks, and other creatures aren't found inside or on top of the poop, they can infest the squirrel's fur and they will pass very easily to humans or pets. When getting on the skin of humans, these pests can cause Lyme disease, which is very dangerous and can leave permanent health marks.
The most common symptoms of Lyme's disease are inflammation of the brain or the spinal cord, nerve pain, and stiffness.
Leptospirosis: Drinking water or ingesting food that has been contaminated by squirrel poop can put you in danger of getting this bacteria. An infection with leptospirosis can come with symptoms like a mild cold-like flu, or, in more serious cases, it can lead to some nasty respiratory issues.
Differentiate Between Squirrel poop and Mouse Poop
But how would you know if you're dealing with a squirrel or some other rodent like a mouse? The answer is knowledge and experience. They look somewhat similar so you really know how to spot the differences. You will have to know how to differentiate between these two poops because each rodent will be dealt with differently.
Check out the table below for the easiest to notice differences:
| | |
| --- | --- |
| Mouse poop | Squirrel poop |
| Although the number of dropping between different rodents will differ depending on the species, mice are known to leave the highest number of droppings. The poop shouldn't be more than 1/4 inches long. It will be similar to a pellet in general appearance. You will notice that mice tend to leave the most droppings around food and where they set their nest. Mouse poop will be either brown or black in color and will have pretty rounded tips. It should turn grey as it ages and it will crumble at the touch. | These will be larger with an oblong shape but also similar to pellets in appearance. They will have a bulge in the center and rounded at the tip. Their color will be dark-brown and they will be smooth. The size of the droppings shouldn't be more than 3/8 inches. The color should slowly lighten with age and they will usually be found in clusters. |
And with this, I think I managed to answer all questions that could be related to squirrel poop and how dangerous it is to humans. And to be honest, how much can someone talk about poop in a single article? If there's anything else you'd like to know about this issue, you can always add a comment under the article. Anyhow, if there's anything you should take with you from this article, is that you should take all preventive measures when coming in contact and handling squirrel poop because it can really damage your health.