Armadillos are mammals that have lived through prehistoric times and have somehow reached the present times. These are animals that are considered living fossils, a look into the planet's past. They have a popular shell that serves them as protective armor.
This species features not only some very efficient adaptation mechanisms but also a great reproductive strategy, which is why they were also able to survive for so many years on Earth.
Although most people have no idea how Armadillos reproduce, some have this weird idea that they lay eggs.
So do armadillos lay eggs?
No, Armadillos never lay eggs. They are mammals, which means that they give birth to live babies instead. The armored shell appearance of the armadillo makes it look like a reptile, and this is why people think they lay eggs, but they are, in fact, mammals.

After mating, the female armadillo will produce a number of baby armadillos from just one fertilized egg. After fully developed inside the womb, the baby armadillos will be born alive. Most of the time, a female will carry anywhere between one and three babies each time. There is just one armadillo that comes as an exception, and this is the Dasypus armadillo, which is able to carry anywhere between two and twelve infants per pregnancy.
You might also like my articles on possums, otters, and beavers.
Baby armadillos are known as pups. It will take in general anywhere between three and five months of pregnancy before the female armadillo is ready to give birth to healthy pups in a burrow. A normal burrow used by a mother armadillo will be around fifteen feet wide.
Pups will usually be dependent on their mother's milk only for a maximum of four months, after which they will be able to feed by themselves. After the first nine to twelve months, they will be able to fully sustain themselves, they will be considered adults, and will even be able to have their own babies. The usual armadillo will live to around thirty years old.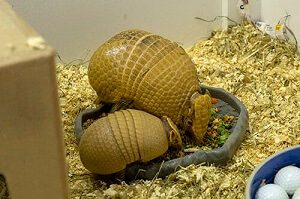 Here's a cool fact: there is an armadillo called the nine-banded armadillo, that will have four identical quadruplets each time it gets pregnant. This is because all of the four babies will come from the same fertilized egg, which will break up into four identical embryos, which not only will turn into four identical babies, but the babies will even have the same gender. They will turn into four identical baby armadillos.
Although most animals in the world thrive on genetic diversity, the nine-banded armadillo will have four clones with each new pregnancy, but this hasn't caused them any evolutionary issues, which has scientists pretty puzzled.
Also, the only thing that makes mother armadillos be anything close to attentive parents is the fact that they make milk and feed their babies with it. Other than that, they will basically ignore the young. As long as the female armadillo will give the necessary nutrients for the pups to develop their amazing protective shell, her job would be completed.
The mother will make sure to give her pups an abundance of phosphorus, calcium, and a bunch of other nutrients that would make the shells of the small ones strong and healthy. She makes sure to have these nutrients by getting on a rich insect diet while pregnant. After feeding the pups properly, the mother will completely take her hands off the babies. When it comes to father armadillos, they will be involved even less, having no task in their pups' lives other than reproduction.
Are there any mammals that lay eggs?
We currently know only two living mammals worldwide that would lay eggs. These are the platypus and the spiny anteater, which you might also know as the echidnas. What sets them aside from other mammals is that their body temperature is considerably lower. In this aspect, they are closer to reptiles than they are to mammals.
But if these mammals lay eggs and have a body temperature close to reptiles, what actually makes them mammals? It is in fact their milk that they make to feed their babies with. No other creatures in the animal kingdom will produce milk to feed their babies with aside from mammals.
The part of the brain that is called the neocortex, which makes them more evolved than other animals, the three middle ear bones, and the existence of sweat glands, all are other qualities that the mammals that produce eggs, called monotremes, have in common with all of the other mammals.
Most of the scientific world agrees that monotremes have resorted to laying eggs due to where they live. As unusual as it might seem, monotremes are actually related to marsupials. As you know, marsupials have pouches (like possums, koalas, and kangaroos). Although marsupials live on land, monotremes were forced to live partly in the water. Needing a way to adapt to water, scientists believe this is what made them develop into laying eggs.