Did you ever happen to simply look at your dog while he is sleeping and out of nowhere you notice him start to make some weird sounds or thrusting movements?  It does happen a lot and it's something that is worth talking about.
It's not only natural but also pretty common for male dogs to have wet dreams from time to time.
This article will be my shot at tackling the issue of dog dreams, something that is barely talked about on the internet. I'll also go over whether this is something that would affect only unneutered dogs or neutered ones will also have this issue. You'll also find out what you can do when a dog has a wet dream. Spoiler alert! You won't be able to do too much.
So let's get right into it, shall we?
Do dogs dream like humans?
Yes, dogs do dream just like humans, although most people don't know this. And they aren't the only animals that dream. In fact, most animals dream while sleeping.
You might also ask yourself how to stop your dog from barking and how to treat your dog's atopic dermatitis or otitis.
Experts will tell you that dogs sleep in two stages. These are:
Slow Wave Sleep (SWS) – This is the stage in which the dog has barely fallen asleep. This is the point where a dog can be easily awakened by any movement or sound because his body isn't fully relaxed just yet.
Rapid Eye Movement (REM) – This is when the dog will actually dream and his dreams will be very similar to ours. This is because his brain will be sunken in the dream world and his body will be completely relaxed as well.
You might have noticed that puppies seem to dream more. This usually happens because most things will be completely new for a puppy. Each day will mean a lot of first-time experiences, which translates into more dreams. Adults have less eventful days, which is why they won't have a lot to dream about.
Some studies point out that although bigger dogs will have longer dreams, which can last anywhere between 5 and 10 minutes, smaller breeds will have more dreams per night.
What would dogs usually dream about?
It's pretty hard to know exactly what dogs dream about and what their dreams actually look like because they're not the usual talkers. We can only guess, but most people will tell you that dogs probably dream about ordinary things in their lives, like playing with other dogs or people, eating, running, and any other events in their lives.
From time to time they will have the occasional nightmare. Listening to the sounds that they would make and watching them move in their sleep will give you somewhat of an idea about what happens in their heads.
You will be able to know with decent precision what his dream is about depending on whether he starts barking, whimpering, or fake-running. I call it fake running when a dog starts to aggressively move his feet while sleeping, without moving from his place.
OK. We have gone over a dog's sleep-running, now let's move to the more serious business at hand: What about when your male dog starts to make thrusting movements and even gets a boner? It might surprise or even shock you when you see it for the first time, but you'll slowly get used to your canine companion having wet dreams.
Do male dogs have wet dreams?
Although dogs don't have the habit of talking about their dreams, you will surely find it easy to know when a wet dream is happening. They will usually put their bodies at work and do some thrusting and, of course, they will also get a boner. Just like in teenage boys, these dreams won't usually start before the dog is prepared for reproduction. For a dog, this happens anywhere between 6 and 12 months.
This is a natural instinct and has nothing to do with other factors so you have nothing to blame yourself for. It's just that at some point, a male dog's body will be ready to start reproducing, and its dreams are the way for him to find out.
What are some of the signs that your dog might be having a wet dream?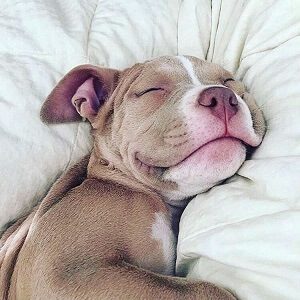 If your dog isn't very active in his sleep, you might only notice that he enjoyed a wet dream when you see a wet stain in the place where he took a nap.
But if you do have an active sleeper for a dog, then you will experience a really funny situation. If you're easily embarrassed then this show might not be what you want to see.
The first sign of such a sleep will be his boner. If his reproductive organ will be out of the shaft and grown in size, then the dog is surely having quite the dream.
His testies will also get pretty swollen. They grow so much that they make some owners ask themselves if this is normal or if something wrong has happened to the animal. Usually, nothing is wrong, the blood vessels and other tissues in that area will grow, to accommodate for all of the reproductive systems to work properly. This will usually go away once the dream is over.
Some dogs won't give out a lot of signs when such a dream occurs, so most dog owners will only be left with the stain as a way of finding out about the sleep adventure of their companion. 
Most of the time, each wet dream will end with its own sticky stain. It should look like a clear white discharge, but some dogs have the habit of also peeing a little during their dreams, making the puddle yellowish.
During his teenage period, to make the cleaning easier, you can put a few dog pads or simple napkins before your dog before each nap. It's also a good idea not to let him sleep with you in your bed while he goes through these phases. As the dogs get older, although they will continue to have wet dreams from time to time, it wouldn't happen as often.
When do male dogs get a boner?
A dog can get aroused in a lot of ways and will get boners regardless of the time or place, and there's usually nothing you can do to prevent this. It might even happen when he gets excited while playing or even when he's happy because you feed him or you're taking him out for a walk.
It will also happen when he's playing with other dogs, regardless of the other dogs' gender. Play-mounting another dog will surely result in boners for your pet. It doesn't even have to be a female in heat; even play-mounting another male dog might result in an unfortunate boner. If your dog starts to hump the leg of a guest of yours, this will also cause it to get excited.
How long can these erections last?
If there isn't any reason for the boner to be active, it will disappear pretty fast. The best thing you can do is to just ignore it and continue your daily activities.
After a wet dream, the dog can continue to have a boner even 15-20 minutes after the dream seems to have ended and the puddle is already there.
Regardless of the situation and your embarrassment levels, you should let your dog sleep and not try to wake him up. Although doing this might make his boner go away, it will also be a very brutal way in which to get him out of the REM stage of sleep, which would make him very confused, sometimes up to the point of aggressiveness.
Final words
Although not easily noticed by their owner every time, most male dogs will have wet dreams. These are a sign that your dog is ready to mate and are perfectly normal after the age of 6 months.
It will be very easy to spot a wet dream when your dog is clearly making some thrusting movements and his weiner and testies are getting bigger.
If your dog is a deep sleeper and doesn't move at all during his sleep you might only notice that he had a wet dream when you see the translucent white discharge where he slept.
Now if you're asking yourself what you can do to stop this or to prevent this from happening, the answer is pretty straightforward: There's nothing you can do to prevent this and you shouldn't try to wake up the dog to stop him from dreaming. There's no reason to yell at him when he wakes up either. It's one of the great "advantages" of owning a male dog so don't stress about it more than you should.