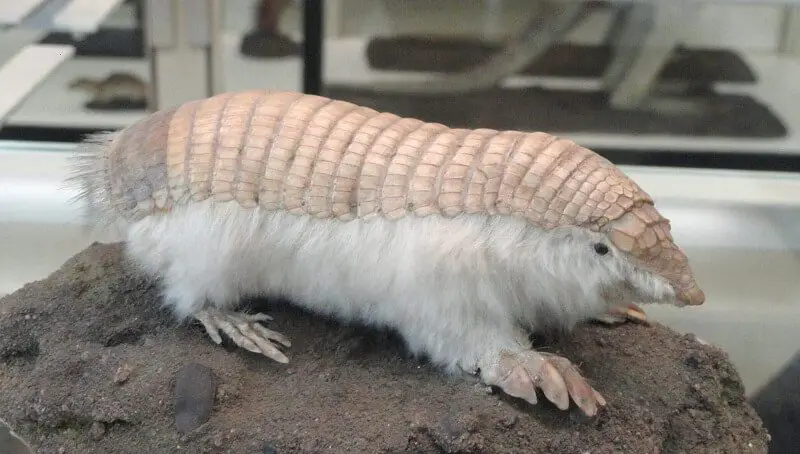 Pink Fairy Armadillo – Interesting Facts
December 29, 2022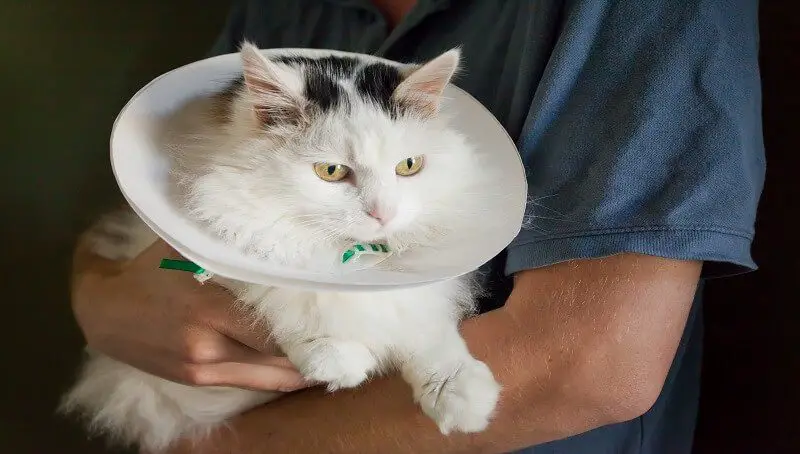 When and Why You Should Neuter Your Tomcat? Advantages and Disadvantages
December 31, 2022
Apples are one of the most popular fruits consumed by humans, and can also be a healthy and calorie-free snack for our four-legged friends as well.
Apples are excellent fruits that we can offer as snacks to our dogs. It is important to diversify the snacks and treats we give them. For example, through rotation, dogs can receive apples, bananas, and carrots. This way, the flavor of fruits and vegetables will always be special for our pets.
Apples can improve the health of your dog
You might also like my articles about whether:
Apples are full of vitamins, such as A and C, dietary fiber, calcium, phosphorus, and antioxidants. Not only can apples satisfy your pet's sweet craving in a healthier, and non-toxic way, but as an additional bonus, crunching apples can help keep your dog's teeth clean, and even improve his bad breath.
Apples also help add omega-6 and omega-3 fatty acids to your dog's diet, which can help keep your dog's coat and skin healthy.
Apples are a particularly great snack for dogs who need to limit their protein intake, from meat-based foods, for diet or health reasons, or who need to limit calories for weight control.
Some veterinarians even believe that vitamin C and antioxidants in apples can help improve certain degenerative diseases, such as bone or joint diseases like hip dysplasia, while the fiber in apples can support your dog's gastrointestinal health.
Just like in humans, the antioxidants in apples can also enhance your pet's overall health and provide an extra level of protection against diseases like cancer.
How to feed your dog apples safely?
Before you start cutting the apples for your pet, you just need to make sure that the core, stem, and seeds are completely removed.
Caution!
The seeds of apples contain traces of amygdalin, a compound that contains traces of cyanide, and the apple core poses a serious choking hazard.
If your dog accidentally swallows some apple seeds, it probably won't hurt, but regular consumption of apple seeds can increase the level of cyanide in your dog's system over time, and lead to serious consequences, as it prevents blood from carrying oxygen throughout the body.
Giving your dog small slices of apple will ensure the fruit is easy to eat for your dog. For safety reasons, never give a whole apple to your dog. You'll also want to stay away from dehydrated apples, which are harder to digest.
Be sure to monitor your pet for any individual reactions to fruits like apples such as diarrhea. Eating too many apples can cause stomach problems in both dogs and humans.
Also, remember that apples contain sugar, so if your dog has a condition like diabetes, you'll want to ask your veterinarian for advice before giving apples to your dog.
When choosing apples for your pet, you should know that most dogs love the sweet taste and crunchiness of varieties like Honeycrisp, Fuji, or Red delicious apples, but try as much as possible to choose organic apples, in order to avoid any harmful effects of pesticides.
And it probably goes without saying, but you'll want to keep your dog away from candied apples or those covered with unsafe sugary toppings like caramel or chocolate, as well as other human desserts that contain apples like pies or cakes.
Other ways your dog can enjoy apples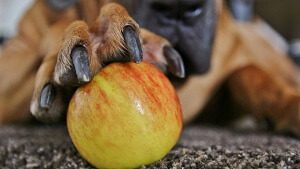 If your dog is crazy about apples, there are a lot of ways to incorporate this high-fiber fruit into his diet, just make sure, as with all snacks, that you feed your dog in moderation and that you adjust its food intake accordingly.
Many apple-loving dogs will appreciate a little homemade apple sauce mixed with their food. Serve him apple slices with a little honey or peanut butter, or consider filling your dog's puzzle toys with pieces of apples.
You can even make your own dog snacks at home, using apples combined with other nutrient-rich, dog-friendly ingredients like pumpkin or peanut butter.
Caution!
Avoid certain spices, such as nutmeg, as they can be toxic in dogs.
In addition to being a healthy snack, apples can enhance your pet's health in other ways. For example, a teaspoon of apple cider vinegar in your dog's water or food bowl several times a week can help relieve certain chronic health conditions, such as arthritis, while also relieving gastrointestinal problems.
Apple cider vinegar is also considered to be an effective flea product when mixed with water and sprayed on your pet's fur, and can also be effective to control odors on your dog's fur and skin. Don't forget to consult with your veterinarian before incorporating it into your dog's diet.
Are there any varieties of apples harmful to dogs?
No, dogs can receive apples as snacks in any form as long as they do not contain sugar.
How to prepare apples for dogs?
It is not recommended for the quadruped to eat the seeds from the apple. This means that it is not good to give your dog a whole apple. Also, if your pet has a sensitive digestive system, peel the apples first.
Wash the apple well
Peel it
Cut it into slices
Remove the seeds and the stem.
What is the recommended amount of apples?
One or two slices of apple are enough as a snack for your dog to enjoy. It is important not to exceed this limit because the apple should make up only 10% of the daily calorie portion of the dog.
Are apples good for puppies?
Puppies can also get apples. However, puppies should be carefully watched, especially when you first give them a slice of apple, because they may have digestive problems later on. If all is well, apples can be also offered as a delicious snack for pups.
Final words!
Apples are good for dogs if we offer them in the form of snacks. Apples are a source of fiber and carbohydrates. They also contain vitamin C, but it is not needed in dogs. Since your dog probably already has a balanced and complete diet, apples can be a perfect nutritional snack.