This marsupial, also called Parma wallaby, takes its name from the Aboriginal word for this species and not from the city of Parma in Italy. Wallabies are marsupials belonging to the Kangaroo family. They are not a separate biological group, but a collection of varieties that consist of several genera.
It was thought to have been hunted until extinction but was rediscovered in 1967 in New South Wales. Mainly nocturnal, dwarf kangaroos prefer forests with a dense, grassy lower floor that protect them from predators such as dingo dogs, red foxes, and birds of prey. In addition to the herbs and plants that make up much of their diet, dwarf kangaroos also eat truffle-like fungi, helping to spread spores, and fertilize through feces.
In total, there are around 60 species of kangaroo. All representatives have their own characteristics and differences, mainly in size and weight. Among kangaroos known as red, and gray, there are even the so-called dwarf kangaroos, as well as medium-sized wallabies, and many others.
Wallabies are very similar to giant kangaroos, but the size of these animals is much smaller. The weight of the wallaby is about twenty kilograms, and the height of the animal itself is about seventy centimeters.
However, even if it has such a small size, it allows it to jump up to ten meters in length. There are about 30 species of wallaby, and the habits of these animals are absolutely identical, the only difference being in their habitat. For example, there are swamps, mountains, and cliff wallabies, as well as wallabies living on islands, and so on.
Wallaby behavior
This wild animal is very surprising and unusual. This is also proven by the fact that they can be kept as a pet. Wallaby kangaroos can communicate very easily with a person and can be tamed easily.
However, for this, the animal must be removed from the wildlife even at a very young age, preferably in childhood, fed, and grown independently. This is a very difficult task, because the wallaby baby requires constant care, as feeding at first is carried out strictly on watch and from the bottle.
You might also like my articles on:
In a word, such a pet will require considerable physical and moral costs from the part of its owners. The main thing here is not to miss the moment, because the adult representatives of this family will no longer give in to being educated and domesticated.
In the wild, wallabies prefer to stay in packs. However, male kangaroos do not get along well in the same group. If they really have to share a common space, then they demonstrate their dissatisfaction with threatening positions, but at the same time, fights and wars for the rights of the leader are extremely rare, because these animals by nature are not fighters.
Females, in turn, can enter into battles. To avoid such conflicts, a special hierarchy reigns in the pack, where there are dominant individuals and those who are forced to stay subdued by them. This helps to avoid conflicts between them.
Where can you find a wallaby?
They are most commonly found in New Guinea and the Bismarck Archipelago. They live mostly in bushes and forests, but can also be found in open spaces, in steppes. The Wallabies were also introduced to New Zealand and the British Isles, where the largest colony is located on the Isle of Man.
The forest Wallabies, genus Dorcopsis, which live in the territory of New Guinea, are represented by five species.
The wallaby's natural habitat is considered the jungle, although it often goes out to pastures and water pits. Some species prefer to do this exclusively at night and generally lead an active lifestyle mainly in the dark.
For sleep, they find shelter and stay there during the day to restore their strength, and with the appearance of darkness, they enter the waking phase. Sometimes wallabies are called arboreal kangaroos. This is due to their habit of spending a lot of time on trees.
What does a wallaby eat?
Wallabies are herbivorous. They feed on vegetation that is within their reach. It can be various berries, leaves of shrubs, or herbs. Among the representatives of the wallabies are those who need a high-quality and balanced diet.
Wallabies eat only the best plant varieties. A special preference is given to certain types of ferns, and berries. At the same time, they can have animal foods in their diet.
To quench their thirst, these animals have watering places, however, in case of danger, the wallabies can stay for a long time without water and food. These are fairly resistant animals that can endure both thirst and hunger for some time.
Baby wallaby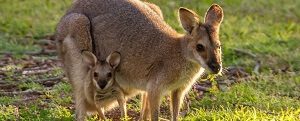 Wallaby kangaroos are marsupial, and female wallabies wear their offspring in pouches. Before the birth of offspring, each future mama cares about the future habitat of her child.
Kangaroo mothers wash their bags well and lick them because here they will carry their babies. The pregnancy itself in a kangaroo lasts about a month, about 30 days.
The offspring of the wallaby kangaroo, also called a joey, is born very small, their size at the time of birth being about two centimeters. But they are already able to make their first trip, getting into the kangaroo mother's pouch.
Small babies do this with very thin, sharp claws, with which they clasp skillfully to the wool on the mother's belly. Joeys spend their first eight months of life in their mother's pouch. Initially, females nurse them for about 80 days.
The life span of the wallaby kangaroo in its natural environment is about 14 to 20 years. As a pet, wallabies usually live much longer, but everything will depend on food and living conditions.