If you want a short and concise answer, you will find it below, but let's discover together many interesting facts about the differences and similarities between frogs and reptiles.
Because frogs are in the Amphibia class, they are not reptiles. Frogs are amphibians. Crocodiles, lizards, turtles, and snakes are reptiles and belong to the Reptilia class.
What is an amphibian?
Amphibians are cold-blooded tetrapod vertebrates. This means that animals classified as amphibians are generally four-member creatures and possess a backbone. While estimates may vary slightly, it is believed that there are between 3000 and 8000 different species of amphibians today. The first amphibian appeared more than 300 million years ago, and they are the smallest species in terms of vertebrate species.
Different types of amphibians
The reason why amphibian habitats are so varied is simply that the species is so diverse. In fact, amphibians themselves are divided into three distinct subclasses or orders. These subclasses are called:
Order of Anura: Toads and frogs
Order of the Caudate: Salamanders and tritons
Order Apoda: Limb-less creatures having the shape of snakes or worms
What is a reptile?
Like amphibians, reptiles are predominantly cold-blooded and are also tetrapod vertebrates. Unlike the Greek-derived name "amphibian", the word "reptile" comes from Latin and refers to "crawler," which is precisely what reptiles do.
Reptiles are classified into the following subgroups:
Testudines: Land and water turtles
Rhynchocephalia: The only living species of this suborder is the tuatara
Squamata: Snakes and lizards
Crocodiles: Crocodiles, aligators.
Is a frog a reptile? Similarities
For the untrained eye, it can be hard to see the difference between amphibians and reptiles because of some common features. Both groups of species are vertebrates and are cold-blooded, meaning that body temperature and its maintenance are based on their specific habitats.
You might also like my articles on what frogs eat, what tree frogs eat, and cool names for frogs.
They also share similar eating habits. Most amphibians and reptiles are omnivorous, able to sustain themselves with both plant and animal matter.
There are also some unique traits that certain species of amphibians and reptiles share, such as the ability to change color as a chameleon does. The chameleon is, of course, a reptile belonging to the order of the lizard. Some frogs, who belong to their own amphibian order, also share this ability! Both groups of species can use this trait to disguise themselves with the colors of dangerous or poisonous species as a defense mechanism in the wild.
Although they can be different in many ways, when it comes to survival in nature, some tactics work!
Amphibians and reptiles are both:
Cold-blooded
Vertebrates
Omnivores
Many are also able to change their color.
Amphibians Vs Reptiles – Differences
Now that amphibians and reptiles have been defined separately, it's time to compare them. Although they may seem similar in many ways, and you can even confuse the various groups to which certain creatures belong, there are key differences between them.
Evolution
While both groups of species are vertebrates, amphibians were the first terrestrial vertebrates. Over a period of millions of years, creatures living in the water eventually adapted to life on land. Amphibians had to evolve to breathe atmospheric oxygen. The fins also had to turn into legs to successfully navigate the land.
Habitat
From forests and farmland to rivers and lakes, you'll likely find an amphibian friend near you without much difficulty.
On the other hand, reptiles are much more simplistic creatures when it comes to their natural habitat. Reptiles inhabit the earth, and although you might find them near water bodies, they prefer to stay dry. Reptiles have evolved to breathe only air through their lung systems and are thus perfectly adapted to life on land.
Skin
Reptiles are widely known for their scales, which often have outstanding but beautiful patterns. The scales are not skin. The skin of a reptile is actually found under the scales. Their skin, compared to that of mammals, is much thinner. This, along with the scales, ensures that reptiles are watertight and can live on land, even in places where there is a dry climate.
On the other hand, the skin of amphibians is often smooth and will feel moist to the touch. Due to the way they evolved, their skin is very porous and possesses several mucus glands. Amphibians also have some kind of superpower. Through their glands, they can secrete toxic matter, which acts as a natural weapon against any possible predator. However, reptiles do not possess this ability.
Members
Amphibians usually have four limbs, except for Caecilians and certain salamanders that have no legs at all.
Generally, amphibians have fairly short front limbs and longer back limbs. Because of the wide variety of locations they can inhabit, amphibians have palm limbs that can support an aquatic lifestyle.
Like amphibians, reptiles usually have four limbs, although there are occasional exceptions. Snakes, of course, have no limbs and slide on the ground.
Metamorphosis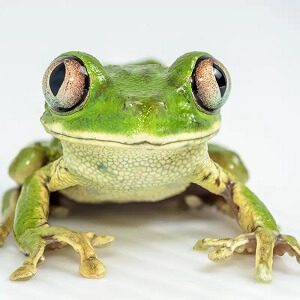 When reptiles reproduce, the process always takes place on land. This is due to the way they evolved and their inability to breathe through the skin as amphibians do. The process of reproduction of reptiles is always internal; however, births differ. While some reptiles lay eggs that have a hard protective layer around them, others give birth to live offspring.
Because they have developed to breathe through the skin, amphibians lay their eggs in aquatic environments. These eggs are not hard like those of reptiles, but quite the opposite. In fact, they are covered with a soft gel-like substance. The offspring of a frog that come out of these eggs are known as tadpoles. While in this stage of life, tadpoles will feed mainly on algae and plants found in the water.
As they get older, they will develop their legs, which will allow them to crawl on land, and respiratory systems, which will allow them to breathe on land as well.
This gives rise to many possible habitats! The stage of life where amphibians are larvae or tadpoles is unique to amphibians! Reptiles do not share this type of life stage. This is another key distinguishing factor that separates amphibians from reptiles.
Is a Frog a Reptile: Conclusion
While there are some common aspects between amphibians and reptiles, leading to their study together under the zoology branch known as Herpetology, there are even more differences between these species, but remember, a frog is an amphibian, not a reptile.