The Caracal, the African lynx, comes from the dry regions of Asia and Africa. Because of its black ears, it resembles the lynx, therefore, it is also called the desert lynx. Some people consider the caracal to be an exotic pet, but they are wild animals and have no place in the hands of feline owners.
The appearance of the caracal
The caracal is part of the feline family. This predatory cat owes its name to the visible black tufts of hair on the tip of its ears: "Karakulak" meaning "with black ears" in Turkish. The back of the ears is also black.
The color of the coat depends on the habitat of the caracal cat. The color spectrum ranges from the color of sand or ocher in drier regions to a brick red color in areas with more abundant rainfall. The belly is always lighter and has a slightly stained pattern. The Caracal has black and white markings on its face.
With an average body length of 65 centimeters and a withers height of 45 centimeters, the caracal belongs to the category of medium-sized cats. Animals can grow up to one meter long and the tail is about 30 centimeters long.
How much does a caracal weigh?
A male weighs between 13 and 18 kilograms. Females are a little smaller and lighter.
Like the lynx, the back legs of a caracal are longer than the front legs. This allows animals to jump up to three meters high from their feet! Due to their great ability to jump really high, caracal cats are even able to catch birds in flight.
The Caracal cat and the lynx
You might also like my articles about:
It has long been assumed that the lynx and the caracal, the technical term: Caracal Caracal, are closely related. Both genera are part of the cat family, Felidae, have bushy ears, and have similar stature and size. Because of its similarity to the lynx, the caracal is also called the desert lynx.
But there are also differences between the two: the ears of the caracal are longer than those of the lynx. Unlike lynx, caracal has no mustaches and no stumpy tail.
Recent genetic studies have shown that the closest relative of the caracal is the African golden cat, Caracal aurata.
The habitat of caracal
The Caracals live in semi-desert areas and steeped and dry savannas.
Their range extends from the Arabian Peninsula to Asia. Among the countries where the caracal live are Israel, Turkey, Jordan, Syria, Kuwait, Iraq and Iran, Pakistan, Turkmenistan, and India. In addition, the desert lynx is also present in North, Central, and South Africa.
These animals are not on the red list of endangered species, but in some parts of Asia, they are rarely encountered, as their habitat is becoming smaller and smaller. Larger populations are found mainly in the Cape province of South Africa.
Typical predatory cat behavior
With the exception of the mating season, these large felines live as solitary animals. They have their own territories, which vary greatly in size: Anything is possible, from five square kilometers to 200 square kilometers.
The territories can overlap. To avoid unwanted encounters with other felines, the animals leave behind, among other things, traces of urine and traces of secretions. These olfactory signals, which are not perceptible to humans, also contain messages, for example, about the health of males or about the willingness of females to mate.
Like all cats, caracals communicate not only through olfactory signals but also through cat sounds. Their vocal language includes meowing, whistling, and torching.
Reproduction and development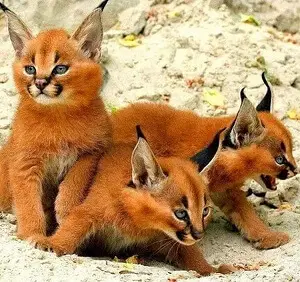 Females usually give birth to between one and three cubs in each litter. The reproductive period depends on the climate, as caracal females always give birth to their cubs in the season when most prey is available. This makes it easier for mothers to bring food for their puppies.
The gestation period lasts about 80 days. To give birth, the female retreats to a safe place, for example, a cave in a rock.
The caracal cubs are born with their eyes closed and completely helpless. At birth, they weigh only about 250 grams. They open their eyes for the first time when they are about ten days old. At about a month of age, they get their milk teeth out. Now, they can eat the solid food that their mother hunted for them.
The first hunting attempt
The first hunting attempts begin at the age of six or seven months. At first, small predatory cats are still clumsy, but over time they become more and more skilled hunters.
At the age of one year, the puppies leave their mother to find their own hunting ground. The caracal cats reach full maturity at the age of two.
It is said that a caracal held in captivity can live up to 16 years
Nutrition: What does a caracal eat?
Like all cats, the caracal is a pure carnivore and only occasionally eats a little grass. It does not drink water at all, as it covers its liquid needs almost exclusively through food.
Its favorite time to hunt is at night. The caracal quietly sneaks up on its prey and then surprises it with a lightning attack.
The cat feeds, among other things, on mice, birds, antelopes, rabbits and sloths, and marmot-like mammals. The caracal puts down its prey with a strong bite in the neck or cervical area.
Domestic animals, such as goats, are also on the menu of the caracal. Therefore, in the Cape province of South Africa, they are hunted.
The Caracals are wild animals and have no place in your usual living room.
Do caracals make good pets?
Until the 20th century, tamed caracals were kept in India and Iran to hunt rabbits and other small animals.
Today, these large felines have become exotic pets and a symbol of social status. One last and important detail should be specified, the price. A Caracal kitten costs over $23,000. Love for aristocratic cats goes through your pockets. Owning a caracal tends to become a sign of the owner's prosperity. I don't know how skilled these cats are at hunting mice, but they certainly belong to a very special breed!
Even if you are fascinated by the beauty of these animals and the purchase price is not a problem, a caracal as a pet is not a good idea. The caracals are wild animals and are not made for life in captivity. Therefore, you cannot offer it the necessary conditions in your home. Even the largest outer enclosure is not as much as the territory of a caracal. Animals cannot satisfy their hunting instincts when they are in the care of humans.
In addition, caracal cats can become very dangerous. Having sharp teeth and claws can cause serious injury to people. There are many predatory cats purchased out of recklessness that end up in rescue centers or animal shelters because their owners have been overwhelmed and feared.
In many countries, private ownership of predatory cats and predatory cat hybrids is either prohibited or subject to strict conditions.
Caracal cat: Crossing between the domestic cat and the caracal
To meet the growing demand for exotic small-breed predators, more and more hybrid breeds have been created. Among the most famous wild cat hybrids are Bengalese and Savannah.
The so-called hybrid caracal is the result of a cross between a domestic cat and a caracal. Their reproduction is extremely problematic, as a domestic cat can suffer serious injuries when mating with a male caracal, which is much larger and stronger.
Different gestation periods of domestic cats, 63 days, and caracals, 80 days, can also lead to health problems and developmental disorders in kittens.
Another risk is the wild nature of large feline hybrids. They can become quite dangerous to their masters.
So, for ethical reasons, you should not buy a caracal or a hybrid caracal. Instead, you should be looking for a "regular" domestic cat or a breed cat from an animal shelter.