As you probably know, you can find snakes in all sorts of patterns and colors. Snakes have different patterns and colors for many different reasons. While some are used as warning signs to potential predators to know that the snakes are nothing to mess with, others are a way for these creatures to camouflage into their common surroundings for hunting purposes. This article will give you a lot of interesting information about black or mostly black snakes that you can easily in the state of North Carolina.
North Carolina is the host of around 37 different snake species. While only some of them are actually venomous, 10 of the most common species are mostly black or fully black.
This means, of course, that you will have a rather hard time telling them apart, which is why it is vital to never approach, or worse, pick up a snake that you're not sure of. This is really a mistake you'd regret making.
Black Snakes in North Carolina
1. Black Rat snake (Eastern Rat snake)
Scientific name: Pantherophis alleghaniensis
Venomous: No
Size: 36-72 in.
The Black Rat Snake is a variable species, also called the Eastern Rat snake. It can also be found in shades of burnt orange or mustard yell0w in some parts of its known habitat, like Florida, for example.
It also has parts where it can be found in very dark brown or full-on black colors, with just a checkerboard pattern on its belly. One of these places is North Carolina. The Black Rat snake is arboreal and can be found in a lot of different habitats, spending most of its time high on branches.
2. Black Racer
Scientific name: Coluber constrictor
Venomous: No
Size: 20-60 in.
Black Racers received their name due to a very obvious reason. They will have a light gray belly but will be all black on the rest of their body. The underside of their chin will have a somewhat lighter color as opposed to the rest of the body.
These snakes get the name Racer from their ability to move very quickly, being very slender. The Black Racer snake can be found in a lot of different habitat types, which makes it common in populated areas, living mostly throughout the Eastern United States.
3. Mud snake
Scientific name: Farancia abacura
Size: 40-54 in.
Venomous: No
You might think that the Mud Snake is a drab or dull reptile but I can assure you, they are far from that. These snakes have a black color on their dorsal or back side, but when they are threatened, they can show a black and red striped underbelly. You can only find Mud snakes around the eastern areas of North Carolina, where they will usually occupy marshes, swamps, or other areas packed with humidity.
You might also like my articles on how to know if a snake is sleeping, whether snakes can hear, or what to use as a snake repellent.
4. Coachwhip
Scientific name: Masticophus flagellum
Venomous: No
Size: 50-90 in.
Just like Eastern Rats or Black snakes, the Coachwhip is yet another species that can vary in color. There are even parts of its habitat in which it would feature a pink color. But when it comes to the North Carolina varieties, these will be mostly dark brown or black.
Their color will be lighter closer to their tails, while their heads will be darker in color. You can only find Coachwhip snakes in the Southeastern parts of the state. It is actually the longest snake that you can find across North Carolina.
5. Queen snake
Scientific name: Regina septemvittata
Venomous: No
Size: 15-24 in.
Another variable snake is the Queen snake. Some specimens will be fully black while others will be gray or a darker shade of brown. The Queen snake has a white belly going around part of the sides of the body. This looks almost like a white stripe that travels along both sides of the reptile. You will only find the Queen snake in some areas where there is access to clean, running freshwater, which makes it have quite a specific habitat.
6. Carolina Swamp snake (Black Swamp snake)
Scientific name: Liodaytes pygaea
Venomous: No
Size: 10-15 in.
The Carolina Swamp snake is also found in humidity-packed habitats like marshes and swamps and can be found in mostly black colors, just like the Mud snake. These snakes have an orange/red or brilliantly red colored belly with the rest of their body being black. They are only found throughout the eastern coast of North Carolina, having a rather limited habitat in the state.
7. Worm snake
Scientific name: Carphophis amoenus
Venomous: No
Size: 7.5-11 in.
The Worm snake got its name from the fact that it spends most of its time underground, which makes it a fossorial snake. Worm snakes are either almost black or dark brown in color and will usually feature a dusty pink or light brown belly. Worm snakes will choose wooded areas to live in and will be very hard to find because of their underground lifestyle.
8. Ringneck snake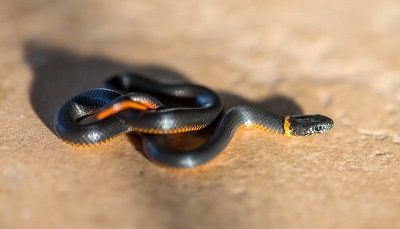 Scientific name: Diadophis punctatus
Venomous: No
Size: 10-15 in.
The ringneck snake gets its name from the band that it has around its neck that goes to the behind of its head, which has a yellow, red, or orange color. This snake is known to have a brightly colored belly red, orange, or yellow in color, with the rest of its body being black or dusty gray.
When feeling threatened, the Ringneck snake will choose to curl up on their tail and show its underside which is brightly colored. You will usually find the Ringneck in parts of North Carolina where the soil is moist, like close to streams and around the woodlands.
9. Cottonmouth
Scientific name: Agkistrodon piscivorus
Venomous: Yes
Size: 24-48 in.
The Cottonmouth is a very dangerous venomous snake species that comes in a lot of patterns and colors and can be found in North Carolina. It can be almost all black or brown, or it can have dark brown bands on a light brown body.
The defensive stance of Cottonmouths makes them very popular. They will gape their mouth fully open, showing off their cotton-white mouth. The east coast of the state is the home of Cottonmouths.
10. Timber Rattlesnake
Scientific name: Crotalus horridus
Venomous: Yes
Size: 36-60 in.
Although most of the time a Timber Rattlesnake won't be black, the general patterning and coloration of this species vary quite significantly. The usual Timber Rattlesnake will be light brown with darker brown bands on its body.
Keep in mind that throughout North Carolina are also black morphs, where this pattern almost disappears, the reptiles being fully black. The coastal plains and mountains are the perfect places for these snakes.