First off what are Marimo moss balls? These are small balls of green algae with a velvety texture, very similar to moss. They provide a number of benefits when added to an aquarium, which makes them a great choice for your tank's aquatic environment. But how would Marimo moss plants help the ecosystem inside the aquarium?
Interesting Fact
Marimo moss is actually a protected species in Iceland and Japan. Due to its presence in Lake Mývatn in Iceland and Lake Akan in Japan, these two lakes have been declared a natural reserve and a national park respectively.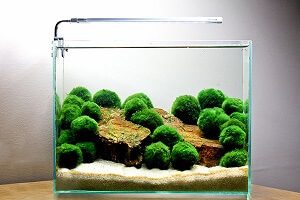 You might also like my articles on jellyfish, nerite snail eggs, and crayfish.
Marimo moss is native to some areas of northern Europe and Japan and can be described as a filamentous species of wild algae. Its name can be split into two different Japanese terms. These are 'mari', meaning bouncy ball, and 'mo' which stands for aquatic plant. If these algae find enough nutrients inside the water to propagate, you will see strands floating around the water. You will usually see Marimo moss either growing on some rocks, or floating in freshwater bodies as velvety spongy balls, or strands. They are also found on the beds of rivers and lakes. This moss will be able to propagate with the help of division. This means that each individual strand you see in water has the capability of developing in time into a new ball by itself, with no external help.
Although ignored by a lot of people, live plants are very important for the ecosystem of an aquarium, creating a proper environment where aquatic creatures can grow and live happily. People ignore them because most species of aquatic plants are actually quite a bother because they have a short lifespan and are pretty hard to keep alive. When it comes to Marimo moss balls, you should know that you won't have to worry about any of these issues. They are not only very easy to maintain, but they also come with a bunch of benefits for your fish.
Marimo Moss Ball Benefits in Aquariums
It Creates Oxygen – Just like most plants and especially algae, Marimo moss will use a process called photosynthesis to release oxygen and absorb carbon dioxide. Although the oxygen released by the plant won't be enough to sustain all of the aquatic life, it will still be helpful to improve the general health of the tank.
It Absorbs Pollutants – Marimo moss will be helpful in getting rid of all kinds of pollutants and sold debris from the water. It can absorb ammonia, phosphates, nitrates, and a lot of other types of debris. Even though they will be of great help in cleaning the water of the tank, they shouldn't replace a filtration system and periodic water changes.
It Carries No Parasites – Marimo moss is usually parasite-free and can be a great shelter for your fish, unlike other animals, plants, and aquatic items that can have all kinds of pests when added to the tank or develop them while in the water.
It Adds Helpful Bacteria – These algae, along with other plants and sand, will be a great source of beneficial bacteria, which would contribute to keeping good phosphate and nitrogen levels in the water.
It Prevents Growth of Other Algae – If you're a long-time tank owner then you've already had the opportunity to hate the green/brown algae that spread all over the sand, glass, and other parts of the tank. You will usually stop having this issue as soon as you throw in some Marimo moss balls in the tank. These balls, being algae as well, will eat all of the nutrients that other algae might need, which would stop them from developing.
It is tough – Even though they might look frail, these balls are pretty hard and won't require any help or care. They will live in the water without any needs, aside from the minimal maintenance already required by the rest of the aquarium life.
Has No Dead Plant Parts – In order to stay healthy, most plants will require you to remove their dying parts regularly. Marimo moss balls on the other hand will always stay healthy and green in their entirety.
It Floats Freely – Most items have to be anchored or fixed to the aquarium, which would make them really annoying every time you have to clean the tank. Marimo moss on the other hand will float freely in the water, which will make it a lot easier for you to clean the tank when this time comes.
Great for Aquarium Creatures – These balls will gather a lot of debris in time, which will have them turn into a great place for snails and shrimp that will not only have a hiding place but will also feed on debris. They are also great toys for some more playful types of fish that would push them around.
Salt Tolerance – Most aquatic plants that thrive in freshwater will have an issue with high quantities of salt in the water. This isn't the case with Marimo moss either. It will have no issues if the salt levels rise.
Care Tips for Marimo Moss Ball Plants
You should consider getting more than one ball if you want to see any effects on the condition of the tank. You should either have enough balls or combine them with other types of plants to make sure they do their job inside the aquarium.
To keep Marimo moss in the best conditions you should try to place the tank in a cool place, away from the harmful rays of the Sun, and the water inside the tank should be moderate in temperature.
Be very careful where you buy them from. Some unreliable sellers will try to pass java moss rolled over balls of foam as Marimo Moss. Don't buy it because this will be less effective and resilient.
At some point, the Marimo moss ball might grow to a larger-than-necessary size. This will happen over a few years but still, if you think that the moss ball is too big, you can cut it into smaller pieces and then have them rolled into smaller balls that can be placed in the water to replace the large one.
They are basically natural cleaning sponges. Along with the debris they consume, a larger amount will be stored inside of them. This means that when you're ready to clean the tank, you can take them out and squeeze them in a sink or bucket to remove most of the debris. After that, you can safely put them back into the tank. Doing this will not only keep the tank cleaner, but it will also help keep the plant healthier.
You won't be required to add any fertilizers or food specifically designed for moss, as it will absorb everything it needs from the waste of fish.
You will also have to turn the ball over from time to time to avoid it turning brown or yellow on the lower side over time.
If you want to keep goldfish in a tank, then you should know that this particular type of fish will destroy any plants you place in its tank, so adding any plant, including this type of algae, will be pointless.
Overall, Marimo moss balls will be a great option for people that want to add some flora to their tank.