This isn't really my area of expertise so I had to do some research. This had me talk to a couple of supply chain experts, that explained why there is a strong cat food shortage in some American states like Florida or Iowa.
The global pandemic has brought nothing but sorrow and changed our lives for the worse, but it came with additional bad news for kitty owners, who were faced with a new challenge – cat food shortage. So what is the actual reason why shoppers are having a harder and harder time finding the necessary food items for their furry friends?
You might also like my articles on how much you should feed your kitten and whether cats can eat raspberries or mayo.
The scarcity surrounding cat food is based on a few different reasons that are working together, according to an Iowa State University professor, Jonathan Phares, who studies supply chains.
This perfect storm that disrupted cat food supplies was caused by a combination of lack of ingredients, lack of packaging materials, and an increasing number of cats adopted by people.
Let's not ignore the good part: Yes, American households adopted a lot more cats once people were forced to stay inside their homes than before this pandemic started. This surge was not noticed across all house pets and while other pet buys have tanked, people continue to get more and more cats as permanent members of their families.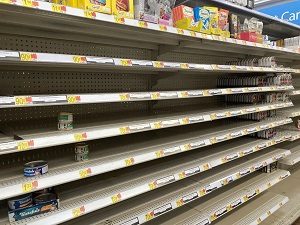 The issue is, that with more adopted cats, there is a higher demand for cat food supplies, which are already pretty limited. This leads to empty pet store shelves.
The fact that the ingredients needed for pet food are harder and harder to find, making them more expensive as well, is yet another reason for the cat food shortage. The US actually counts on imports from overseas to get pet food, as well as the meat, nutrients, vitamins, minerals, and other ingredients needed to make it.
This isn't really something new, as the US Pet Food Institute already highlighted this particular problem to the U.S. Department of Agriculture (USDA) back in June 2021, in a formal letter. Before they were able to do anything to fix this, the pandemic struck, causing the popular food supply chain, which made this issue even worse.
And there's more. Issues with transportation made it so that even supplies that get to ports will have a hard time getting unloaded from the ships and sent to pet food factories.
This shortfall is noticed even with food that is 100% sourced in the US. Most of the time, the meat inside pet food will come from human food off-cuts. The pandemic has caused country-wide shortages that have dwindled these meat supplies as well, making them harder to find.
A great part of these off-cuts was provided by hospitality businesses like restaurants and hotels, and lockdowns have caused most of these establishments to close and stop doing business. This scarcity also led to a considerable increase in the price of meat. And inflation is in no way helping with this issue.
Is renewable energy linked to pet food shortages?
There is another shortage a lot of people don't know about and it relates to the fats and oils which are essential to the cat's health. These are harder to find and pet food manufacturers are having real issues sourcing them especially due to favorable tariffs that are being offered to companies that make renewable fuels.
It looks like most of these oils and fats are taken away from the pet food industry and diverted toward renewable diesel production industries and companies. This became such an important issue that the PFI came out with a statement that said that although they support the efforts to stop climate change, "…current policies create a government-driven market advantage to the energy sector and a disadvantage to companies purchasing ingredients for pet food."
Container-related issues
On top of all the other issues, even if pet food manufacturers had enough materials to make enough food, they wouldn't have enough containers to put it in.
Traditional metal cans that kept pet food fresh are harder to make especially due to staff shortages at canneries and a very short supply of aluminum worldwide. Most of the companies have already started to adapt. For example, Stella and Chewy, along with similar brands, have already moved away from aluminum cans and started storing their pet food in pouches.
I really hope that this pet food crisis is only something temporary and that companies find solutions to make and distribute their products to fill the shelves again. PFI is already in long talks with the federal government in the hopes of finding solutions and fixing these disruptions in the supply chain.