Do you have a dog that really seems to like squeezing into tight spaces and one of his favorite places is under your bed? Although this particular behavior is harmless and it causes you no inconvenience, it might indicate a deeper problem si it is worth looking into what is causing it. Below you will find a few of the most common reasons for dogs to hide under your bed.
He has no other spot
Your dog doesn't have a different place he feels comfortable resting in so he chooses to just lay under your bed. And even though you've probably tried to train your dog to sleep in his crane, he simply refuses to do so.
What you can do in this situation is to do your best to make the crate more appealing to your pet, by adding blankets and toys inside of it. You can also move the crate closer to your bed and through the power of positive association and positive reinforcement, gradually make the dog take the crate as his main resting place.
You might also like my articles on why would a dog keep pacing, scratch the floor, or lick his lips.
The dog might be sick
Dogs will try to find a safe spot to feel protected, especially when injured or sick. If fear isn't the reason behind your pet's hiding under your bed, then you should get in touch with your vet. YOu might think that underneath your bed is the perfect place for a sick dog, but it really isn't mainly because it is very hard for you to reach when you need to give your dog food or medicine.
Anxiety and Fear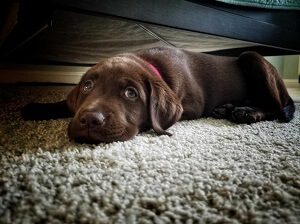 This is one of the most common reasons for a dog suddenly getting under his bed. If your dog is scared by something, then he will try to find a safe space to hide until everything is OK again.
If you think that your dog is scared of something, you should try to find out the cause of his fears because eliminating the cause will make the dog come out faster. Even though in some instances, the thing that scares your dog will be out of your control, like the sounds made by fireworks, there are some things that you might do to unintentionally scare the dog, like running a vacuum cleaner.
The dog just needs a cold spot
The dark space under your bed could be the perfect spot for the dog to cool himself during a warm summer night. The area under your bed might also be very comfortable, especially if you have a carpeted floor that stretches beneath it, which is soft and less worn down.
How to Get Your Dog Out from Under the Bed
As I said before, this behavior has no real harm attached to it, so as long as there are no other deeper causes for your dog wanting to stay under your bed from time to time, so just let him be. If instead, this happens frequently enough, then you might have to see what might be causing this behavior.
Keep in mind that underneath your bed the space is limited, which makes it hard to access, and this might become a problem if for any reason you have to get out of your house as soon as possible. Like in the event of a fire, or another major emergency. At the same time, if this behavior becomes a regular occurrence, it might also point to an issue your dog is having. If you notice any sign of fear or discomfort in your dog, then take him to a vet for a consultation as soon as possible.
What you should remember though is not to force the dog out, especially if you see him in a vulnerable state, either from fear or from an illness. Just leave him alone if he doesn't want to come out and wait.