Most dog owners already know about some of the embarrassing habits these pets have. If your mind has gone directly to your dog licking his private parts, then you know exactly what I`m talking about. But is it possible to stop your dog from doing this through training? And maybe, more importantly, would a medical issue be behind your dog licking his privates?
When It's Normal for Your Dog to Lick His Privates
As long as they're not excessive, usual habits like humping pillows or sniffing people's or pets; behinds are all normal for dogs. In the same way, it usually isn't strange to see your dog licking his private parts. Just like in the case of cats, for a dog licking can be done as a way of grooming, regardless of whether he actually licks his private region or his coat.
You might also like my articles on whether dogs can have wet dreams, how long dogs stay in heat, and why dogs sleep on their backs.
One example is the dog trying to lick his private parts right after going for a pee. The same will usually be done after pooing. Your pooch might also lick his butt slightly when the stool is either watery or sticky, to feel just a little bit cleaner.
Even though this behavior is pretty normal, its frequency might point toward a problem. The dog will stock after a few licks if they are done for grooming purposes. However, if you notice that the dog licks himself more frequently than he used to and doesn't stop licking his privates even when you command him to stop, then there might be a hidden cause for this behavior.
Female Dogs in Heat
Did you just notice that your female dog can't seem to be able to stop licking her private parts? Then it might be because she is in heat. To check if this is the cause, look at your dog's vulva to see if it is swelling. While the heat period develops naturally, the dog might even have a small bloody discharge around the area. To confirm this, just talk to your vet.
While a female dog is in heat, it will be considered normal for her to lick her private parts, as long as this behavior happens in sessions. Be wary though, if this happens excessively. Although some discharge is very much normal while the female is in heat, if this is excessive, it can point to a health problem.
Dogs suffering from medical conditions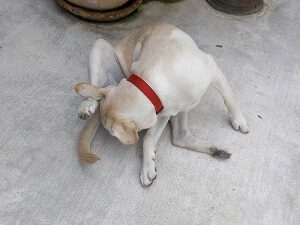 As I already pointed out above, it is all about the frequency of the behavior. If you see that your dog is licking his private parts excessively, then you will have to consider both physical and mental causes, including excessive stress, blocking of some of his glands, urinary tract infection or other types of infections, or the irritation of his private parts or their surroundings.
Keep in mind that you should never try to diagnose medical conditions on your own, so the best option you have would e to talk to a vet. A professional will be able to base a diagnosis on blood tests, urinalysis, or stool exams to get a clear answer to this issue. If the vet notices that your dog has parasites that are causing him itching and discomfort, then deworming will probably be needed. If instead, the culprit will be a blocked gland, then the vet might have to perform some draining.
What is Considered Normal and Abnormal When It Comes to Licking?
Licking can just as well be a bad habit your dog has. It is always a red flag if your pet can't seem to be able to stop licking his private parts. Any alarming symptoms like rubbing his butt on the ground, pustules, straining while relieving himself, urinary frequency, skin discoloration, or swelling coupled with the licking behavior should warrant a consultation at the vet.
Any Way To Get My Dog to Stop Licking Himself?
If you aren't able to spot any of the symptoms I laid above, then this all could be just behavioral. The pet might use licking of the privates as a way of de-stressing or calming down while dealing with a stress factor. Make sure the dog has all of his necessities fulfilled. water is accessible, he has enough food, you are grooming him regularly and regular walks are also given.
Of course, love and affection are also important. Make sure you give your dog enough love, especially when he seems to be having some issues, so you can make sure he will be able to get over his stress.
As a final resort, if his licking is bothering you and seems to be persisting regardless of what measures you're taking to stop it, you can also resort to a behavioral specialist. This specialist can analyze your dog's behavior and figure out a solution, while also finding an explanation of what the dog feels and thinks.