Most pregnant cats have their own specific schedule that they follow to a T. This will usually be guided by hormones and their surroundings.
It is pretty hard to take care of a pregnant cat but even after it dies you have to know how to help it heal properly.
So when will a cat be able to go outside?
In usual conditions, cats will be able to go outside as soon as 25 hours after giving birth. This will depend on how brought the birth was and the cat's general health. A normal birth that comes with no complications for a healthy cat will enable it to go outside even right after giving birth.
Remember that in the wild, cats will usually be faced with the outside world not only right after giving birth, but while they're in the process of giving birth as well. So why would you prevent a mother go out and getting a breath of fresh air? It might even be helpful for a cat to spend some time outdoors after birthing its kittens.
You might also like my articles on whether cats are better than dogs, and on whether cats can eat sausage and guava.
There are a few things you should consider before letting your cat roam around, and I`ll go through them below:
Tips On Letting a Cat Out After Birth
1. Make sure the cat is healthy enough
It will depend on a cat's health whether or not it even wants to go outside after giving birth.
You will notice that a cat will hardly move if it is experienced intense pain. A healthy cat will be lively and ready to play. You can always let a healthy cat move around.
It's not just pet cats, but wild ones as well will leave their babies alone for small periods of time while they roam around in search of food. This instinct is one of the reasons why your domesticated cat will still want some time alone from the kittens and some her time outside.
This is why, the best thing you can do, is to manually check your cat's health and look at how it is moving. You can let it go outside if you see its natural, jumpy walk, and you have no reason to suspect her hurting.
There is no reason for you to stop a cat that wants to go outside, unless it is a 100% indoors cat or if you notice anything strange about its health and well-being. Going outside will be a great way for her to recharge mentally.
2. Focus on the Cat's Normal Patterns
If you're a long-time cat owner, you surely know exactly how a healthy cat behaves. You should be used to the way of life of your cat from before it got pregnant.
Compare all of your past knowledge to how your cat seems to behave after giving birth.
This will be a great way to find unusual things that might signal some health issues right after birth. If you can't spot anything strange, then there is no reason to keep the cat inside.
3. Protect The Kittens First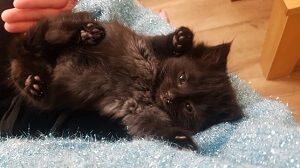 Don't forget about the kittens and their immediate needs.
How are the babies? Do they look ok? Do they seem to require additional care from their mother in the next few days or can she leave and relax for a little?
It's very important to not only think about the mother, but also about her kittens, and you should understand that if the mother spends too much time outside, you will have to take on some of the motherly tasks, like feeding the kittens and keeping them warm. A cat that trusts you might leave the kittens in your care while she leaves; make sure not to disappoint her.
You will also want to check on the babies to make sure they are healthy and developing properly.
Final Thoughts
When can a cat go outside after giving birth?
Your cat won't need more than 24 hours usually to get ready to go outside after giving birth. There is no rule set in stone as to how much time it should pass from giving birth to going outside for a cat. This means that if it looks healthy and wants to go outside, you might as well let her.
This is why it is very important for you to make sure the cat is healthy enough before letting her outside.
If the cat wants to go outside on her own, it usually means that she already knows that she's healthy enough to do it, so there is no reason for you to keep her inside.