A thing that most people don't know is that the term "pit bull" actually refers to multiple breeds that are considered parts of the pitbull family, and not an individual dog breed that the American Kennel Club or similar clubs recognize. Purebred dogs shouldn't usually get outside of their size standards, although there are mixed breed pups that get bigger. The American bulldog is actually the largest of all the known pit bull breeds, even though experts say that the range of sizes for these dogs is considerable.
There Are Many Pit Bull Breeds
The American Society for the Prevention of Cruelty of animals states that Some people consider the American bulldog, the Staffordshire bull terrier, and the standard bull terrier in the pit bull category, while others also consider that this dog family should be comprised of other types of dogs as well. These breeds have some common characteristics, like very powerful jaws, wide skulls, and stocky bodies, mostly due to their history fight dogs. These dogs weren't always as big as they are today – some of them having impressive sizes. They have developed from small dogs but growing in size due to selective breeding. Although the American bulldog is considered a large-sized type of dog, most of the pit bull breeds will usually fall in the medium-size bracket.
You might also like my articles on:
Pit Bulls by Weight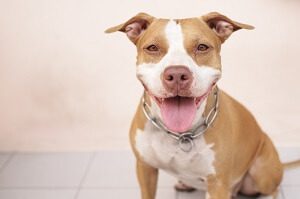 When it comes to their weight, the American bulldogs are also the largest, with females having a weight of anywhere between 60 and 100 pounds and males weighing anywhere between 80 and 130 pounds. The American Staffordshire terrier and the American pit bull are also considered pretty heavy, with weights that fall anywhere between 30 and 80 pounds. On the opposite side of the spectrum are the Staffordshire bull terriers, which are among the smallest pit bulls, with females weighing just 30 to 35 pounds and males having a weight of just 35 to 40 pounds. What this very wide range in weight is showing us is that although some dogs will be impressive in weight, others might be considered pretty small.
What About Their Height?
Most pitbull breeds will fall within an average height of 18 inches for females and 19 inches for males when standing on all four paws. The American bulldog stands out yet again, being one of the tallest pit bull breeds out there. This breed has males with heights of 22 to 27 inches, while the females will have heights between 20 and 25 inches. The bull terrier is second on the list of tall pit bulls. This breed sees males 22 inches in height when standing up, while females will be slightly smaller at about 20 inches in height. Keep in mind that although similar to pit bulls, other large breeds like the bull mastiff are considered whole different families of dogs.
As Always, Avoid Bad Breeders
A reputable dog breeder, regardless of the type of pit bull they breed, will try their best to keep their puppies within the standards of the breed. Keep in mind that breeders that are not affiliated with purebred dog registries should be avoided. Also, a breeder that chooses to advertise their dogs as large or extra-large, but refuses to give out the actual breed should be a pretty red flag. Most of the time, pit bulls that are bred to push the size of the pups to the max will end up with very bad temperaments. Most of these breeders won't have any problem with new owners looking to put these pups in dog fights. You should always look for breeders that register all of their pups with AKC or a similar organization. Also, look for pups that fall within the breed standards to a T.