Minnows are also known as 'bait-fishes' and are basically tiny fish. They can usually adapt and live in any condition and climate. They can live happily both in captivity and in the wild, this is why they have very different food systems. This article should give you all the information you need on what they eat depending on their ecological surroundings.
Important Aspect
Goldfish are also a type of Minnows, just more 'exotic'. These fish are actually the first in their entire family to be kept as pets and even domesticated to some extent.
You might also like my articles on transparent fish, crowntail betta fish, or black piranhas.
'Minnows' are native to North America and are part of the Cyprinidae family of fish. They will usually live to about three to four years old, will grow to about 4 inches in size, and will be silvery and small. In the US, the most common fish of this type will be the common shiner, the golden shiner, fallfish, and creek chub. Among the more exotic freshwater types will be fish like carp fish and goldfish. Some are even raised as bait fish. These are the fathead minnows and the Bluntrose minnows mostly.
These fish have the capability of adapting and even thriving in all kinds of ecological conditions, including lakes, ponds, springs, swamps, headwater bogs, brackish water, and of course, freshwater. Pet or bait fishes will usually spawn in dechlorinated water tanks and will require a temperature that will range between 64 and 80 degrees Fahrenheit.
Types of Freshwater Minnows
Goldfish
The goldfish is clearly the most popular of all the species of freshwater minnow. In its natural habitat can easily live for up to 35 years and will usually eat marine meat or plants. On the other hand, while in captivity, it won't survive to celebrate its eight-year birthday.
You can easily find Crap fish in most European and Asian countries. It was brought to the U.S. around the year 1876. Most people consider it a nuisance because it will stay at the bottom of lakes and make the water very muddy. The Common Shiner is another type of Minnow and will usually be used by fishermen as bait when trying to catch bigger fish. The largest minnow fish is the Fallfish, which can reach a length of 16 inches.
Wild Minnows' Diet
Most of the time, while in the wild, Minnows will eat algae, very small crustaceans, diatoms, decaying plants and animals, and mosquitos. They will also eat small fish and fish eggs from time to time. Saltwater minnows, on the other hand, will eat a combination of brine shrimp and saltwater shrimp. While in the wild, baby minnows will eat small insect larvae and algae.
Bait Minnows' Diet
Fathead minnows are a type of minnows that will be mostly cultivated as bait fish. They have no issues growing in fish farms as well as muddy water, which is why they are considered very easily adaptable. They will feed on brine shrimp and are actually very ravenous predators. If you keep them as pets, you can feed them with small water insects, decomposed water plants, or fish food in either pellet or flake form. They will defend themselves from attacks by producing a skin cell substance called Schreckstoff, which warns other fishes close by of a pending threat.
Captive Minnows Diet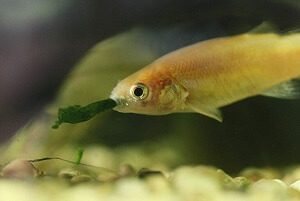 While trying to breed them in breeding tanks, you will feed them with a combination of vegetables, brine shrimp, plants, bread crumbs, blood worms, frozen shrimp, and tropical fish flakes. When they have a choice, they will like to eat the food that will go to the bottom of the tank and not the one that will stay on top of the water.
Importance of Minnows Diet
The minnows are also used as test subjects in laboratory tests to see whether different pesticides and chemical products are safe to use on animals or not. This is because these fish will basically feed on anything they can find around them. They are basically given all kinds of products to see how they react, and if they develop any side effects, then it is safe to assume that the chemicals in those products will also be detrimental to the health of other wildlife organisms.
Regardless of whether they grow in captivity or in their natural habitat, a great diet is very important for their proper development. You will always be able to find something to give a minnow to eat. You'll find food items for their diets all around you: at specialty retailers, inside the household kitchen, and even at a local pet store. This is why feeding and overall caring for a minnow won't be such a difficult task.