The Labrador Retriever is not only one of the most loved dogs in the world but also one of the most popular breeds out there. These dogs can be found in a bunch of colors from yellow to black, red, and basically anything imaginable for a dog coat. This is because they have a specific gene that is called the Dilution Factor. This gene causes each original color to dilute into different variations.
How Many Actual Colors Are There for Labradors?
Labs can be born having one of the 6 very different main colors. The parents of the pup and the genes they come with will dictate the color of each of their puppies at birth. Below you will find the 6 main colors of Labs along with just a pinch of information about each of them.
1. Black – Over 50% of all Labradors will be born with black coats, which makes this color the most common of them all. In fact, out of all 9 genetic combinations that will give the Lab its color, 4 of them will lead to it having a black coat.
So, although hard to believe, if you have a black Lab, its color has been dictated mostly by luck.
You might also like my articles on:
2. Yellow – Out of the 9 genetic combinations that will give the color of the dog, 3 will turn the coat yellow, which makes this the second most popular type of Lab. What's interesting about this color is that although Yellow might be the dominant color of this category, the puppies born from these dogs can have several different types of yellow tones.
So, some puppies can have a tan color, while others can be cream, and some can even be completely white.
3. Brown – This color holds third place in terms of how common it is for this specific dog breed. You could even say that this is the rares out of the most common Lab colors. A lot of people like to call the brown Lab Chocolate.
When choosing the perfect Lab to raise in your home, keep in mind that Labs with a brown coat will usually have more health problems than the rest and will usually live less than others.
4. Red – Due to the similarities between these dogs and foxes, the Labs born with a Red colored coat are often known as Red Foxes. This isn't actually considered a different main color when it comes to Labs.
The Red variation is actually classified inside the Yellow Lab Category. It is very different from the Chocolate Lab and will usually have a healthier life and live longer.
5. White – White labradors are basically just like Red Labs. They are also a subdivision of the Yellow Labs and aside from this, the AKC doesn't even recognize the white type of Lab as a different type. Over time, the color of this Lab might get darker towards yellow over time, which means that this Lab isn't actually completely white.
There is a rarer, true white Lab called the Albino, but the coat color of these rare dogs is given by a genetic problem.
6. Silver – Understanding the classification of Labradors and their coat colors can get pretty confusing at some point. When it comes to the silver coat, it is seen as a variation of the Chocolate color. In some dogs, silver can actually have a shade of blue.
The bad news is that this heritage also comes with the short lifespan and bad health of the brown lab. One of the problems they are more prone to is alopecia, a very nasty genetic issue that causes skin problems and patchy fur.
Although there are known cases of Lab puppies being born in all kinds of weird colors, all of them come from the same three main colors and a combination of the genes that give them.
What Labrador Coat Color is Considered the Rarest?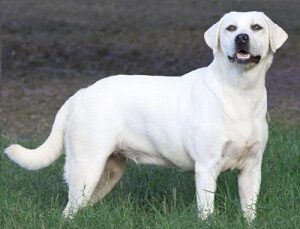 Out of the three colors that are considered the main ones, the Chocolate Brown one would be the rarest type of Lab. Considering that out of the 9 genetic combinations only two will create the brown Lab coat color, the yellow and black ones are considered dominant.
But when talking about all Labs out there, then the rarest of them all is clearly the Albino Labrador, considering that this color is given by a genetic defect and not a natural gene combination, and this doesn't happen all that often. Although not as rare, the white, silver, and red types of Labs can also be considered pretty rare, as they are rarer than the main three colors.
What you should understand, though, is that regardless of what ill-intended breeders might tell you, Labradors come with the same characteristics regardless of their color. There is no proven correlation between the behavior or personality of the dog and its color.
If you notice anything strange with the behavior or personality of a pup, then you should blame its parents and not the color of its coat. This is because a big part of the behavior and personality of the pup will also be passed on from its parents through the genes that are passed down.
Conclusion
What you should get out of this article is that although Labs come in many colors, the color of this dog's coat has no effect on how the dog will behave around you. What you are getting is a pure-bred Labrador. That's it. Each color has its own beauty and if you do pick a color, do it because you like it and not because someone told you it will make the dog perform better.