How To Recognize And Treat Fleas In Cats
January 29, 2023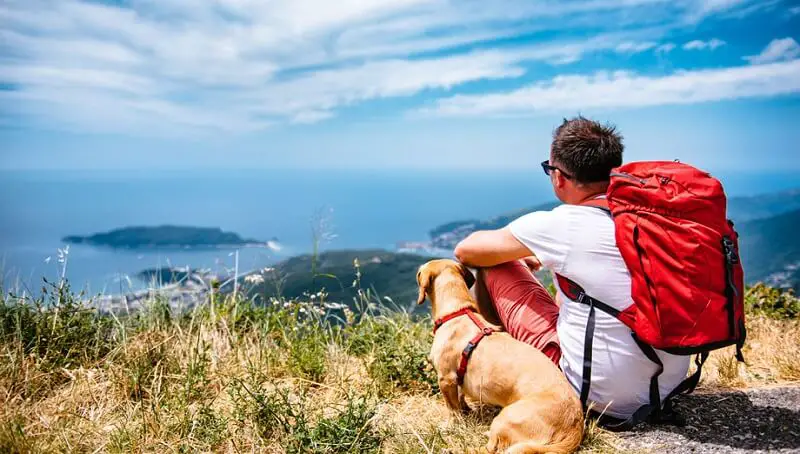 Can You Take Your Dog Hiking? – Useful tips
January 30, 2023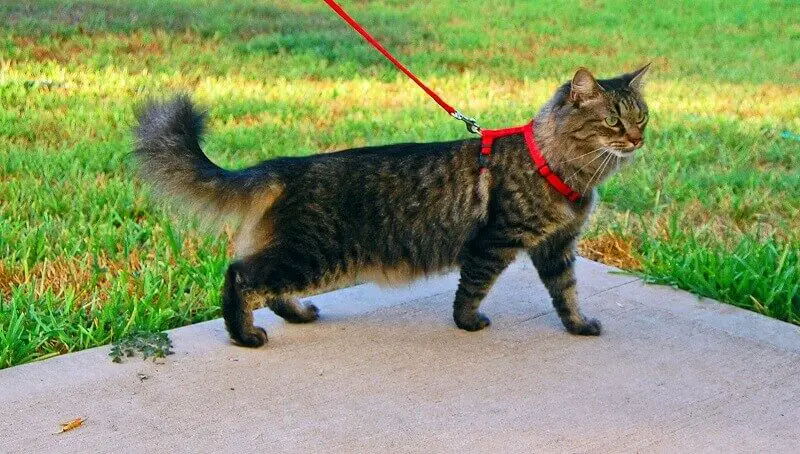 Have you ever seen a cat walk on a leash? Most people who have seen one react with amazement when they see that a cat can be domesticated to the point that it willingly lets itself be tied on a leash and guided by a human companion. Teaching your cat to walk on a leash may seem impossible, but with proper supervision, patience and consistency, you can succeed.
Does the age of the cat matter?
Once the cat has reached the age at which it is fully vaccinated, it is safe for her to go outside for a walk. It is best to start as early as possible before your cat develops a fear of the outside or fear of unusual noises. Older cats are often more reluctant to go out on a leash or be put on a leash. It can take months to get your cat used to accepting a harness and being walked, but with the diligence and desire to succeed, you can do it.
It can also be useful if your cat is already receptive to what you say. If you call your cat and she comes to you, you are already on the right track, but if you do not have this type of relationship you will have to start from there. Using rewards and lots of praise, call your cat to you. After a while, your cat will learn that coming to you because when she is called, she will be filled with satisfactory treats.
Choosing the right cat harness
You might also like my articles about:
Because cats are so agile, a simple collar around the neck is not enough to hold them when you walk outside. Cats can easily escape from the collar and you won't want to squeeze it too tightly either. In addition, there is a danger of suffocation, but you can use a good quality harness, designed especially for cats.
A cat harness is usually made with an adjustable neck collar. The leash can be fixed either in the middle or at the back edge, not at the neck. The harness must fit perfectly on the body, but not too tight as to not reduce the airflow. You should be able to put two fingers under the harness at the neck and chest. The clamps holding the harness should close well.
Familiarize the cat with the harness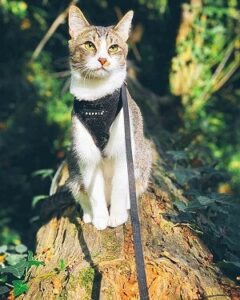 It may take a while for your cat to wear a harness, so take it slowly. Put the new harness next to your cat's favorite area and let her see it, smell it and even play with it for the start. Give her some goodies and praise her if she looks interested in the harness.
After a few days, keep your cat in a safe place and give her a reward. While eating the reward, lay the harness loosely over her and leave it for a few minutes. You may need to repeat this several times before actually adjusting it, just to get your cat used to the feel of the harness.
Once it seems comfortable to have the harness on her body, put the harness on and tighten the straps so they fit well. Again, give her positive signals and rewards so that she allows you to put the harness on. Leave the harness for a short period of time, a few minutes at first, then gradually increase the length of time.
Do not force the harness to fit. If your cat fights too much, remove the harness and try again later. When she accepts the harness without fighting, pays attention to it so that she associates wearing the harness with the good times.
Adding a leash
Once your cat accepts the harness, let her wear it around the house, doing her normal activities. Gradually increase the amount of time your cat stays with the harness on; you can even feed her while she wears the harness. Then attach the leash to the harness, allowing her to pull it after her. This is to get used to the weight of the leash but remember to keep an eye on her while pulling the leash. You don't want your cat to get tangled or hang on to anything.
Then you can go for a walk around the house while holding the leash. Do not pull the leash and do not try to force her to follow you at the beginning. You should follow her instead. From time to time, stop and call her to you, giving her a reward and praising her when she comes.
Finally, when she seems to be comfortable on the leash inside, it's time to go out. Start with a short walk outside, maybe just a few meters outside the door where your cat can smell and begin to get used to sounds and smells. After doing this a few times, you can take a short walk around the house/block.
Before you go further from the immediate area, make sure where your neighbors walk their dogs and don't go around that area, or know which areas to avoid. Choose the quietest and safest areas to walk with your cat so that the experience is enjoyable for both of you.
How to walk your cat safely
Your cat's regular collar should not be removed, it is not part of the harness system. You should leave your cat's collar with the identification data if your cat does find a way out while walking her on a leash
For your cat's first walks, until it gets used to being outside it is recommended to take with you a cat travel cage in case you meet an aggressive dog, or if your cat has a panic attack. A panicked or threatened cat will not want to be held until they get home.
An uncastrated male cat may be more likely to try to get rid of the harness or get out of control while outside. An unneutered female cat can be attacked by street cat males.
Setting a walking schedule can become an activity that your cat is doing and waiting for impatiently. Try to stay consistent.
Unlike dogs, cats cannot be tied to a pole until you enter a store, not even for a few minutes. Your cat may panic and get tangled on a leash, or it may be attacked by a dog and unable to escape.
Final words!
Patience, patience, patience. If you know you won't be patient with her, there's no point in starting to train her. During the training, you need to be very careful about the cat's reactions and let her guide you to the places where she feels safe. If you lose patience, it is better to give up than to scold the cat.
If you have more than one cat, training the second one will be easier, as she may copy the behavior of the first cat to be trained.