It's not at all hard to notice when your dog enters its heat period. You will basically get all the information you need from a simple spot of bloody discharge. But how will you know when the head cycle will end for your dog? It won't be as obvious as you might think to tell if and when your dog will get to the end of her cycle. This article will give you some important information about this topic.
What happens when a dog is in heat?
Female dogs will usually get through their very first heat cycle around the age of 9 months. The first stage of this process will be called proestrus and will involve some visible changes like a bloody discharge and a swollen vulva. The East Central Veterinary Hospital, or ECVH for short, for example,  perfectly explains that this stage will be when a female dog won't be receptive to mating just yet, but she will become a lot more attractive to males. This stage can last anywhere between 9 and 27 days, although there are cases in which it will be skipped entirely. Most of the time, though, it will be closer to nine days.
You might also like my articles on how to calculate a dog's age, how many nipples should a dog have, and whether dogs have wet dreams.
The next phase will be called estrus, and it is when the female will give out mating signals, like releasing pheromones. The American Kennel Club tells us that throughout this stage, females will not only approach dogs in the hope of mating, but they might even resort to initiating contact, by turning around and offering their behind in the hope of being mounted. Her discharge will also be made of less blood and her vulva will get softer, although it will remain pretty swollen.
Although on average this phase will also last for around 9 days, the range of possible durations will be between four and 24 days, ECVH tells us. Keep in mind that all dogs are different so their healthy cycles might be very different from one dog to another.
How long will a heat cycle continue for a female dog after bleeding stops?
The bleeding will stop for your dog when she reaches the next stage, called diestrus. This is where the female will stop showing a willingness to mate and is considered a final active phase within the animal's heat cycle. Although her body will still experience a lot of physical and hormonal changes, she will stop being receptive to males trying to mate, while going through this stage. According to the same ECVH, this part will last somewhere around two months and will be when the body of the animal will either prepare for the next cycle or will get ready to carry a fertilized egg.
An interesting thing is that although female dogs might go through all of the symptoms of being in heat, the estrus phase will be the only fertile period for them. This period lasting an average of nine days will be when the dog is most likely to get pregnant and will also be when she will be actively looking for mates. This means that your dog won't be fertile right when the bleeding begins and she will also no longer be fertile or able to conceive to the end of her heat when the discharge reaches its end.
How will you know when the dog's heat cycle is over?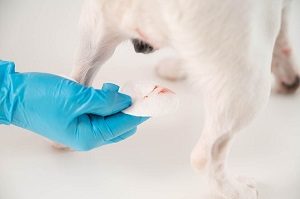 The end of a dog's heat cycle will show a reversal of the signs that mark its beginning. You will notice that there won't be any blood discharge and the dog's vulva will also return to normal size.
The usual heat cycle for a dog will last between two and three weeks. The average dog will also go through two cycles per year, although the actual length between two cycles will depend on her age, size, breed, and other factors. For example, when it comes to miniature breeds, these can experience even four cycles every year, while larger breeds or sled dogs will only experience a heat cycle once per year.
How do you care for a dog in heat?
Spend time with your dog
During this period, dogs will become especially clingy and affectionate, so you should try to add some more snuggle time with your hairy companion.
Increase outside walks

Adding some additional short walks outside during this period will be great for your pet because she will usually need to urinate more often.
Although more, shorter walks
Keeping your pet outside and more importantly unsupervised during her heat cycle might not be such a good idea because she might attract some unwanted male attention which might require you to get ready for a pup litter not very long after this. Keep in mind that your dog will require safety and comfort more than usual. This means that after she does her business outside, you should take her inside the house as soon as possible.
Cleaning doesn't have to be hard

You might not have to clean after your pet dog all that much if you get doggie diapers while she is in her estrus cycle. It's very important that you don't punish or yell at your dog for her bloody stains, as this isn't in her control. While going through her heat cycle you might even confine her inside an easy-to-clean area of the house, by using a baby gate.
Keep in mind that a heat cycle for an animal is pretty stressful, so don't forget to show her some love and affection. She might become lazy, frisky, or grumpy and all of these will be normal parts of the process. Just hold on because, within just a few weeks, you will get your normal dog back.